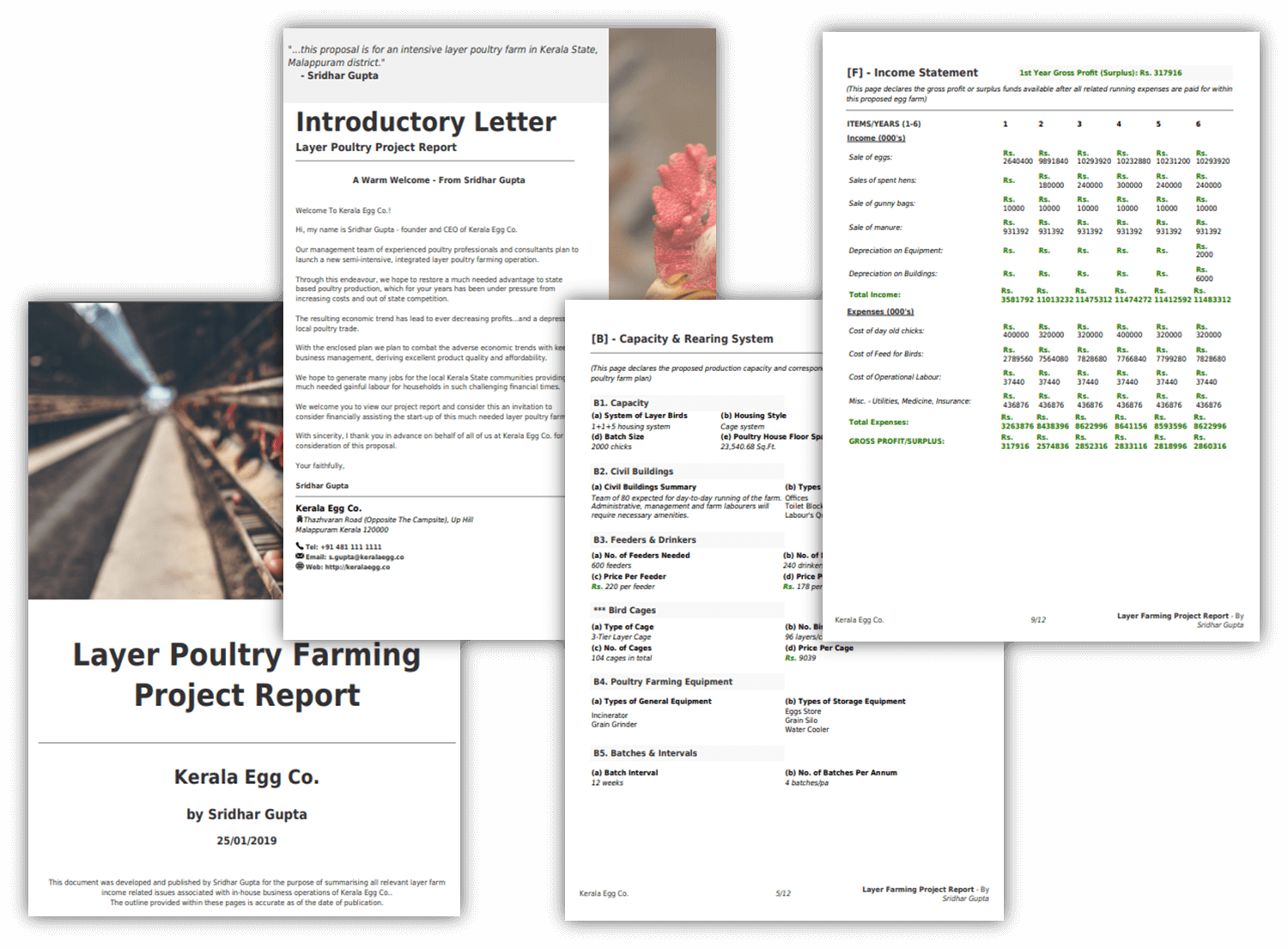 GET FREE PDF DOWNLOAD...
LAYER FARMING
5,000 BIRD
PROJECT REPORT
Enter your email address & get PDF!
A Preview Of The 5,000 Bird Layer Farming Report...
Heads Up!
---
Want to find out how you can make your very own custom report?

using the button above & we'll tell more.
---
Make Your Own Layer Farming Project Report 5,000 Birds!
Are you looking to write your own project report for a 5,000 layer farm?
This is the ideal online resource to help you write your report.
Techno Economic Metrics of Layer Poultry Farming 5,000 Bird Project Report

Location
Any Country!
Currency
Any Currency!
Layer Capacity
5,000 Layers
Min. Floor Space
10,000 Deep Litter
Cost Of Construction
Add you building quote details
Batch Size (Day Old Chicks)
5,000
Bird Mortality Rate
If 5% (250 Birds Per 5,000)
Layer Rearing System
1+2 / 1+3 / 1+1+5
No. Of Batches Reared Per Year (Ave.)
Depends on rearing system
No. Of Brooder Houses (0-8 Week Old Birds)
1 brooder house if choose 1+1+5, otherwise none
No. Of Grower Houses (9-20 Week Old Birds)
1 grower house if choose 1+1+5, otherwise none
No. Of Brooder Cum Grower Houses (0-20 Week Old Birds)
1 brooder cum grower house if choose 1+2 or 1+3, otherwise none
No. Of Layer Houses (21-72 Week Old Birds)
2 layer houses if 1+2, 3 layer houses if 1+3 or 5 layer houses if 1+1+5
Total Production Span Of Layer Bird
72 Weeks
No. Of Weeks Each Bird Lays Eggs
52 Weeks
Age When Birds Are Culled (Spent)
72 Weeks
Typical Price Per Egg
Change this as you wish
Feed Consumed Per Bird Per day
100g Per Day
Cost Of Feed Per KG
Input your feed prices
Price Per Spent Hen
Input your spent hen prices
Weight Of Spent Hen
Your choice
Manure Produced Per Bird/Per Day (lbs.)
0.07 lbs.