Looking to learn about alternative poultry feed ingredients?
You're in the right place!
Learn about the economic factors affecting the price of commercial poultry feed…
And the cost related pressures supporting research into alternative poultry feed ingredient formulation.
Let's begin…
Factors supporting investigation into alternative poultry feed ingredients
The rush for finding alternatives to commercial poultry feed can be clearly appreciated when we get to the root of chicken farming businesses.
Broiler & layer farming and alternative poultry feed benefits
Broilers birds are bred as commercial agricultural units of productivity within the poultry farming industry.
Broiler meat is one of the two principal products of the poultry market.
The other principal category of output within the poultry market being eggs.
Broiler meat is sold by weight.
Farms operating broiler production are only financially sustainable if the comparative cost of input i.e. broiler feed cost – plus overheads, is completely covered by the revenue generated by sale of the birds…
…plus, the supply of a margin of profit on top, of course.
Where are the 'gains made' and 'losses incurred' in broiler farming?

cost of feed (production

input cost

)…
weight/condition of bird at point of sale (production

output revenue

)

…it's a fine balance for every poultry farmer.
What about layer farming?
Eggs, on the other hand are not sold directly according to weight…
But, primarily by number (quantity).
With the output of egg production a laying hen will be largely be influenced by feed consumption.
And quality of egg, much like quality of broiler meat will be impacted by nutritional make-up of feed.
To maintain a financially sustainable layer farming business, you'll need to ensure the direct costs of rearing, most importantly, layer feed costs (- plus associated business running costs) are fully absorbed by egg sales…
…plus, again a margin of surplus – from which your personal earnings and business reinvestment projects are paid.
Where are the gains made and losses incurred in layer farming?

cost of feed (production

input cost

)…vs…
volume of eggs available at point of sale (production

output revenue

)

…if the balance is amiss, layer feed costs exceed egg revenue minus overheads. This leaves a poultry farm with cash flow, but no retained profits. A fruitless endeavour.
Whilst the internal gearing of your poultry farming business model is one way of calibrating profitability…
It cannot be overlooked that external environmental factors/pressures in your marketplace also have their bearing on eventual profit.
But what are the most imposing economic factors affecting poultry farm profits?
local demand of product (which in certain regions can be swayed by factors such a seasonality),
price stability (affected by such issues as external market influence),
cost of available poultry feed
…among other factors.
Relatively speaking, when we examine these factors we see…
Demand for poultry products (chicken meat and eggs) as an affordable source of dietary protein…

…typically, outstrips available commercial production in most markets…
why?

Price stability of poultry products is greatly influenced by…

Imported poultry products
Influx of foreign traders

Local poultry trade can become suppressed by external trade pressure
Although this is not the case in every market

Cost of available poultry feed worldwide is…

Relatively on the increase
Constantly fluctuating &
Typically the largest cost element involved in poultry farming by far (> 2/3rds)!
Whilst demand and product prices are typically on the increase worldwide, which supports your poultry farm profits growing incrementally…
Yet it is the price of feed which offers the greatest potential for increasing poultry profit margin.
Let's put this into context…
A study on the relative cost of poultry feed & global factors affecting
The following study conducted under commission of Delta State & Anabra Universities, Nigeria comments that feed costs as a percentage of total variable costs in Onitsha North Local Government Area of Anambra State, Nigeria are in the region of 78% of total costs (= N.359,450/N.455,870).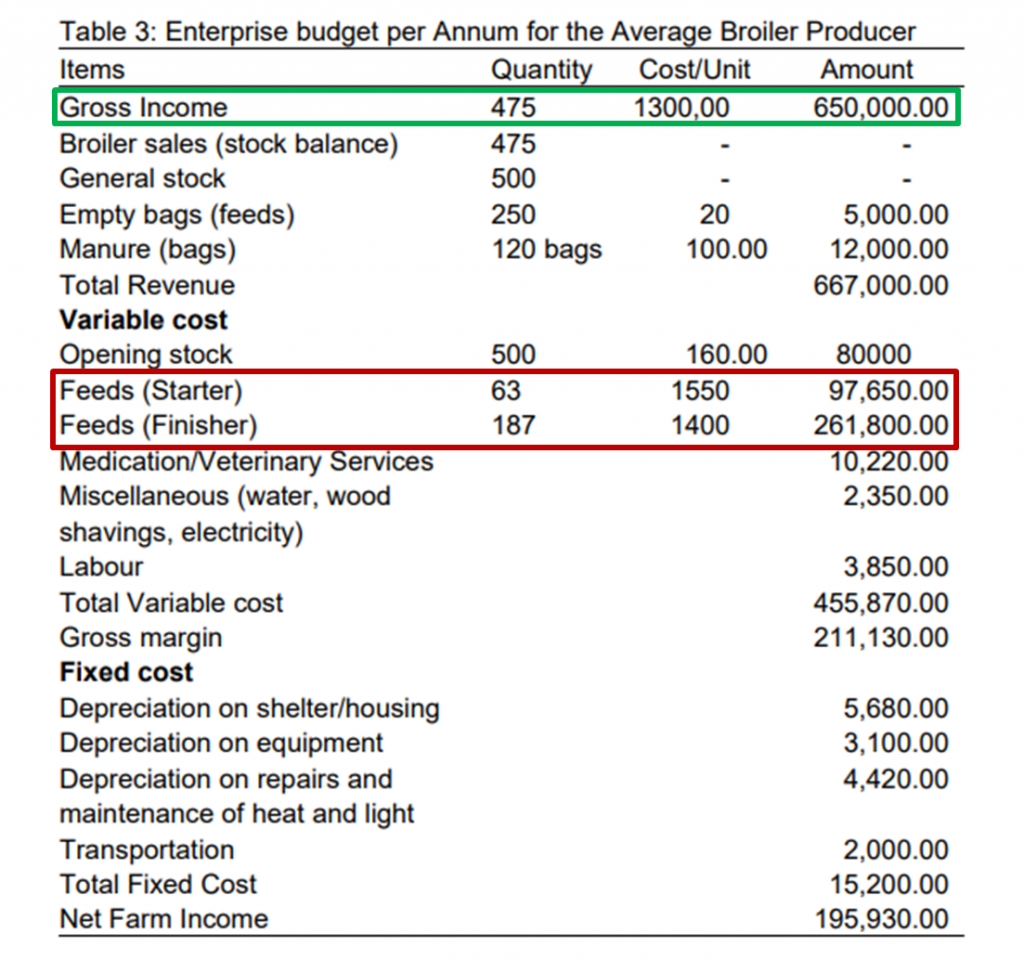 India, similarly experiences a high proportional cost of commercial feed ingredients compared with other variable farm costs as quoted by National Dairy Research Institute, Karnal, India:
"As feed constitutes 60 to 70 per cent of the total cost of production, any attempt to reduce the feed
cost may lead to a significant reduction in the total cost of production." – International Journal of Science
What about other international markets?
Is the cost of poultry feed as dominating elsewhere too?
Yes.
Zambia…

"The rising cost of feed has resulted in most small and micro farmers who represent a significant number of the industry unable to meet their overhead costs of sustaining the operations." – Zambia Daily Mail

Tanzania…

"A poultry keeper at Kitunda on the outskirts of Dar es Salaam city, Mr Sosi Musila, told The Citizen that the price of chicken feeds had almost tripled, rising to Sh20, 000 for a 50-kilo bag last November – up from Sh7, 000 a bag four months earlier!" – The Citizen

Again, Nigeria…

"I don't know if we are surviving or we just staying put in business because we are already there. For instance, I had 3,000 birds last year and this year, my target was to have about 5,000 birds but now I am down to 2,000 birds. This is so because we are no longer making profit because of high cost feeds so when we sell, instead of keeping the capital or reinvesting we use it, Mrs Favour Uzochukwu, CEO of Gaij com farms said." – All Africa
What about the West – are our neighbours in The Americas experiencing such a squeeze on costs?
Brazil…

"The exchange rate [of the rand against the dollar] influences price to a large extent, but we have enough maize locally, so we don't have to import, and we're expecting another good maize crop," he said." – Fair Play Movement

United States…

"Most of the ethanol produced in the United States comes from corn, the most abundant crop available…the increased demand for corn supplies as a result of the diversion of significant amounts of corn for biofuel production in the United States, combined with increased world demands for feed grains, have resulted in unprecedented feed prices for livestock and poultry." – Poultry Science Association, Inc
Seems like the answer is both yes and no.
Those of our neighbouring nations who produce their own grain, much like in the case of Brazil, are without the dependence on expensive feed ingredient imports.
They consequently experience lower feed costs because they produce their own raw ingredients.
In other words, they benefit from self-sustainability in this area.
As for the United States of America, although they also produce feed ingredients domestically, their habitual diversification of use artificially inflates the price of grain for poultry feed.
Whilst demand for poultry meat as a protein rich (relatively affordable) food source remains strong globally, the eroding profits related with it's production is stimulating enquiry into alternative ingredient inputs.
So, we ask…
"What are the options for poultry farmers seeking to reduce their feed related cost of production?"
Cheaper suppliers?
Rearing bird breeds which have lower feed intake to output ratio?
Perhaps this might shave-off a relatively small amount of cost.
But one area of research which proposes to put both a significant and sustainable dent into the issue of poultry farming cost reduction is:
Alternative poultry feed ingredients!
An introduction to the advantages of alternative poultry feed ingredients
Are alternative poultry feed ingredients really seen as a viable solution to the problem of poultry farming cost reduction?

Absolutely…but don't take our word for it though:

…alternative poultry feed ingredients are strongly supported as a cost saving measure by many professional market participants, among whom are:

Farmer's networks spokespersons…

"Robert Kabatereine, the Chairperson Mbarara Network of Farmer's Voice Limited, says:

…the high prices of chicken feeds has hit the farmers hard.
He says there is need for government to support the multiplication of Kuroiler chicken, which are free range birds and can easily adapt to local foods and vegetables."

Chicken feed dealers…

"Jackson Mugisha, a chicken feed dealer, says:

they are equally concerned because farmers tend to buy less when the prices go high.
He says ingredients such as silver fish that are mixed in the feeds make them expensive."

Governmental district officers…

"Amon Mutabarura, the Ntungamo District Commercial Officer, says:

poultry requires a lot of innovation from the side of the farmers to deal with the challenge of chicken feeds.
He advises farmers not to restrict themselves to manufactured feeds but also supplement them with plantain."
Quotations from: High cost of chicken feeds worries farmers in Ankole region – Dispatch Uganda's News Monthly
So…
Whilst we know the touted impact and general support given to the topic of alternative poultry feed ingredients from throughout the poultry vertical marketplace…
Our next stop would be to itemise the leading recommended alternative ingredients with:
…their benefits,
…limitations and;
…market availability.
A list of alternative poultry feed ingredients and their recommended uses
The following are example alternative poultry feed ingredients grouped together according to the category of traditional nutrition they replace:

Cereal alternatives to maize in poultry diets:

Alternative Cereal Ingredients To Maize-Based Poultry Feed

Cereal milling co-product alternatives to maize in poultry diets:

Alternative Cereal Milling Ingredients To Maize-Based Poultry Feed

Roots and tubers alternatives to maize in poultry diets:

Alternative Root & Tuber Ingredients To Maize-Based Poultry Feed

Fruits and fruit co-product alternatives to maize in poultry diets:

Alternative Fruit & Fruit Co-Product Ingredients To Maize-Based Poultry Feed

Miscellaneous alternatives to maize in poultry diets:

Alternative Miscellaneous Ingredients To Maize-Based Poultry Feed

Oilseed meal alternatives to soybean meal in poultry diets:

Alternative Oilseed Meal Protein Sources To Soybean Meal Based Poultry Feed

Grain legume alternatives to soybean meal in poultry diets:

Alternative Grain Legumes To Soybean Meal Based Poultry Feed

Green meal alternatives to soybean meal in poultry diets:

Alternative Green Meals To Soybean Meal Based Poultry Feed

Alternative animal protein sources for use in poultry diet:

Alternative Animal Protein Sources For Use In Poultry Diets
Further reading: Poultry feed availability and nutrition in developing countries – FAO
Whilst the ingredients above are recommended by the FAO within this study…
Due to lack of consistent availability for supply…
Large commercial operations deem such programs as unfeasible.
That's not to say, however that reliable supply chains couldn't be mobilised to support consistent large scale commercial farming with alternative feed ingredients.
"How could I adopt alternative poultry feed ingredients?"
If you are running a small scale poultry farm…
Why not take the advice of such as the Ntungamo District Commercial Officer to Ugandan poultry farmers:
"Get innovative!"…wherever you are…find out what's locally available…source some ingredients…
Give it a go.
Little to lose and much to gain!
Start with a small select trial portion of birds and see how they fare.
Monitor the indicators of weight as a gauge of success – and if rearing layers, egg productivity.
Finally…
In markets where poultry farming profit margins are particularly squeezed, the cost cutting potential of utilising alternative poultry feed ingredients is very much in the forefront.
Not only do they to produce some financial headroom, but arguably also grant nutritional improvement on commercial feed.
Sure, it's additional operational complexity…
But getting the balance right could make all the difference to reducing that 70% cost exposure.
Think about it this way…
Every percentage of your cost reduced is an additional percentage profit gained.
Where the exposure of one single cost item, like feed, equals 70% of your total costs…
Even the most moderate cost saving here, albeit with a bit of effort spent in experimenting a little…
Will return increased earnings directly into your pocket.
---
Are you in need of knowing a little more about alternative poultry feed ingredients?
Do you have experience trying your own blend of alternative feed products?
Share what you have learned with your peers.
Are you a professional with a few valuable pointers about alternative feed preparations for poultry farmers to learn from?
Feel free to join the conversation and say what you know.