Last Updated On October 02, 2019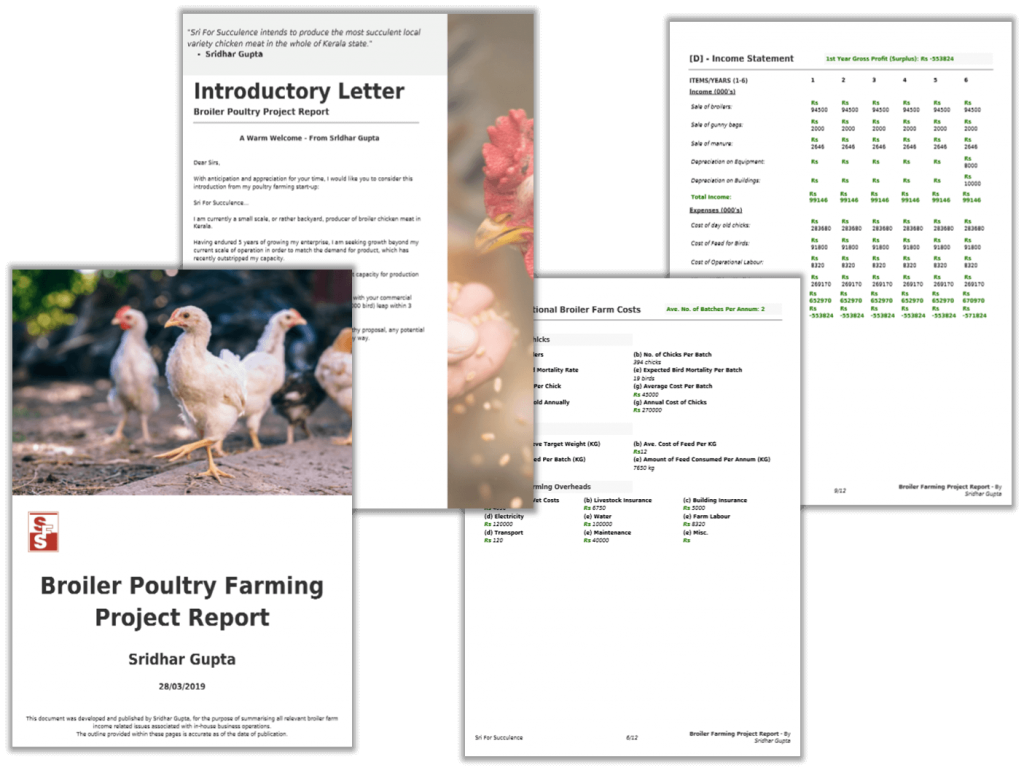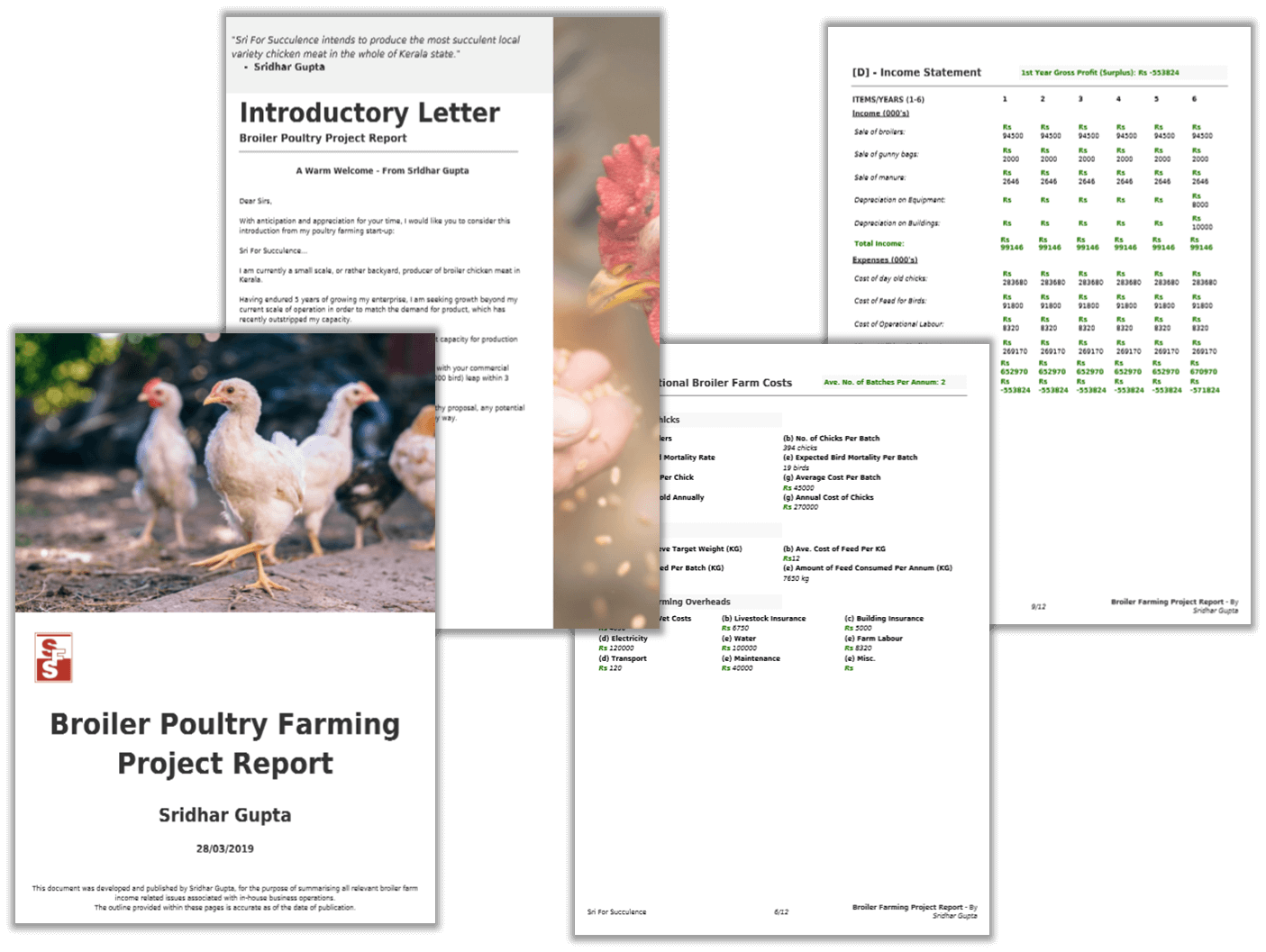 Get Your Own Broiler Farming Project Report In A Few Easy Steps…
Main features of your instant PDF broiler farming project report…
This broiler farming project report template is uniquely developed by our in-house consultants.
The format, however, is widely recognised by international commercial markets and professionals.
Appearance of your broiler farming project report
Custom branding:

…insert your branding into your broiler project report

Covering letter:

…write a personal address to your audience

Hyperlinked contact details:

…enable your readers to respond to you directly within just a click of an HTML link
Preparing adequate land details for your broiler farming project report
Land & development plan:
…declare your land set-up succinctly with map and other visual aid, alongside narrative of your plans for setting up the site for optimal broiler farming operations
Flock capacity for your broiler farming project report
Capacity & rearing system:
…capacity of your broiler farm directly impacts your meat production, it all stems from how many birds you have available and their ability to achieve target body weight
…your approach for poultry housing system, ie. caged, deep litter or pastured poultry will dictate the type of housing constructed and the size
…minimum floor space requirements are to be determined in advance to ensure you meet approved standards for broiler farming accommodation
…feeder and drinker equipment is to be provided and their layout/arrangement is to be appropriate for the corresponding number of birds
…if you do adopt a cage system, then the recommended distribution of birds throughout cages will also impact the cost of equipment sold
…other general equipment like: grit boxes, lamps etc. all need their addition within your project reporting
…batch interval planning is a key aspect of production planning – i.e. "How often does your rearing system require that you receive new batches of day old chicks to maintain planned broiler chicken production?"
Operation farm costs for your broiler farming project report
Day old chicks:
…select the breed of broiler chicken you will adopt for your broiler poultry farm –

…examine the profile of each potential broiler chicken, especially for achieving their optimal body weight and therefore maximum profitability

…decide on a number of chicks to have within each each batch for topping up your total flock numbers
…expected bird mortality figures will enable you to appropriately adjust your overall flock population estimate
…cost per chick and per batch minus any discounts etc. is a periodic and fairly predictable cost of sale
Broiler poultry feed:
…cost of mash or crumble per bag of set weight is included within your project report here
…the estimated cost of feed per batch is also declared here
….remembering the relative weighting of the broiler feed costs sits at 70% of total operations cost it's important to get these particular sums right
…overheads for running your broiler farm such as electricity costs, water services, transport, insurance, vet costs etc. are detailed here
Capital costs projections for your broiler farming project report
Capital costs:
…these are itemised costs of capital equipment required for the purpose of being functional as a broiler farm
Year 1 running costs:
…1st year operational costs will need to be calculated and included here – remembering that your first batch of marketable broilers won't be sold for at least 6 weeks from the arrival of your 1st batch
Capital totals:
…determine the total capital expense for getting your broiler farm started
…margin money is your personal contribution to the project out of your own project
…loan amount required is simply, total capital required minus personal contribution
6-year production and your broiler farming project report
6-year broiler chicken production:
…estimate your target marketable weight, per bird
…extrapolate number of marketable broiler batches taken to market within a 12 month period, this represents optimal annual output of production
…price per kg of broiler chicken gives you a unit price by which optimal sales revenue per batch of broiler chicken is calculated
6-year manure production:
…your broiler birds are expected to output a certain rate of manure which is to be produced daily
…estimate how much manure you could gather per annum, how much it could be sold for to crop growers and therefore how much you could gained in sales per annum
Income statement for broiler farming project report
Broiler farming income:
…a combination of the various income streams following production per year is totalled here…
Broiler farming expenses:
…expenses associated with your broiler farming operation are grouped together here
Profit/Loss:
…the overall net figure of your income vs. expenses

…if there is surplus revenue remaining, this is known as gross profit
Benefit Cost Ratio & Net Present Value for your broiler farming project report
Benefit cost ratio:
…a measurement for assessing the potential return on investment of a broiler farming project – taking into account income vs. expenses as well as the capital start-up requirement.
Net present value:
…ever thought about how the ROI prospects your broiler farming project will compare to an equivalent investment opportunity, like a bond or savings account for example.
Assumptions for your broiler farming project report
…every project report carries some assumptions within the body of it's calculations etc.
…it's worth spelling out your assumptions here to guide your readers to making well informed decisions
---
Do you have a question regarding the use of this broiler farming project report?
Feel free to get in touch.
Happy project reporting!