Here we estimate the overall space allocation per bird for your broiler farm.
Using the best practice FAO guidelines for a semi-intensive farm set-up this page helps you automatically calibrate the necessary space requirement.
Here's how I recommend doing this using Poultry Project Reporter 2.0 software:
The rearing system selected from the previous page is carried over onto this page – but for the sake of flexibility, you can still change (overwrite) this selection by using the neat drop down box.
Remembering the gearing of your production model, type in the number of birds you will have in each batch
Type in your expected flock mortality percentage
In red, you'll see the number of simultaneously reared flocks within your chosen rearing model
Auto-calculated is your farm's overall production capacity when all batches are being reared simultaneously
Select your preferred confinement strategy – deep litter, or caged
Auto-populated is the number of poultry houses required for running your chosen production model
In red, you'll see the best practice space allocation per bird as advised by FAO guidelines
Auto-calculated are numbers representing the overall floor space of your entire farm (all broiler houses), also you get a figure broken down per broiler house
Next, we'll convert that floor space allocation into total land space required for the farm and all its on-site operational functions.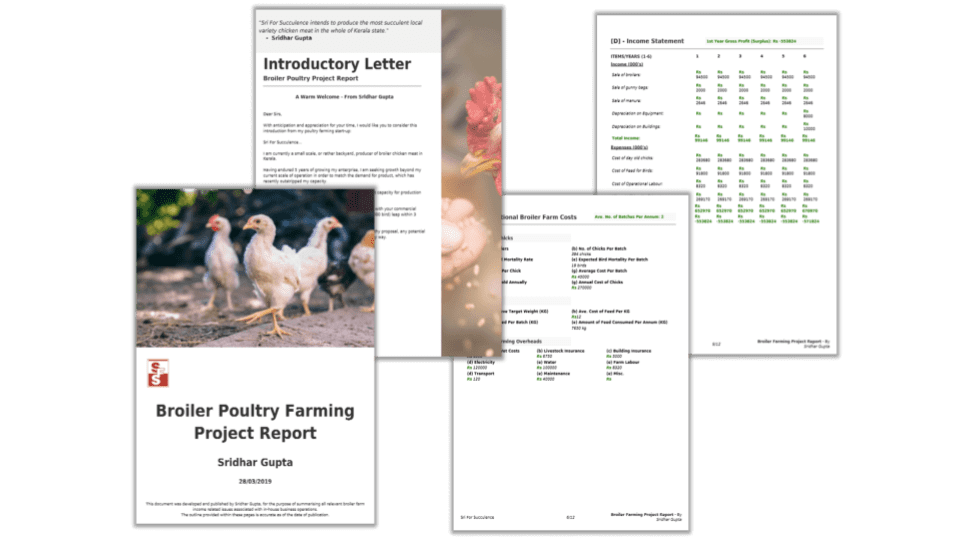 Write Your Poultry Project Proposal in Just 90 Mins!
Poultry Project Reporter 2.0 – fastest way to write your project report online.