#1 Poultry Courses Online:

Learn The Poultry Business Like A Pro.
*Available In 195 Countries (including yours) …
Online Poultry Farming Courses
🥇 MASTER POULTRY PASSES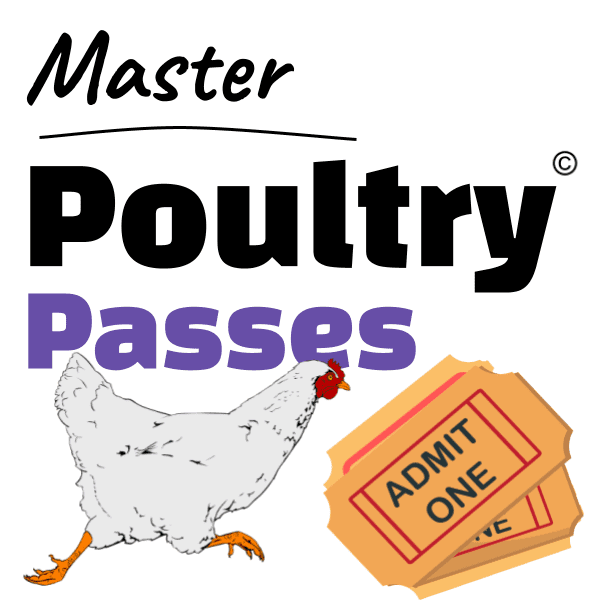 Take Poultry Farming To The Next Level
Get access today for as little as $1.10 per day.
🔒 Secure Transaction by Stripe
Welcome to the
Master Poultry Passes

eLearning Program

Master Poultry Passes eCourses & eBooks program is the 1st place online for poultry farmers and entrepreneurs to discover expert strategies for planning, starting and growing a sustainably profitable poultry business.




Browse the course summaries and choose your appropriate eCourses to support your own project successes.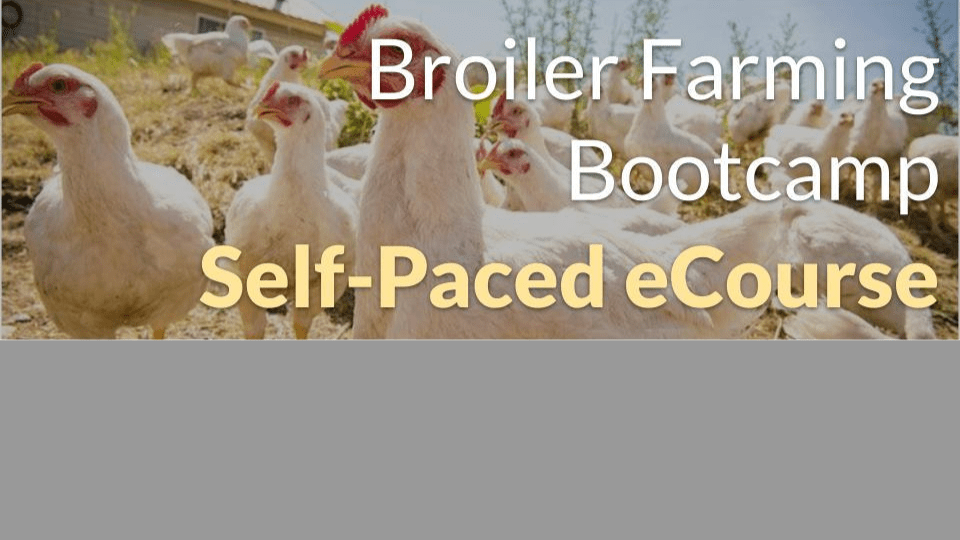 Broiler Farming Bootcamp eCourse
A rigorous grounding in the fundamentals of taking broilers flocks from day 1 to the processing date – with maximum ROI in hand.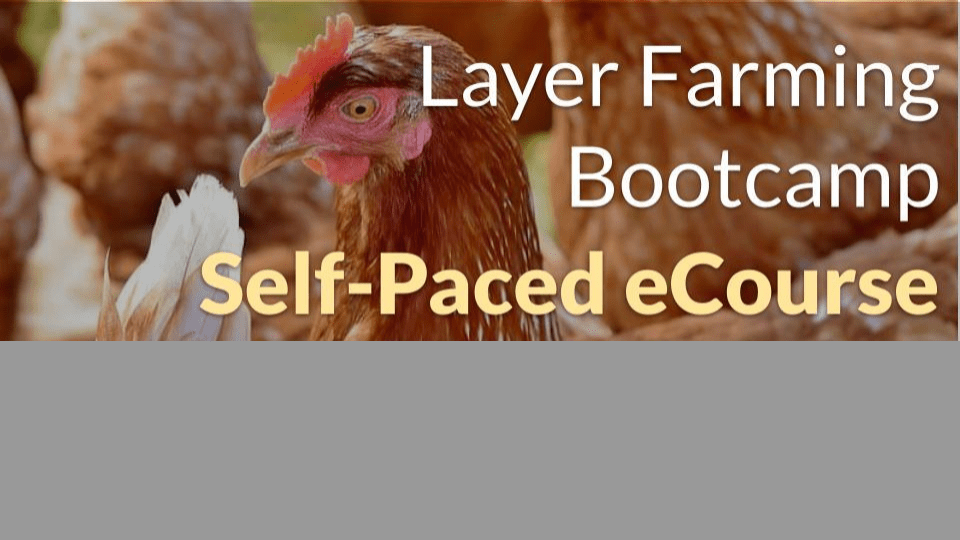 Layer Farming Bootcamp eCourse
A grain-by-grain conversion masterclass of driving your layer flocks – whether from chick or pullet – to optimal yield.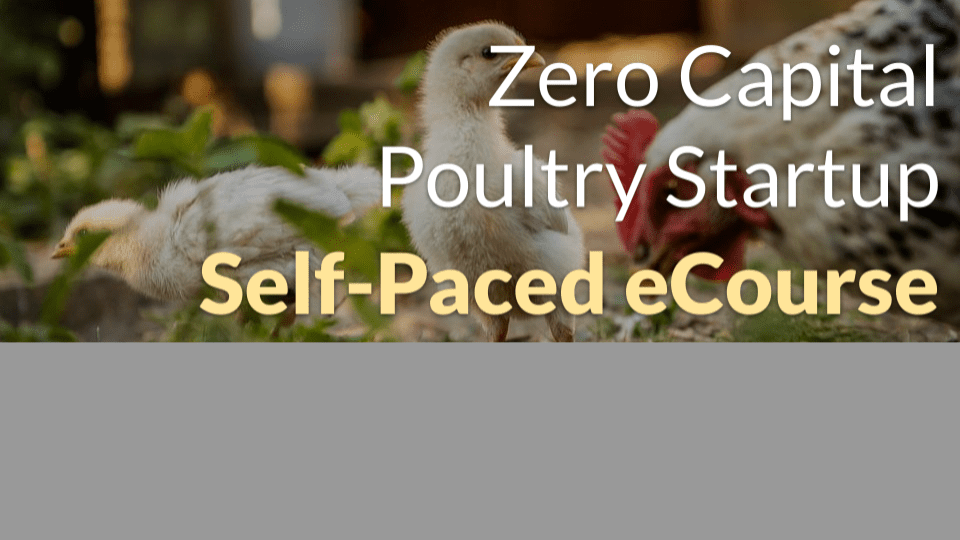 Zero Capital Poultry Startup eCourse
An innovative formula for starting up either a layer or broiler farming enterprise off the thinnest of bootstraps – no capital needed.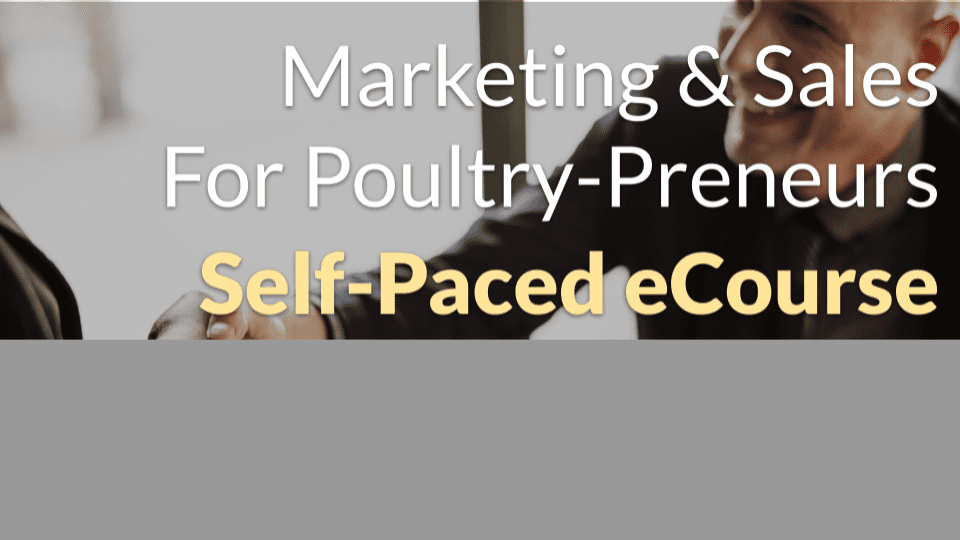 Marketing and Sales for
Poultry Preneurs eCourse
The successful way to get your meat or eggs into the hands of buyers who make sense both to your brand reputation and bottom line.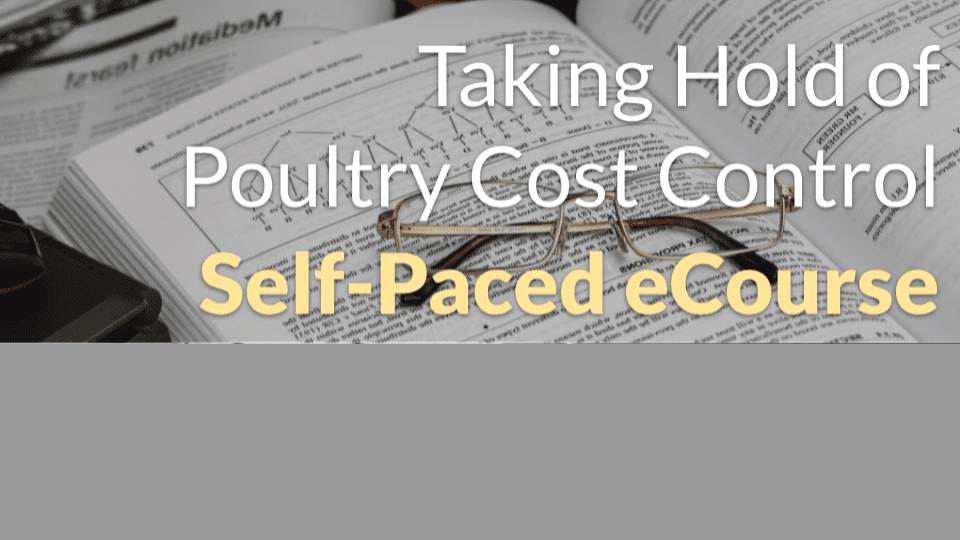 Taking Hold Of Poultry Cost Control eCourse
A rock-solid framework for reconciling your poultry farming cost modelling and grappling with cost based decisions most profitably.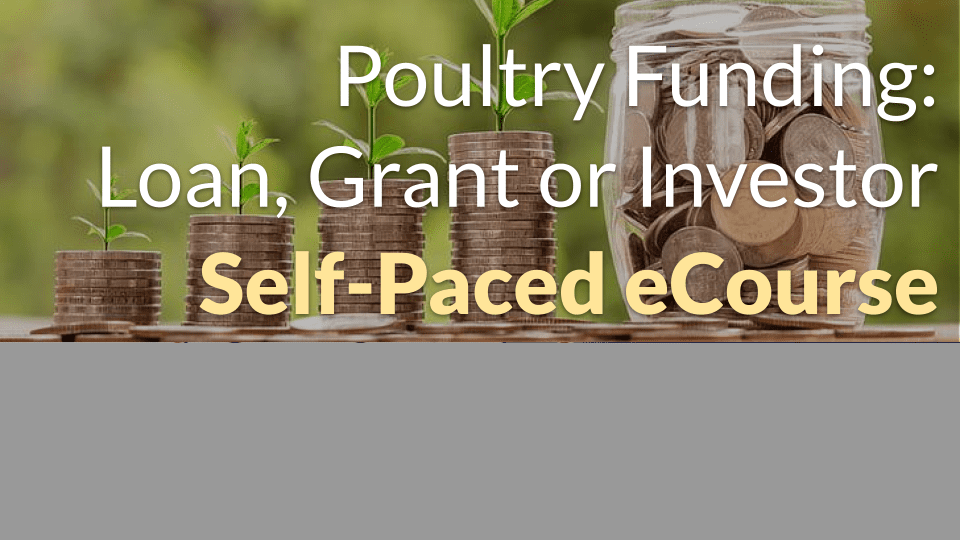 Poultry Funding:
Loan, Grant or Investor eCourse
A guide in the way to funding your own poultry farm whether by loan, government grant or private investment help.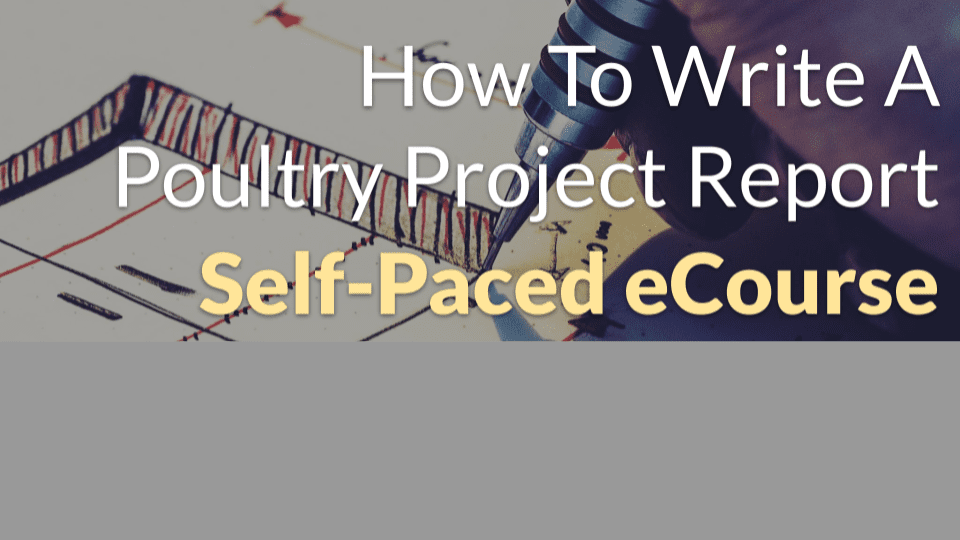 How To Write A Poultry Project Report eCourse
The step-by-step tutorial for writing a bankable poultry farming project report by hand – with the aid of examples along the way.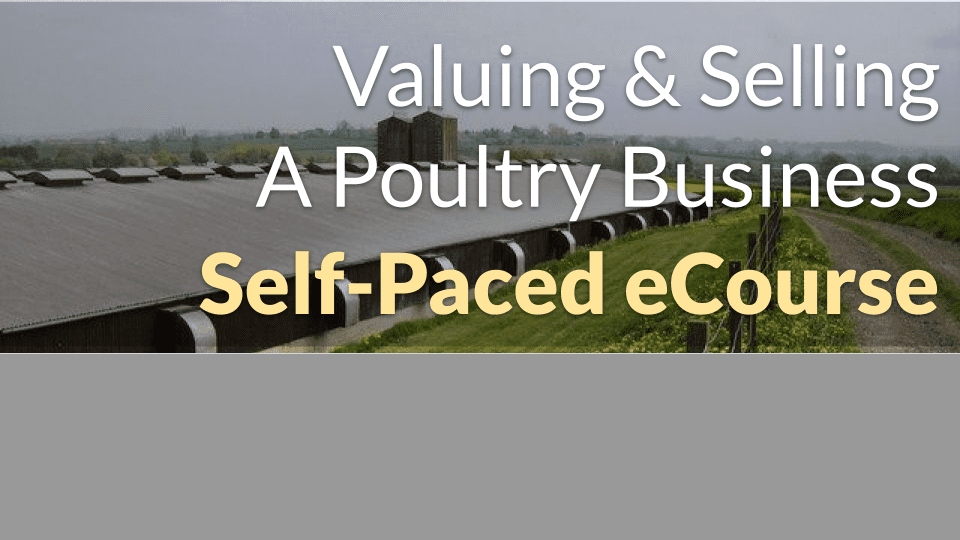 Valuing and Selling
A Poultry Business eCourse
Some well-grounded fundamentals that will guide you in an acceptable approach to valuing and selling a poultry farm.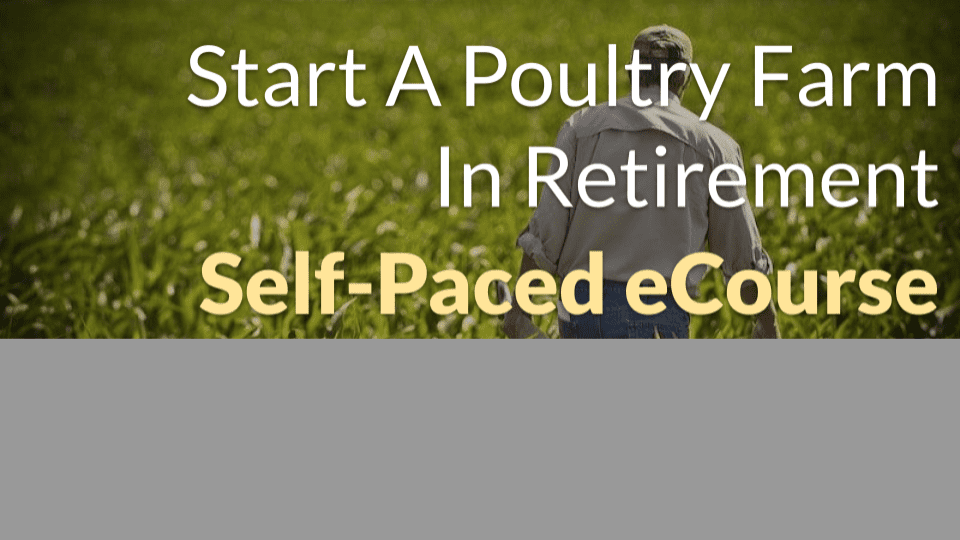 Start A Poultry Farm
In Retirement eCourse
A perfect plan for making a seamless crossover from your career and into the boots of a poultry farm entrepreneur.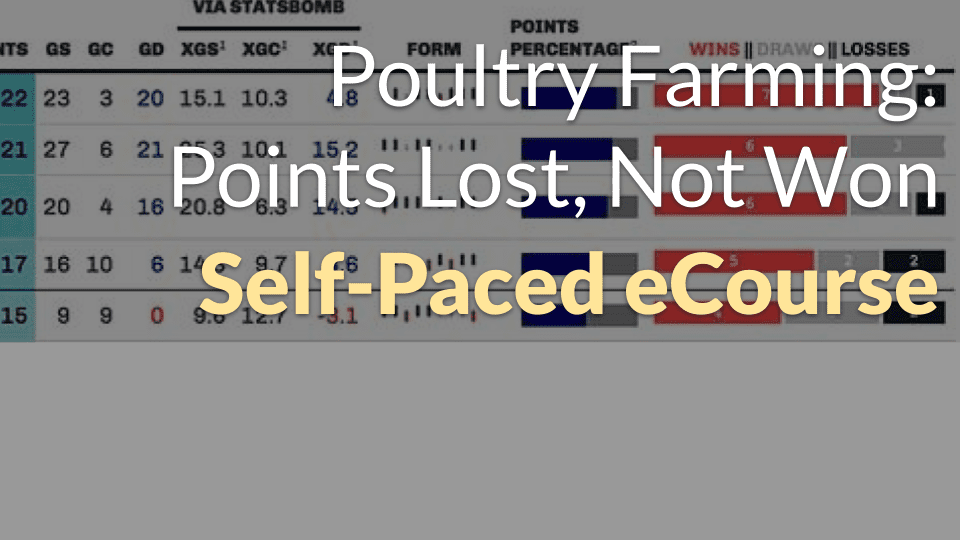 Poultry Farming: Points Lost
Not Points Won eCourse
The most profitable way to look at succeeding as a poultry business owner – learn the game the right way round and win.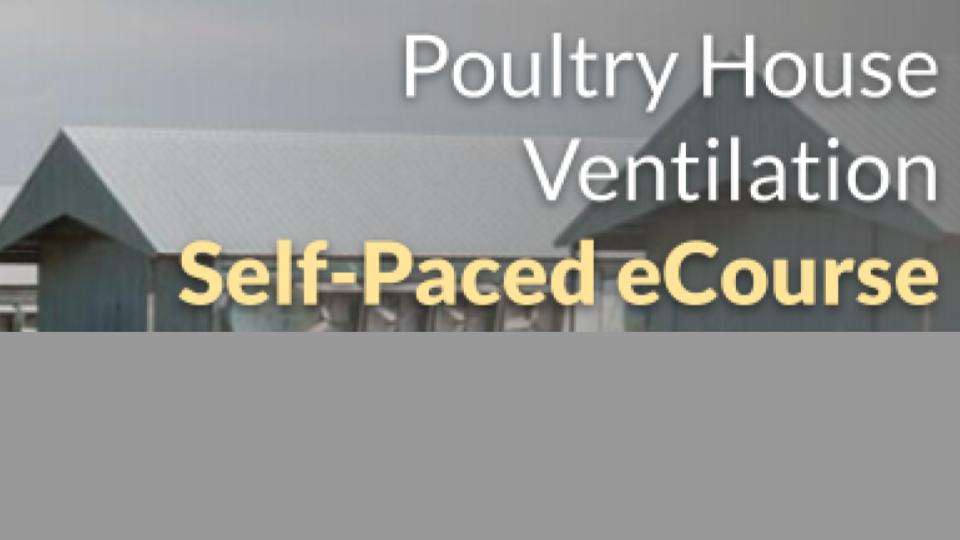 Poultry House Ventilation eCourse
A critical analysis of the most impactful and yet misunderstood input variable of poultry farming ROI: ventilation.
Poultry Disease Prevention eCourse
A useful guide to what the most common poultry diseases are an more importantly what to do to prevent them.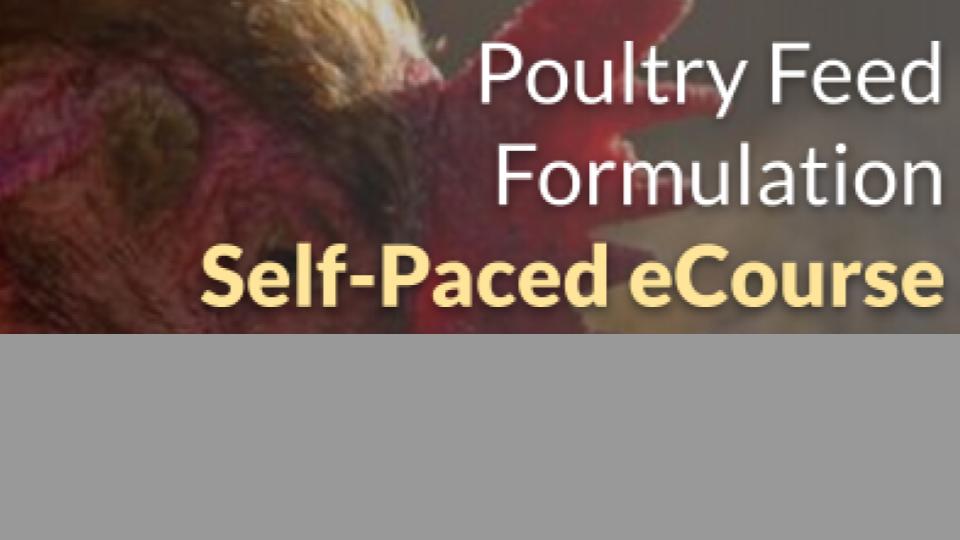 Poultry Feed Formulation eCourse
A step-by-step tutorial of how to formulate the ideal poultry feed for achieving your layer or broiler production goals.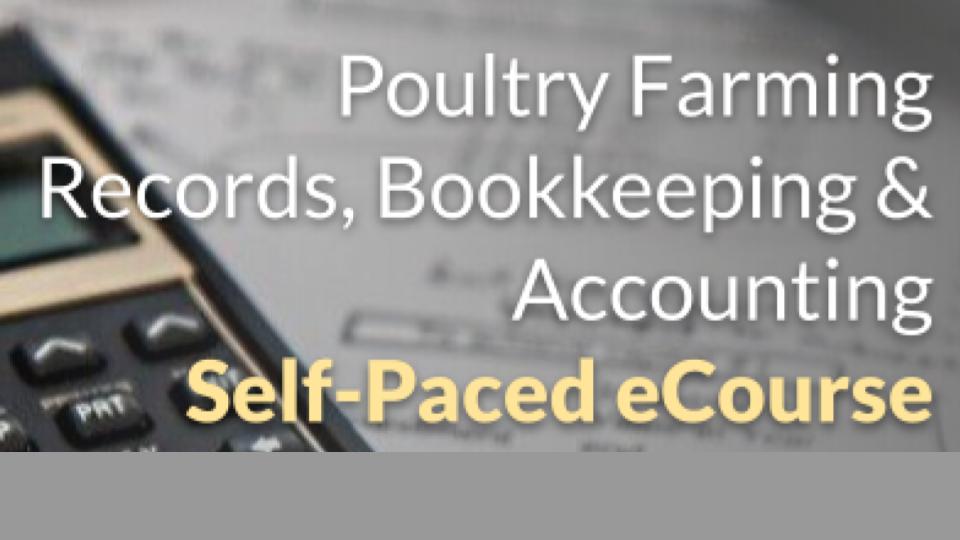 Poultry Farm Record Keeping eCourse
A detailed guide examining the various record keeping, bookkeeping and accounting templates used by poultry farms.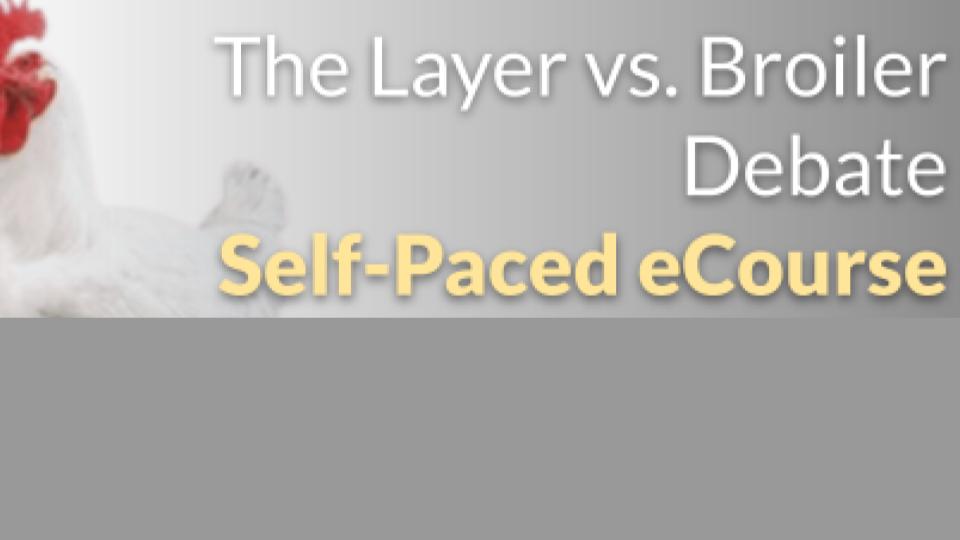 The Layer vs Broiler Debate eCourse
A comprehensive digest worthy of finally settling the debate of layer farming vs broiler farming in your mind.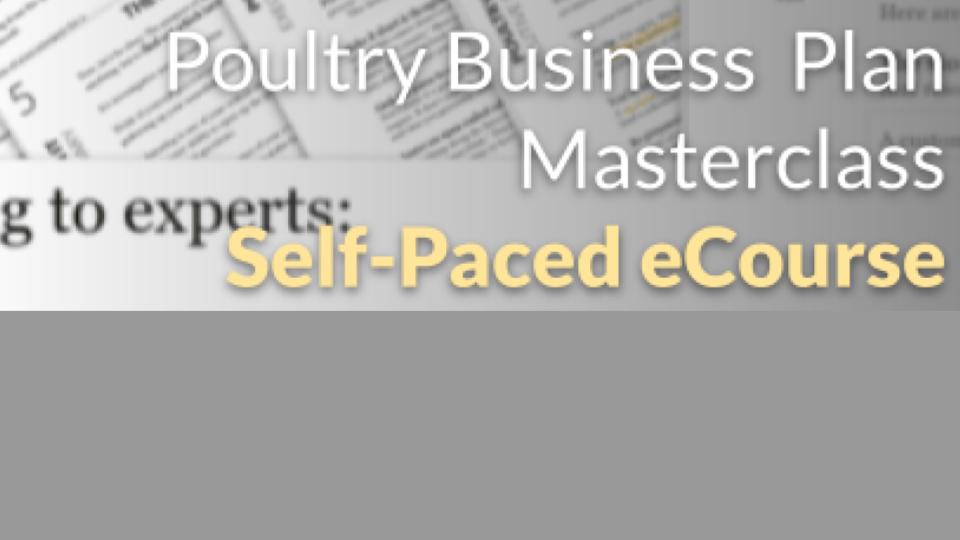 Poultry Business Plan Masterclass eCourse
A masterclass in how to produce a poultry business plans that will pitch irresistible value with crystal clarity and earn investment.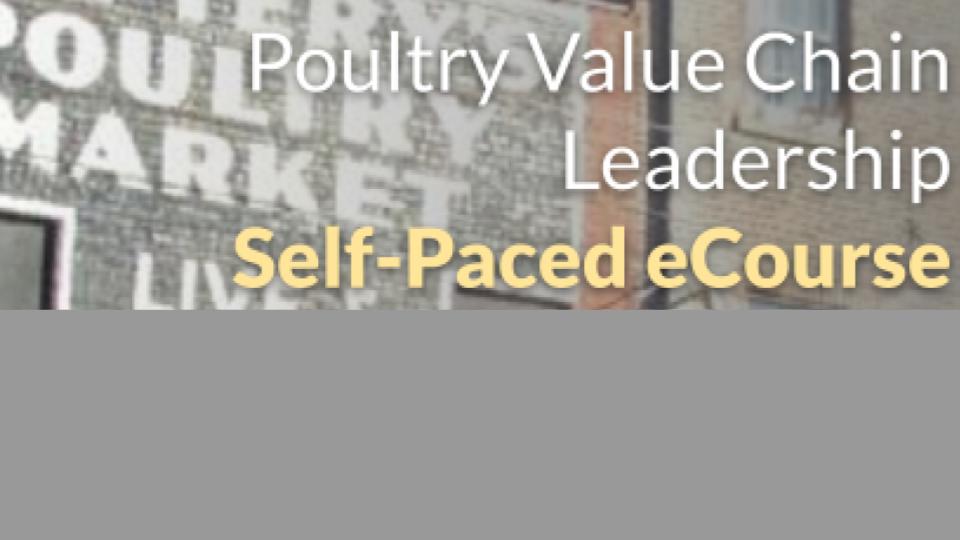 Poultry Value Chain Leadership eCourse
A battle strategy for advancing your poultry farming business into market leadership position using value exchange as your leverage.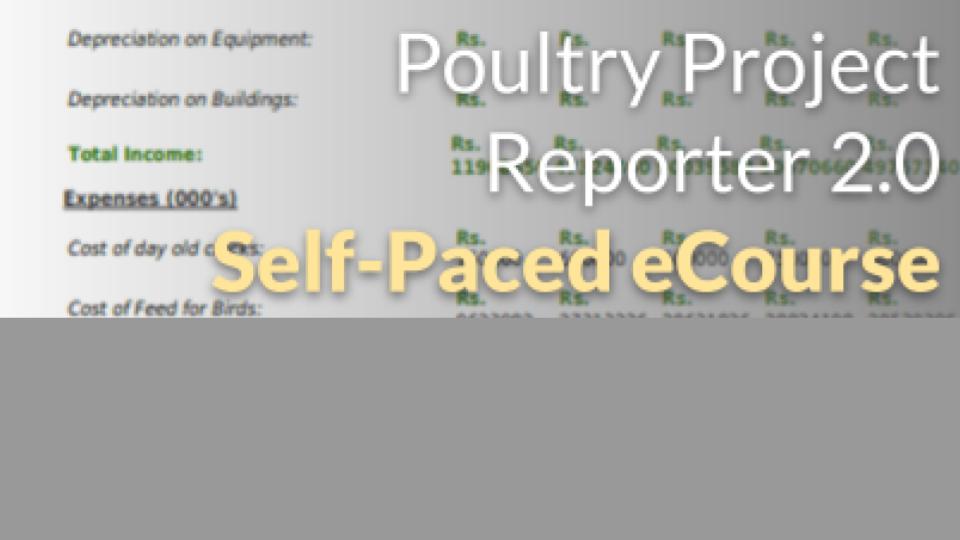 Poultry Project Reporter 2.0 eCourse
A series of in-depth software tutorials that unveil the proposal writing precision and convenience of Poultry Project Reporter 2.0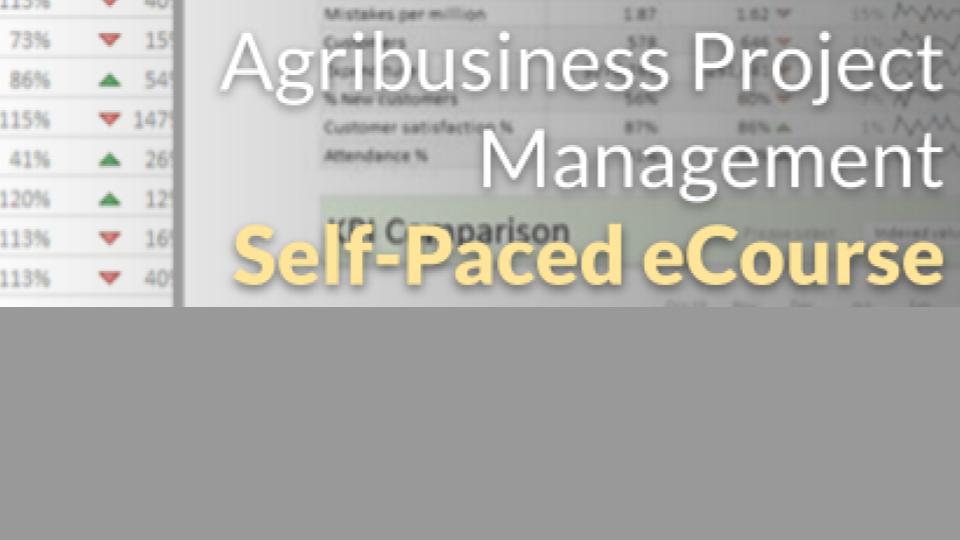 Agribusiness Project Management eCourse
A revealing examination of industry standard project management frameworks & how to use them to profit your agribusiness.
How the courses work…
Each course belongs to a certain roll-out program of Master Poultry Passes.
Each program runs for 17 consecutive week.
You can sign up to as many available courses as you like.
Each course comprises approximately 7 chapters.
Each course will take approximately 4 reading hours to complete.
You can unsubscribe from any course at any time.
Upon completion of a course, you will be given a personalised certificate.
Courses are NOT accredited, nor approved by any educational institutions.
The Master Poultry Passes program courses changes every 16 weeks.
Personalised feedback and tips are available via email Q&A.
  Totally interactive experience.

Tools, templates, email Q&A and more…

Online courses are static. They not like a real-class where you can interact LIVE via email with your teacher. Video is often the substitute for the real thing.

With this eLearning program you'll be in direct with me – your tutor. I'll be on hand to fill in the knowledge gaps along the way. Plus, I share all my tools, examples and workings out.

From as little as 27¢ per day – money back guarantee included.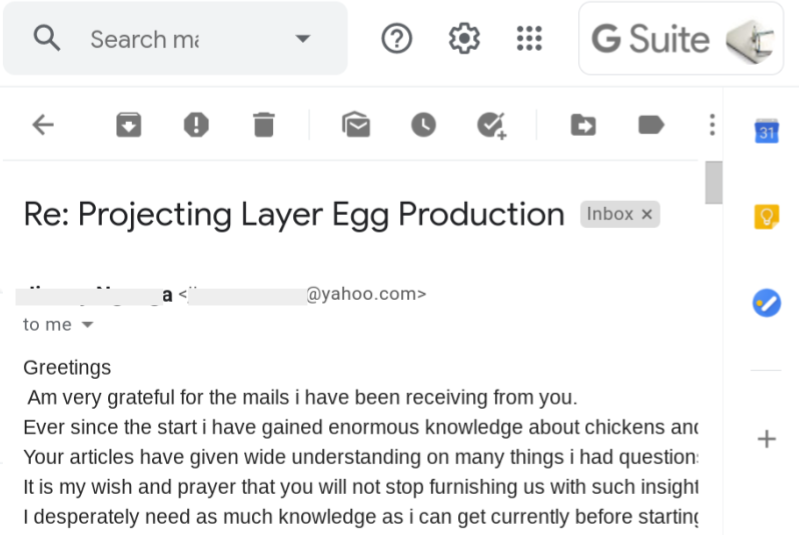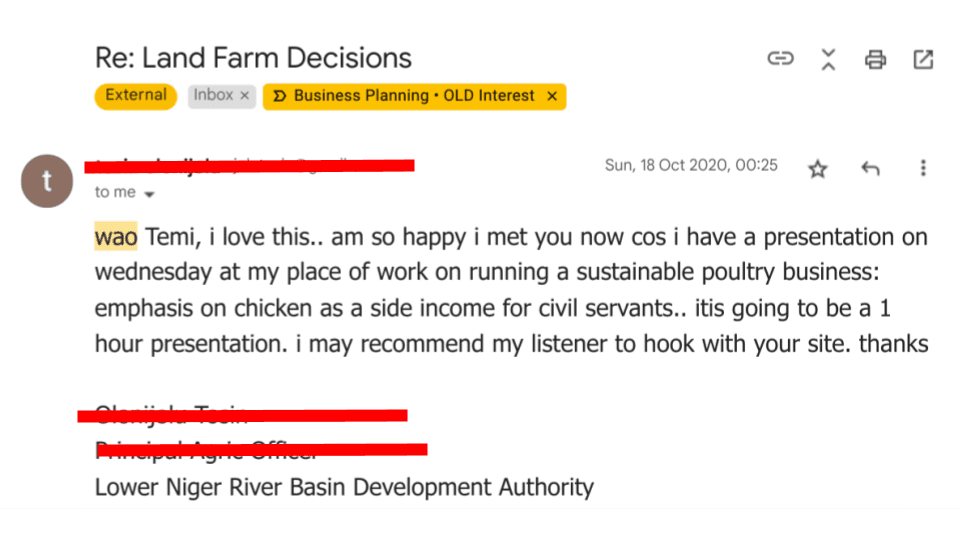 Combine case studies and online course tools

as actionable assistance in your project…
Why?
Because

Master Poultry Passes features courses that:

 Get you in the driving seat

This is not purely theoretical. Nor is it a reading class. These courses are designed to practically bring you into the seat of doing it yourself.

 Provide actionable advice

Every lesson has a practical takeaway that leads to a real deliverable or tangible outcome. You won't walk away with a headache, but rather, experience.

 Are data-driven for realism

Everything that you learn comes loaded with legitimate facts and figures that bring you in to each real-life scenario with a quantifiable view of what's at stake.

 Uncover key success factors

I get straight to what the root issues are and determinants that actually make a difference to your performance the most – I cut the fluff.
"…marvellous and electrifying content..."
– K. Jones
"…definitely this would be a very useful report for ages that are to come…"
– Giri S. Kumar
"…thank you for your informative articles – they got me at the right time…"
– Magezi Startup Farmer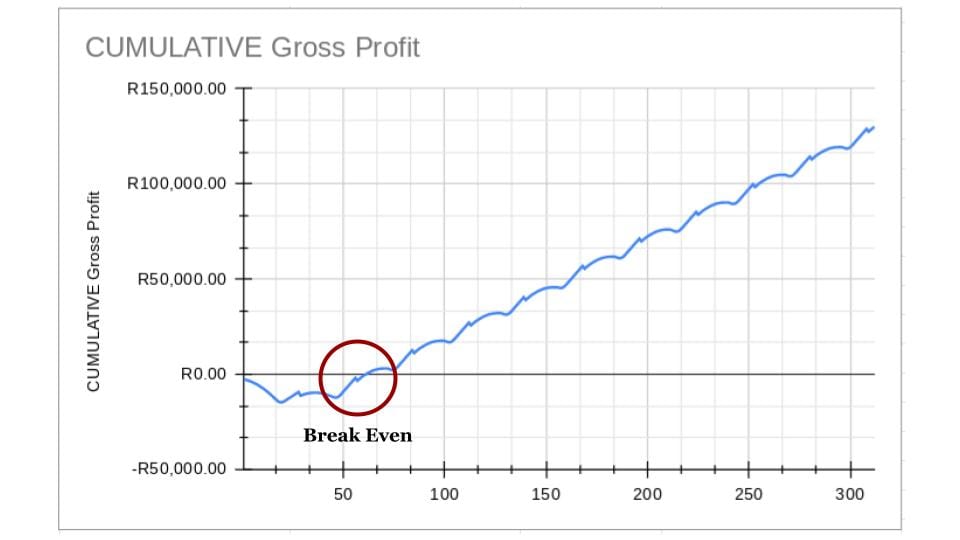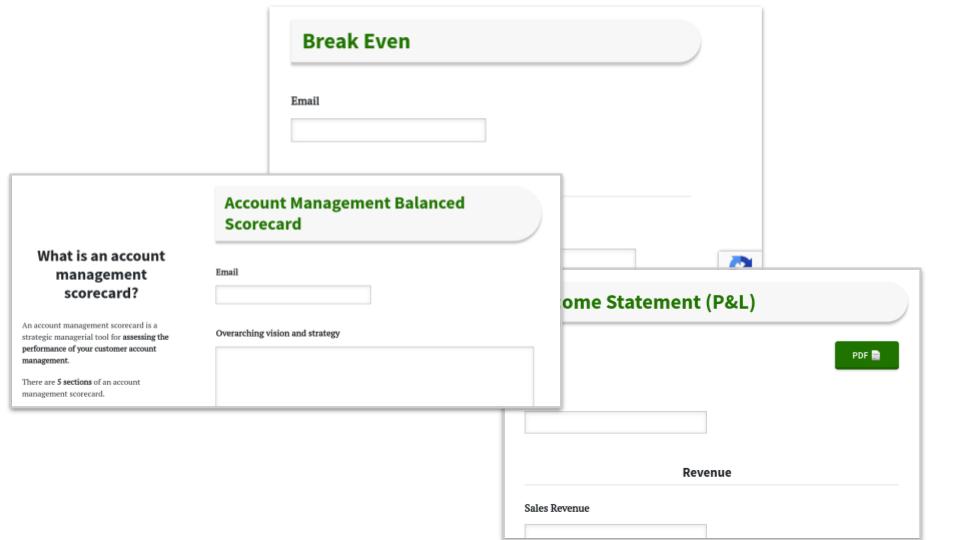 What People Say About Our Course Material
By Email Feedback
"…so very detailed and fascinating."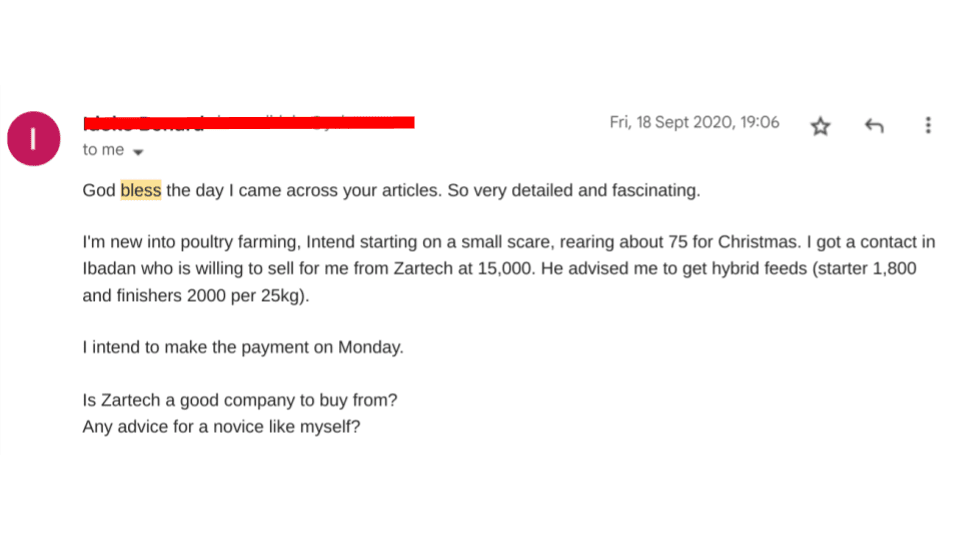 Click to enlarge…
"Many thanks Temi for a wonderful and detailed explanation."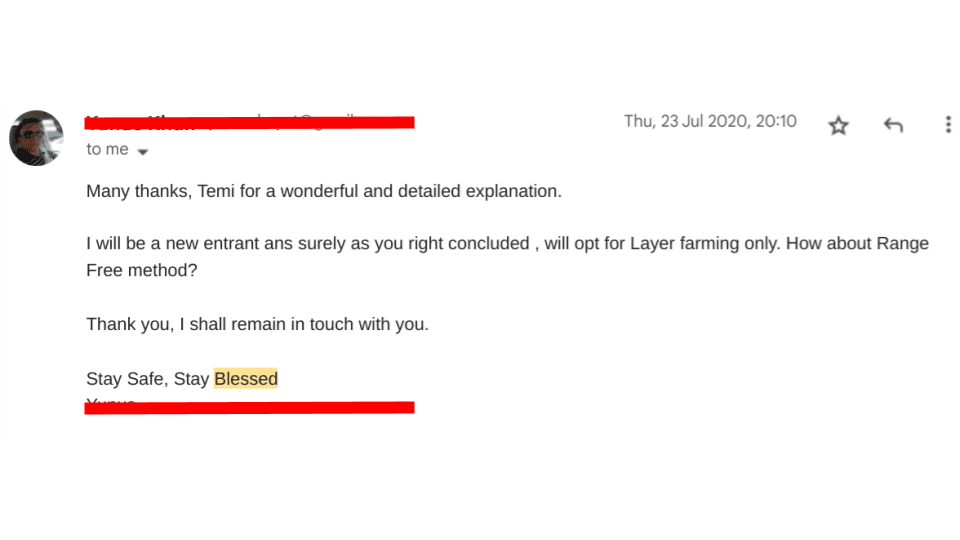 Click to enlarge…
Subscribe

Below
To Join eLearning Immediately

Sign up as a subscriber below to begin the courses and to begin getting a firm grasp on your future poultry profits today!

 Money Back Guarantee
POULTRY COURSES 1-MONTH
Master poultry farming, trial pass…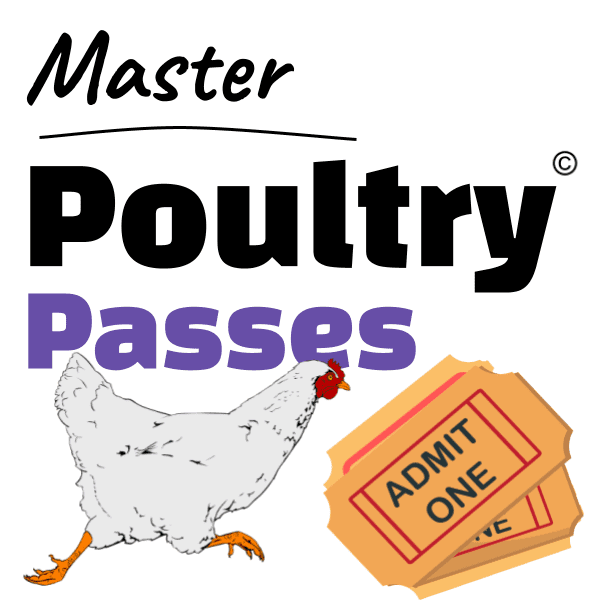 Exclusive Poultry Business Courses & PDF Downloadable eBooks.
Exclusively written by Temi Cole.
An affordable way to pay for your course material on a pay-as-you-go basis.
ALL

Materials & Learning Resources.
ALL courses included, but unlike the annual pass this is paid monthly.
Course Feedback By Email.
Simple, secure card payment
No tie-ins, cancel anytime
POULTRY COURSES 1-YEAR
🥇 Access all areas masterclasses…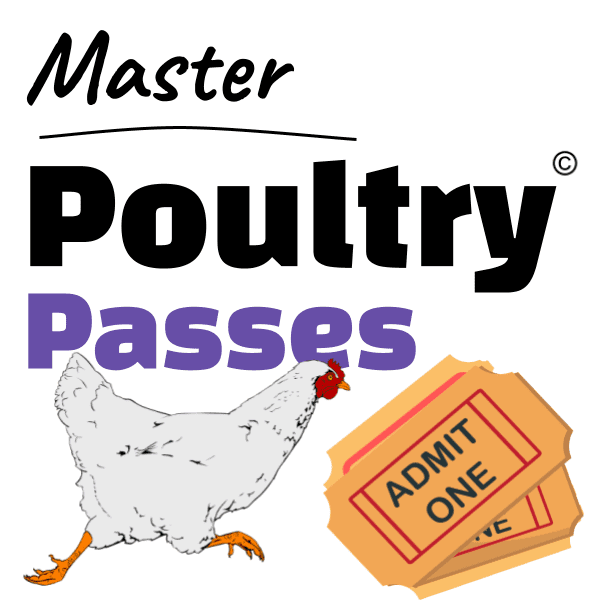 Exclusive Poultry Business Courses & PDF Downloadable eBooks.
Exclusively written by Temi Cole.
Full access to all courses and email course feedback for an entire year.
ALL

Materials & Learning Resources.
ALL courses included, and paid yearly rather than monthly.
Course Feedback By Email.
Simple, secure card payment
No tie-ins, cancel anytime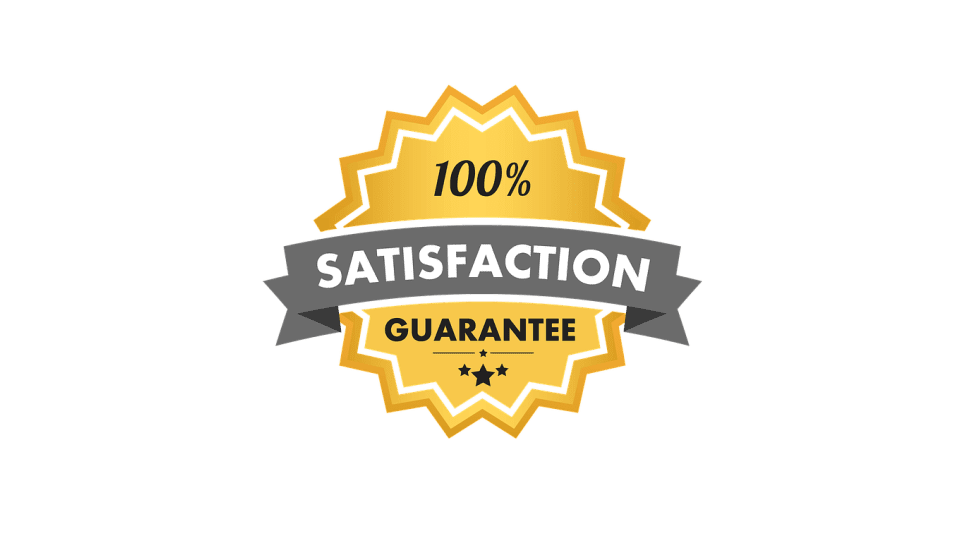 (Both plans have a money back guarantee.
No hidden fees and cancel at anytime (when you buy the annual subscription and decide it isn't for you, just contact us for a friendly refund on the unused portion).
"…consists of very useful tips for anyone who is planning to start a project…easy to follow."
– Dr Bonile Jack-Pama, PhD"
FAQs
Are payments on auto-renewal?
It's your choice.
When you sign up, you can choose whether you want *auto-renewal or to make manual payments.
(*You can always turn off auto-renew at ANY time.)
If you choose manual payments – I will email a reminder a week before expiry and a link to make payment.
Can I share the email content?
You can share the odd email with a friend, but the content is licensed exclusively to subscribers.
What if I accidentally delete an email?
When you sign-up, you'll be given access to the articles archive to review ALL historical emails.