Hello,
​
I'm delighted to invite you to my poultry training resources…
​
What's New?
Today, I'm introducing you to my new library of exclusive training resources.
With this new resource library, I will professionally coach you in picking up the pace for successfully launching a winning poultry enterprise.
It comes in 6 parts:
1. Poultry farming Q&A Discussion Board
2. Archive of ALL Poultry Project Reporter Series Email Tutorials
3. Archive of ALL Advanced Poultry Pickup Email Newsletters
4. Archive of ALL Business Planning Specs Email Newsletters
5. Sample Data from my Project Report Analysis (in local currencies)
6. Exclusive Business Planning & Management Template Library Online Toolkit
​
This growing library of resources is tailor-made for putting at your fingertips EVERYTHING you need to 'fine-tune' your poultry business engine…& steer it into maximum profit.
​
As of today, you can head over to the library and receive a boost for giving your project plans a major FAST-forward.
​You can get all the exclusive premium resources right here.​
(The resource library is available for the first time from today. And yet, with every 'paid subscriber-only' email I send, exclusive planning/management template I release, or Q&A response I draft – this library INCREASES.)
​
Why This Addition?
Things here at The Big Book Project move quite quickly. The desire to serve well drives me on.
​
But with experience,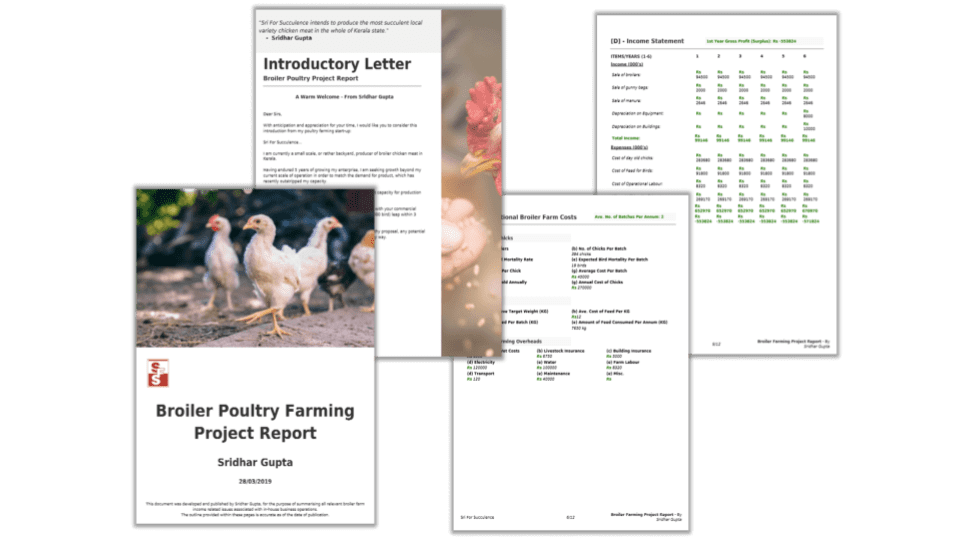 Write Your Poultry Project Proposal - in Just 90 Mins!
Poultry Project Reporter 2.0 - fastest way to write your project report online.
Get Poultry Project Reporter 2.0
I have learned that the success of any worthwhile service relies on whether the value provided was really 'asked for',
Rather than something offered (in vain).
​
I've therefore learned to keep a keen pair of ears. And relish feedback.
​
But feedback is fruitless unless you act on it in business.
​
So,
Here it is.
​
This new exclusive premium resource library is my:
Re-action to your action.
​
A careful and complete response to the most frequent requests I receive day-to-day…
​
Here's how my library lines-up:
​
(1) ONLINE ARCHIVE of Poultry Project Reporter Series Emails: in-depth business analysis for helping you command a solid understanding of production estimates and financial projections for poultry farm businesses.
"…a grain-by-grain digest of how the numbers of a poultry farming business REALLY stack up and relate to profit."
Here's what you get:
Step-by-step

case study tutorials of 'real-to-life' poultry project plans

Detailed calculations

of egg and chicken meat production models

Graphs, charts and dashboards

for visualising exactly where the optimal profit is

Side-by-side comparisons

for helping you assess better scenario planning

Complete reveal

on all of the metrics, workings out and financial exercises

Clear-cut conclusions

for razor sharp decision making and confidence with your project
​
(2) ONLINE ARCHIVE of Advanced Poultry Pickup Emails: a world-class, technical poultry farming learning program – for professionals, start-ups and experienced farmers.
"…like having a panel of experienced poultry experts to by your side (every step of the way) whilst you launch & grow your new venture."
Here's what you get:
A-Z technical poultry guides

for starting and growing your project

Explore operational management

issues, strategies and solutions

Custom calculators

and more to put all necessary poultry figures at your fingertips

Pro recommendations

for achieving the optimal operational set-up

In-depth tutorials

of best practice management tips for layer or broiler farms

Quick tips

on how to unpick trouble spots in your project
​
(3) ONLINE ARCHIVE of Business Planning Specs: a complete business planning toolbox for building your winning agribusiness strategy – from scratch.
"…like a one-stop-shop for getting a distance learning, grassroots MBA-lite in agribusiness, with all the practical pointers you need."
Here's what you get:
Expert business planning guide

for writing a winning agribusiness plan

Web calculators

to accurately project your business milestones

Proven scripted communications

for getting consistent sales & marketing outcomes

Specialist software tutorials

for achieving 1st class results with digital design & online marketing

Sample business plans

to illustrate best just how to pull your own plan together

Analytical case studies

to bring to light key factors for success with your agribusiness

Actionable strategies

for leading your market with standout value
…and much more.

​
(4) Sample Datasheets of Example Poultry Projects: an online bank of the SAME financial and operational datasets used in my example layer and broiler project analysis emails.
"…for a line-by-line, close-up examination of what was really going on in those detailed analysis emails."
Here's what you get:
Excel or Google sheet format

for ease of transfer

Instant download

to take away and read at leisure in your own time

Local currencies

for convenience of use

Comprehensive array

leaving nothing to the imagination – all figures revealed

Spot critical patterns of profit

for tweaking your own production and cash flow expectations

Compare your own project estimates

against the same details you read in the tutorial emails
…and much more.
​
(5) Exclusive Online (form-fillable) Business Planning Templates: a gold standard set of online (digital) business planning & management templates for effortless publishing.
"…the quickest way to publish a thorough agribusiness plan with all the finesse & completeness of an expert consulting service – but DIY. "
Here's what you get:
Professionally formatted

and acceptable for all official use and application

Easy to use online web form

for completing the templates

Helpful user notes

for understanding the purpose of each template and section

Auto-calculation

for 'painless' and precise number crunching

Instant email submission

to receive your business plan details

Unlimited use

so you are not penalised for making mistakes or refining your attempt

Build your business plan in record time

using all of the tools that industry pros use
…and much more.
​
(6) Questions and Answers Discussion Forum: a specialist discussion board to keep you current with what's topical amongst your peers across the world of poultry farming business enthusiasts.
"…get confirmation or help to see things more clearly on how to move forward successfully with your poultry farming plans."
Here's what you get:
'Ask me anything (AMA)'

wide-open enquiry line for seeking answers on anything poultry

Bespoke 1-to-1 longform response

to your most pressing poultry issue, tackled head-on in fine detail

Professional references

for verifying your plans for action

Remote consultancy

at a fraction of the price of traditional services

Forum commentary

from the pool of over 4,000 email recipients, in 95+ countries

Input from proven professionals

including: PhD. poultry experts, business value chain managers, trainers & more….

Browse answers to common poultry problems

from reading the issues faced by your peers locally or internationally
…and much more.
​
So…
…there you have it:
– access the online archive of every email I send = never miss a thing.
– 'ask me anything' via Q&A
– build your business plan in record time
– download sample datasheets for detailed financial analysis
– get all the analysis you need to crack your own code for success
​
In a nutshell?
I released my library of exclusive premium resources.
And you are invited to subscribe today.
Speak soon,
Temi