Go to chapter 17 of this eBook by clicking this link…"Layer production profit". Click here to find the next chapter.
Hello,
Broiler feed contributes to as much as 70% of operational costs, according to farmers worldwide.
In other words,
For every 1KG of broiler meat sold at market, 700g of the proceeds goes to your suppliers for feeding your flock.
Significant…
…but necessary and unavoidable.
Whilst it can't be side-stepped,
Can it be shaved down? [WITHOUT compromise]
The answer is yes.
Broiler feed cost is equivalent to a carpenter taking a rough piece of wood stock…
And applying his ability to shape and mould it – he turns it into something useful and even profitable.
Approach handling broiler feed cost in this way and it will LITERALLY pay you back.
Breed & FCR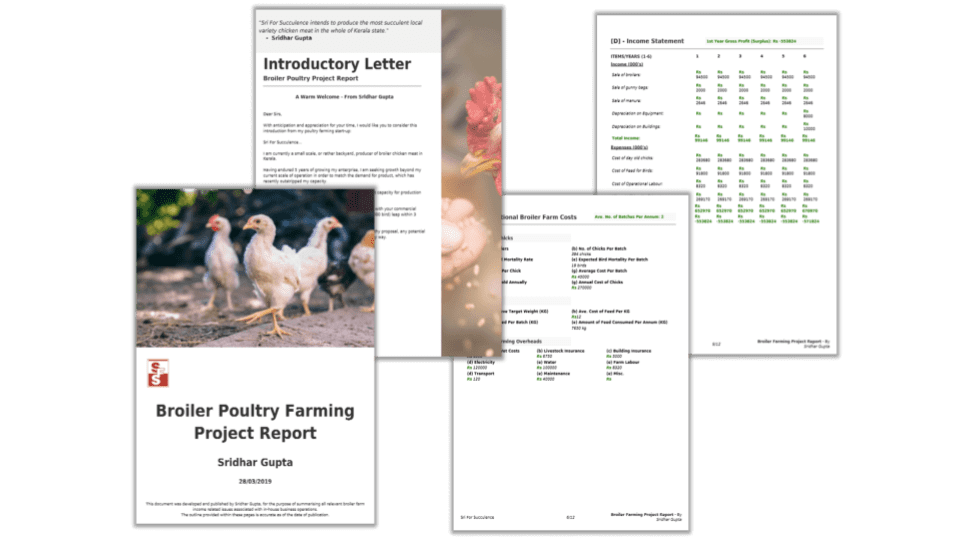 Write Your Poultry Business Plan -
in Just 90 Mins!
Poultry Project Reporter 2.0 - fastest way to write your project report online.
Get Poultry Project Reporter 2.0
Each breed or strain has its natural ability for being able to convert nutritional intake into muscle (meat).
Strains are even selectively bred for their predictable meat output.
The typical ratio of feed (weight) to meat (weight) is known as the feed conversion ratio, or FCR.
The greater the FCR the less efficient the breed/strain is in turning feed into meat.
Selecting a breed which has a highly profitable FCR profile, as well as other favourable features…
…is one simple way of reducing the cost of feed per bird / batch.
Energy content
Broilers have been known to adjust their feed intake by as much as 10% to accommodate varying energy content.
In other words,
If broilers are fed exceptionally high energy content in their feed…
…they are able to naturally regulate their food intake to compensate, either way.
Getting the right balance achieves an optimal profitability.
Optimise all non-feed related husbandry practices
Feed is the principal contributor to broiler yield.
However,
Other handling factors influence this conversion, positively or negatively.
To ensure you experience the most favourable results, just like a chemistry experiment…
…keep all other variables constant.
Solid animal husbandry practices when handling and conditioning your birds will get them eating and accumulating weight.
Feed form
Getting feed into the bird and not wasted is critical to feed efficiency.
It's one thing to load it with nutritional value,
And make it available to your flock in the right amounts – at the right time, but…
To have the feed wasted because the birds scratched at it, but didn't actually eat it is a disappointment.
Preparing its form is one of the ways in which you encourage your birds at the various milestones of growth to actually take on feed.
Make your feed too fine and much will be lost that doesn't get picked up.
Plus, generally, your older flock will not find fine feed as palatable as pellets. However, chicks and mash are just the right combination.
Serve your flock with the most convenient form and they will reward you with yield.
Whole Grain Feeding
Combining the provision of manufactured bag feed and whole grain smooths out the commercial feed cost.
You can significantly temper down the hit you take on feed cost, by varying your menu.
Also, other benefits are:
better littler quality

Improved gut flora
Ensuring grain quality is high and free of toxins are important factors to consider.
But if you are diligent to observe good standards, you could substitute as much as 15% of grower feed and 20% of finisher feed with wheat, barley or oat (ideally, no husk)
Alternative supplements
Supplementing feed with amino acids, in particular, equips your broiler birds for optimal growth.
Amino acids…
…the building blocks of protein, the substance of muscle (meat) are critical to get right.
Whilst complex protein content in broiler diet is one way to get them in (being broken down into the constituent amino acids)…
…having AA in their readily digestible format, primes your birds for growth.
There are medicinal/synthetic AAs that can be added to feed (fortifying the mix).
Reportedly substituting as much as 2-3% of dietary protein:

Source: Specialized protein products in broiler chicken nutrition: A review
But similarly, there are alternative additions of plant-based protein sources (like Soy Bean Meal or SBM) which can have good yield effects
Source: Specialized protein products in broiler chicken nutrition: A review
…but there are drawbacks which take away from the potential benefit of the high crude protein content of soy bean meal (SBM…

Source: Specialized protein products in broiler chicken nutrition: A review
Most of all – ANFs or anti-nutritional factors. These are nutritional inhibitors which occur naturally in plant-based protein like SBM.
ANFs dampen the positive effect of high protein plant sources, but there are ways to 'knock-out' their effects.
Like this…
Source: Specialized protein products in broiler chicken nutrition: A review
Feed ingredients
But the question with the selection of broiler diet could still be…
…"what ingredients or diet plan should I use for where my farm is based?"
Farmers have got to be resourceful to survive.
Having knowledge of:
what ingredients are available locally and

what their benefits might be to your bottom line
…will grant you an advantage.
You have to be willing to try things out a little, performing feed trials with certain batches, or cohorts within a batch.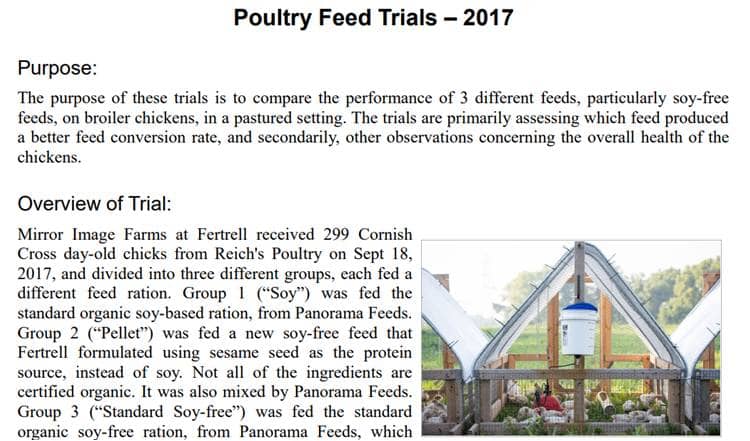 Source: Poultry Feed Trials 2017
However, be warned. There is a temptation to get carried away with trials and in the hunt for more gain, lose the purpose.
Don't get obsessed with weight gain – the broiler business has so many other areas of potential increase.
Beak trimming
This is commonly practiced early on in the developmental growth phases of a broiler.
The purpose?
To prevent injury and the lasting effects of aggression between birds.
But does it affect their intake of food?
In short, it seems marginally for 3 days post trimming, but thereafter no effects…
Although, damage from in-fighting is avoided – meat quality is maintained.

Source: The influence of beak trimming on feeding activity
Adjusting feed level in the feeders
Convenient access to feeders is critical to intake.
Broilers grow rapidly.
The equipment they use, complementing their size to move in-line with their growth.
Daily adjustments to feeders and waterers should occur to make the process of intake as easy as possible.
This way you ensure your flock are not resisted in their ambition for growth.
Spoilage
More of a problem with natural ingredients than manufactured pellets is spoilage.
If left out and uneaten, feed can deteriorate and quickly lose its nutritional benefit.
Worse still, anti-nutritional effects from toxins etc .can occur within a broiler's body if consumed.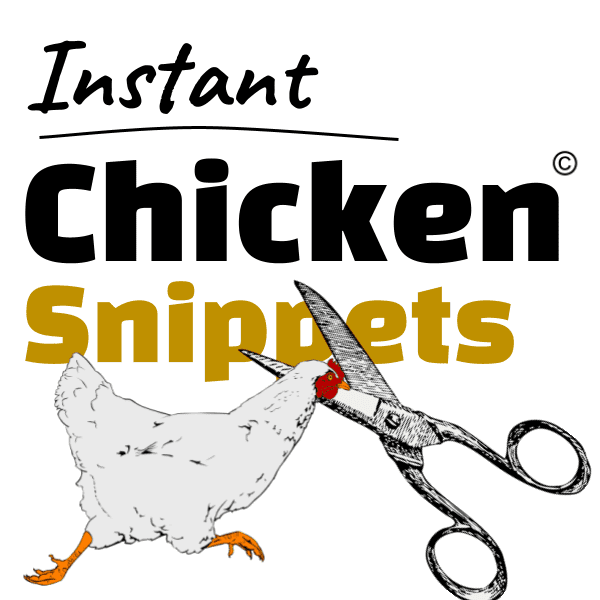 Read The Poultry Business -
Like Never Before!
Chicken Snippets Newsletter - deep poultry analysis to sharpen your acumen, by email.
Get My Newsletter
This can give rise to a pattern of reduction in the conversion of feed into muscle.
A real sinker for profit.
Lighting programs
The delivery of adequate levels of lighting to your flock will influence their eating and drinking behaviours.
Source: AA Broiler Handbook 2018
According to age, your flock will require a particular amount of light and dark for adequate levels of feed and rest.
Ensure you deliver the required amounts and are aware of necessary amounts at each growth phase.
Get this wrong and your FCR will be interrupted.
Local authority regulations on lighting will also need to be considered.
The bottom line…
The cost of feed is unavoidable.
Birds need to eat and more so, they need the right quality of feed.
This is your input to the investment of running a broiler farm.
Your output of profit (reward) can also be affected by complementary factors…
…not just feed.
Keeping on top of these associated helpers (hinderers) of FCR – feed conversion – will give you optimal results.
And now, over to you:
Are you a broiler farmer with looking earnestly to cut your feed cost?
Or, are you still planning it all out and need a few more pointers to keep you on track?
[Agreed, it's a tough topic.]
Either way, write me back and let me know.
I read every comment.
Speak soon,
Temi
Go to chapter 17 of this eBook by clicking this link…"Layer production profit". Click here to find the next chapter.