Go to chapter 20 of this eBook by clicking this link…"Agri-accounting & Bookkeeping". Click here to find the next chapter.
Hello,
FACT:
Getting your broilers to target weight is NOT the end goal.
Getting them to market is.
As the saying goes, it isn't over, until it's over.
Broilers are finely tuned. Creatures of habit and largely affected by their rearing conditions.
The slightest change to routine or environmental conditions applies stress to their bodies.
This often results in a positive or negative impact on your final weight outcome.
As in the case of preparing your broilers to be processed, even in the hours leading up to slaughter…
…delays and discomfort typically lead to a loss of weight.
Loss of weight = loss of money per kg in the trade.
So, keeping your broilers as consistently cared for as possible – before (pre) processing – all counts.
Where and why losses can be made in preprocessing…
23 hours of light 3 days prior to catching – calms birds. Calm birds maintain their weight.

Feed withdrawal is required to empty the gut for accurate live weight and also to avoid faecal contamination

This should be done approximately 8-12 hours before slaughter for best results:

Including

, time in the house, catching time, transport time and lairage.

Leading up to the day of transport ensure the following is unchanged:

regular feeding practice (before feed withdrawal)

environmental temperature

feeding space

Remove whole grain at least 2 days prior to catch

Keep feeders down during feed withdrawal until catching crews arrive – this avoids litter eating

Keep all flock disturbances to an absolute minimum (unusual lighting practices, loud noise, temperature, opening & closing of doors, walking up and down around flocks etc.)

You can naturally expect birds to lose only about 0.25% of their body weight per hour during feed withdrawal

Monitor withdrawal behaviour continuously to prevent unnecessary losses

Water should be given right up until the catch. Dehydration is a threat during the waiting period before slaughter.

Plan your catch carefully and ensure your crew are well-trained, disciplined, under strict orders and prioritise bird welfare for best results.

Birds should be kept calm

Minimise physical contact and jostling

16-18 degrees C and controlled ventilation (fresh air) – but avoiding chilling the birds

A checklist should be used to summarise your action plan

Always catch with care and minimal disruption – correct methods are profit saving, preserving the quality of the product.

Transporting birds to market

Use

modules

rather than crates – this saves on birds accumulating bodily damage (the better investment)

Make sure birds are not on their backs

Don't overfill or overheat – this introduces stress and leads to weight loss

Too few birds per module and they are not buffered and can get injured

Consider their temperature and ventilation & keeping this constant
The bottom line…
The downgrading of meat resulting from bruising or maiming or even loss through DOA (dead on arrival) – reduces profit.
Your job of stockmanship right up until:
handing over to logistical partners

slaughter, or;

sale
…has a direct impact on your profit.
Be well aware of where gains and losses are incurred.
Remain vigilant and coordinated amongst all hands-on parties in the process.
And now over to you:
Are you new to stockmanship and need tight procedural planning to succeed?
Have you made costly handling errors before and now look to improve?
Either way, write me back and let me know.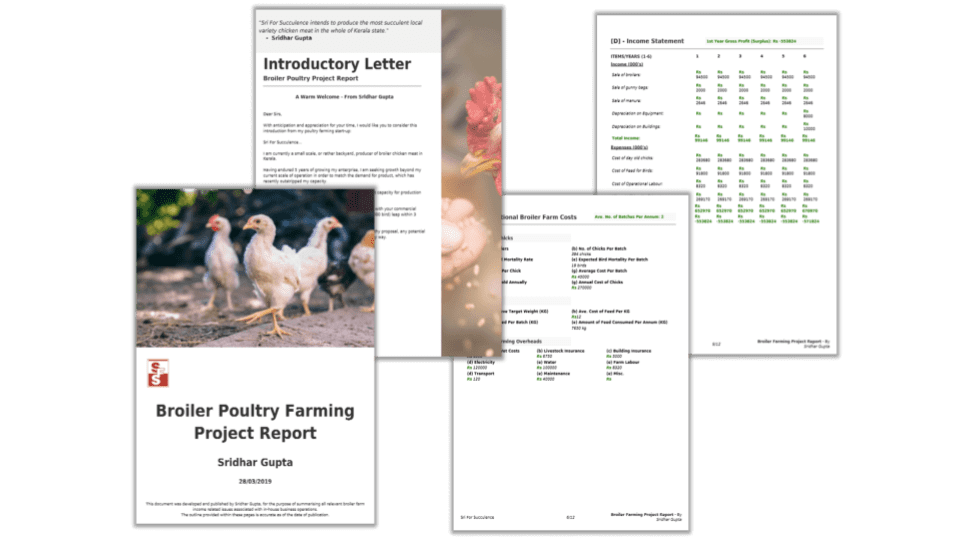 Write Your Poultry Project Proposal - in Just 90 Mins!
Poultry Project Reporter 2.0 - fastest way to write your project report online.
Get Poultry Project Reporter 2.0
I read every comment.
Speak soon,
Temi
Go to chapter 20 of this eBook by clicking this link…"Agri-accounting & Bookkeeping". Click here to find the next chapter.