Go to chapter 21 of this eBook by clicking this link…"Business case template". Click here to find the next chapter.
Hello,
Whilst thinking about your farm business planning,
You may have put financial accounting and bookkeeping in the 'professional help' category.
Many business owners consider, that this is something that you simply get someone else to do.
A debilitating notion.
This single oversight cripples many businesses at their conception.
A sad tale.
Business is driven by service,
But sustained by numbers.
Whilst you can be GREAT at what you do…
…if you don't take ownership of your money metrics and record-keeping,
Then you cannot excuse yourself of falling short.
So get on top.
In this email, I want to reveal to you just how important financial planning is to long term profit,
And farming success.
Record keeping
Step one with planning business profits is to keep diligent records.
Sustainable business is not theory, but practice.
You will live or lose on whatever is really left over after trading occurs.
Every penny counts.
Be diligent.
This begins with setting up the right templates.
Before you pour in your precious substance into vats,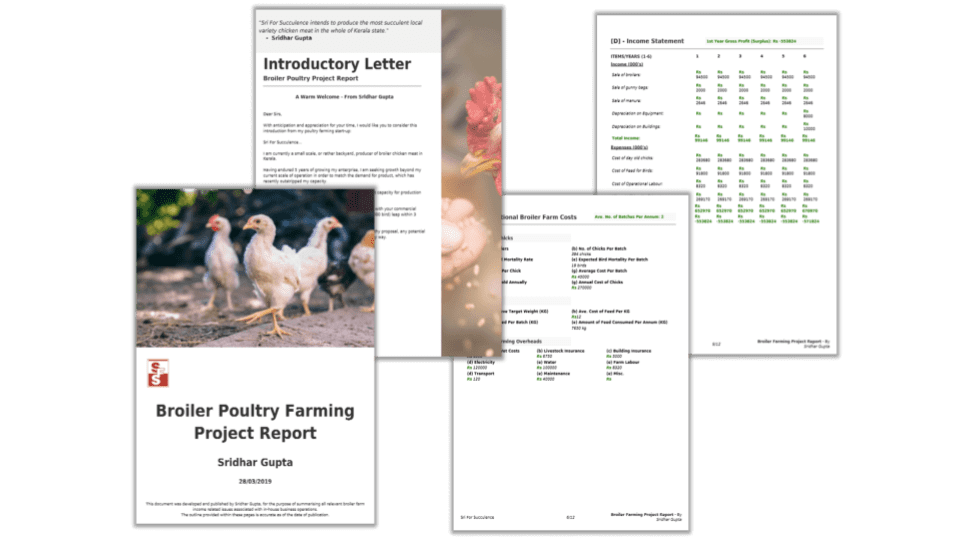 Write Your Poultry Project Proposal - in Just 90 Mins!
Poultry Project Reporter 2.0 - fastest way to write your project report online.
Get Poultry Project Reporter 2.0
Make sure the vats are fit-for-purpose:
Right size

Right material

No leaks
…tried and tested to hold, so no mistakes or regrets.
Bookkeeping templates are you primary inputs for your business financial data:
sales daybook

individual sales transactions are recorded

purchases daybook

individual purchase transactions are recorded

cash receipts

a record of every time cash is received by your business

cash payments

a record of every time cash is paid out of your business

sales returns

whenever a sale is returned or refunded by your business to one of your customers

purchase returns

whenever you return a purchase to a supplier and receive a refund for your business
Get your money movements logged in here and you'll suitably have the substance to build a business vision.
It is from exercising this baseline discipline that more advantageous decisions can be made.
Liken bookkeeping, to keeping a journal or diary.
Explicitly detail every transaction.
It's the primary reference point of all things financial, including obligations like tax.
Keeping the format consistent using the points above is critical.
Its the layout all professionals use and therefore this way…
…no matter who reads it, it should mean the same thing.
Reporting
Speaking of decision making, reports are the tool of choice for every financial decision.
They provide snapshots of progress.
A bit like glancing at a Sat Nav on the way to your chosen destination for:
Time remaining on your journey

Obstacles or delays

Alternative routes etc.
Likewise, a report: like a profit loss statement, tells you how profitable your operation is,
And whether or not you can expect to hit those long term targets, like:
Running statements like this every now and again lets you:
Pause

Take stock of where you are

Plan your next move
Vital managerial playmaking ability comes from this.
Visualise and interpret
Presenting your data in a variety of views helps different audiences to:
…how your business is performing in different areas.
Becoming nimble in showing how you are doing in one way or another,
Helps bring certain facts to light.
Business dashboarding is a key skill. Learning appropriate uses and combinations of graphs and charts will pay you back.
Statements & justification
The success of your business will largely depend on you making profitable decisions.
The welfare of:
staff,

family and

supplier/customer relationships
…will rely on this.

Their trust in you will depend on you allowing yourself and the decisions you make to be held accountable.
The more transparent you are and willing to show proof of your decisions…
…the greater the understanding you will build with your stakeholders.
This leads to comfort and belief in the plan.
Such favour often carries you at times when challenges arise.
Your backers will be for you and not give in to doubt.
The bottom line…
Getting on top of your financial accounting and bookkeeping puts you in the driving seat of profit.
From the outset, having a mind to steer what your numbers do is critical to getting paid.
Setting your books in order ensures every grain of increase is retained,
And makes a difference.
Now over to you…
Are you currently planning your financial bookkeeping and accounting?
Have you got experience in financial accounting?
Either way, I'd be interested to hear from you.
(I read every comment.)
Speak soon,
Temi
Go to chapter 21 of this eBook by clicking this link…"Business case template". Click here to find the next chapter.