Go to chapter 6 of this eBook by clicking this link…"All-In-All-Out broilers". Click here to find the next chapter.
Hello,
​
I was recently calculating expenses for a poultry farm project,
and got STUCK…
​
Here's what did it:
​
"How do I accurately calculate the cost of deep litter?"
​
When writing a project report or proposal, so much of what comes out at the 'business end' of things relies on SOLID inputs.
'For reliable results, you have to get granular on detail.'
(That's right, every single grain of matter…really does matter.)
​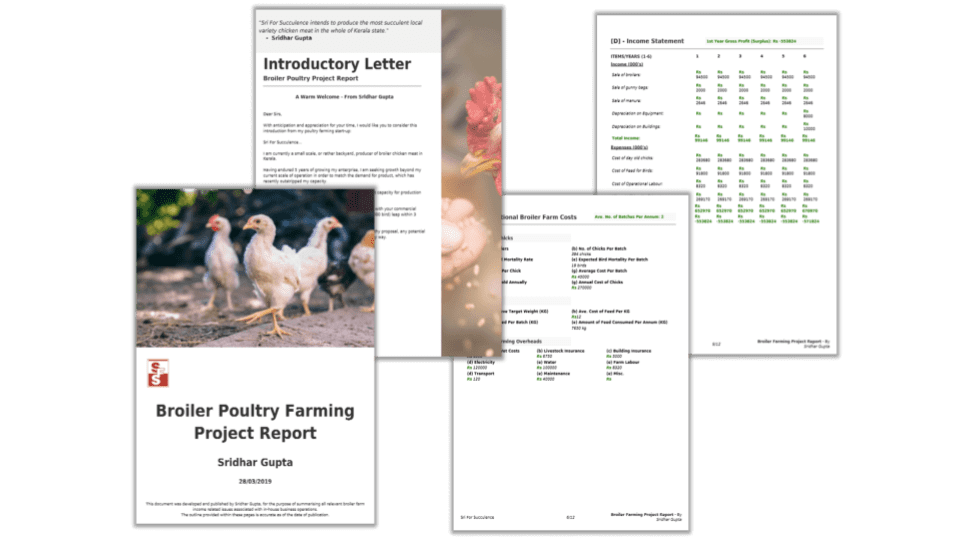 Write Your Poultry Business Plan -
in Just 90 Mins!
Poultry Project Reporter 2.0 - fastest way to write your project report online.
Get Poultry Project Reporter 2.0
In some limited cases, a ballpark figure will do.
Take office consumables, for example printer cartridges, paper, pencils etc.
Even, larger one-off capital purchases are concerned: a van, for example, can be estimated loosely without MAJOR accounting risk.
But where the cost implication is:
operationally significant

recurring

large scale

highly variable

has production model dependencies

quite a technical calculation
…(as in the case of deep litter), you need to be SURE you are getting things right.
​
So rather than just plug in some 'back of an envelope' long-shot,
I decided to work it out by LONG hand.
​
But to save you the hassle, I just published my findings in this neat post.
​
Here's a step-by-step summary of how it all works.
​The Poultry Farm Deep Litter Cost Calculator​
*I highly recommend the read, it will no doubt help you save time and error whilst calculating your deep litter costs.
(Also included in this detailed tutorial is an example calculation, plus a spreadsheet and online calculator.)
​
And now over to you…
Are you currently working out the deep litter costs for your project plan?
Are you already farming and want to compare the costs of alternative litter material?
​
Either way, I'd be interested to hear your thoughts.
I read every comment.
​
Speak soon,
Temi
​
P.S. If you want to learn more advanced techniques for improving your poultry farming profits,
I recommend you joining my new premium newsletter, Advanced Poultry Pickup.
Yes, it has tons of actionable strategies (like the one above).
But more important than that, Advanced Poultry Pickup is a step-by-step blueprint to help you develop a profitable poultry farming business in record time.
​Join the Advanced Poultry Pickup Newsletter
Go to chapter 6 of this eBook by clicking this link…"All-In-All-Out broilers". Click here to find the next chapter.