Layer Farm Assumptions, Constraints & Risk Analysis – PDF Output
---
  PDF Example Screenshot:
This is an example poultry farming project report 'risk analysis' summary…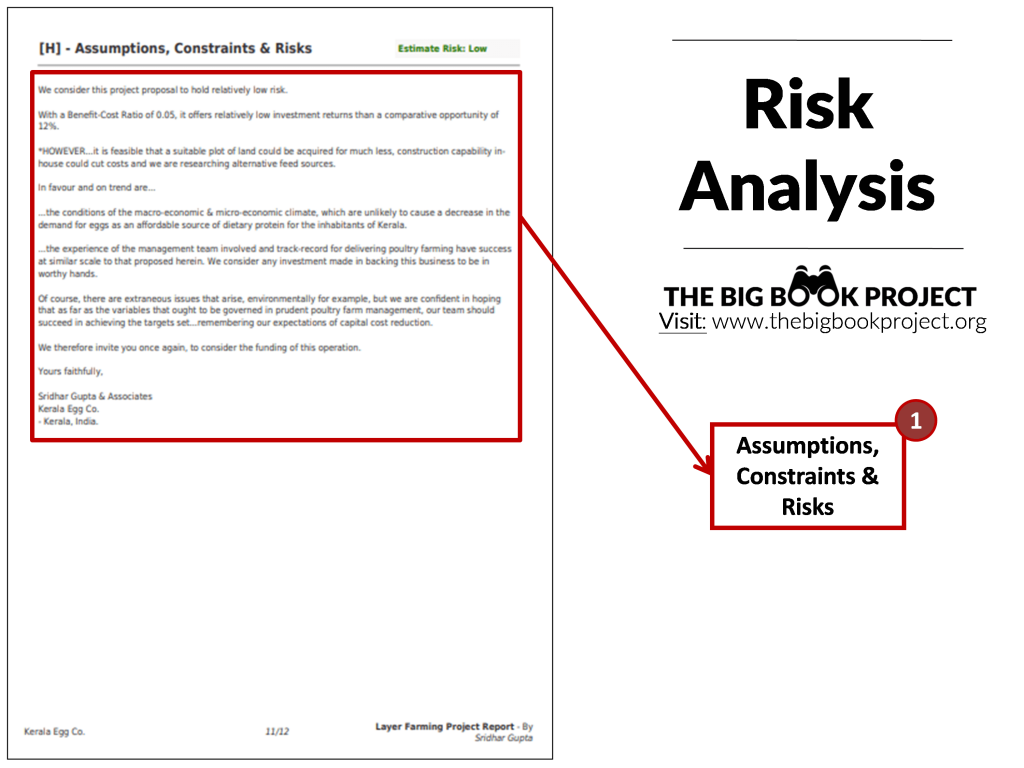 Whilst your investor's decision hangs in the balances and you draw your report to a conclusion…
…what nugget of consideration do you want to leave them with?
This final section and conclusion of your poultry farming project report has a great tactical purpose in the process of selling your project proposal to prospective investors.
What's the purpose of this chapter of your report?

Objection handling.

Every successful sales process deals competently, confidently and comprehensively with the prospect's objections.

In other words, the ideal investment pitch answers well the questions which investors have that cast doubt in their minds on their willingness to commit.

Your poultry project report if it is to secure funding on your behalf, should openly address assumptions made, constraints involved and risks pertaining to your vision.

Investors are going to ask you such questions.

Why wait to be challenged?

Why not rather preemptively tackle these and turn them into an opportunity to add assurance?

This clears the air and leaves all things said in good order.

The goal is that you get the approval.
Further reading:
Final notes…
I recommend that you thoroughly read & re-read this sample guide – go back over the detail and revise the techniques used.
Our methodology is highly researched and adheres to various international industrial and technical standards.
Having said this, the layer farming example used throughout the thread, of course, has its limitations.
Firstly it is a layer farm, not a broiler farm.

(We intend with time to update this article regularly – to include amendments, like the inclusion of a side-by-side broiler comparison.)

Secondly, it is set within India.

But there is no reason why the methods used couldn't be transferred to Kenya, Uganda, Pakistan, South Africa etc.
This being said, keep visiting regularly because I have in the pipeline a whole host of useful poultry farming learning resources to help you get your project off the ground.
If you would like to take a look at a PDF print out of this example layer farming project report – get your downloadable 10,000 bird layer farming project report.
Would you like to ask me, Temi, a question about your own poultry farming project? (every & any country welcome!)…
…feel free to contact me.
---
Thank you for reading this guide and I hope you've found it useful in assisting you in writing your own report.