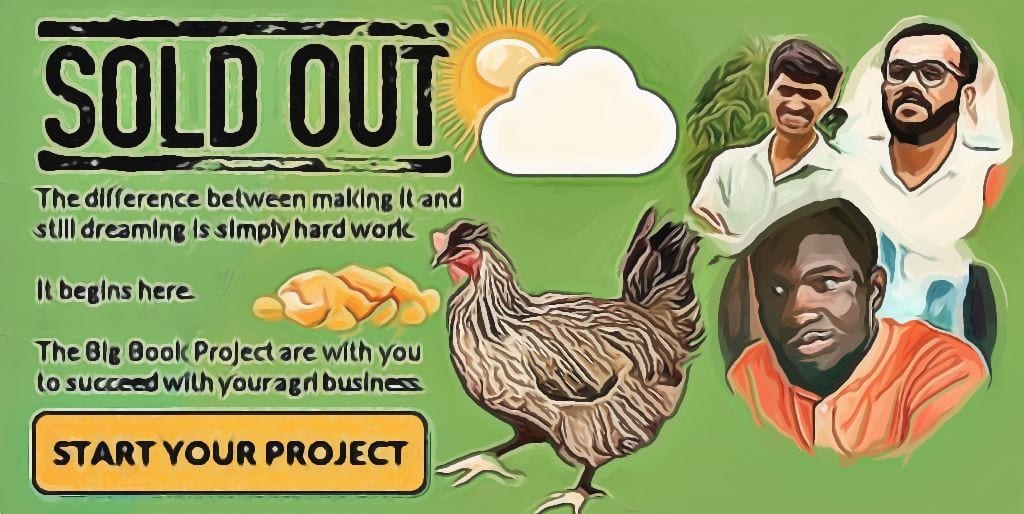 This is a HIGHLY detailed guide on how to start a poultry farm – for beginners.
In this new tutorial you'll learn, step-by-step, how to:
Get into poultry farming from scratch

Make a poultry business a success – avoiding loss

Decide if your focus will be on eggs or meat (table birds)

Survive the competition and rising costs

Start a poultry farm on a small scale & up your growth for good ROI
Let's get started (and begin to answer those questions).
Understand That Starting A Poultry Farm Is Agribusiness
Today, the ultimate poultry farmer is an agribusiness pro.
A modern blend.
(Neither all farmer nor all business – but both).
A kind of expert animal husbandman meets a business management mindset.
Don't think you need qualifications to start a poultry farm. You don't.
Successful poultry farmers come from all walks of life.
In fact (at the last count) the 5,632 subscribers to my poultry business newsletters are quite a mix – not at all what you would expect…
…accountants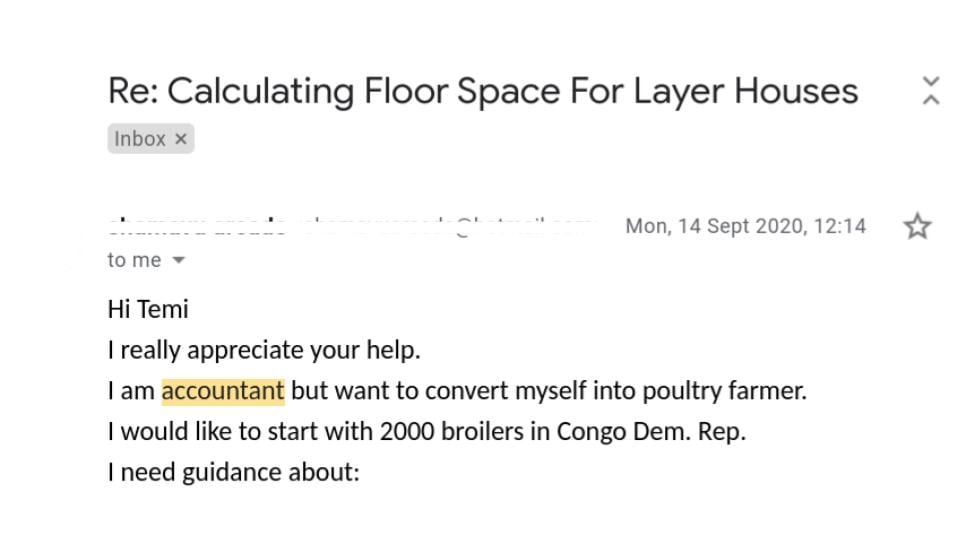 …government officials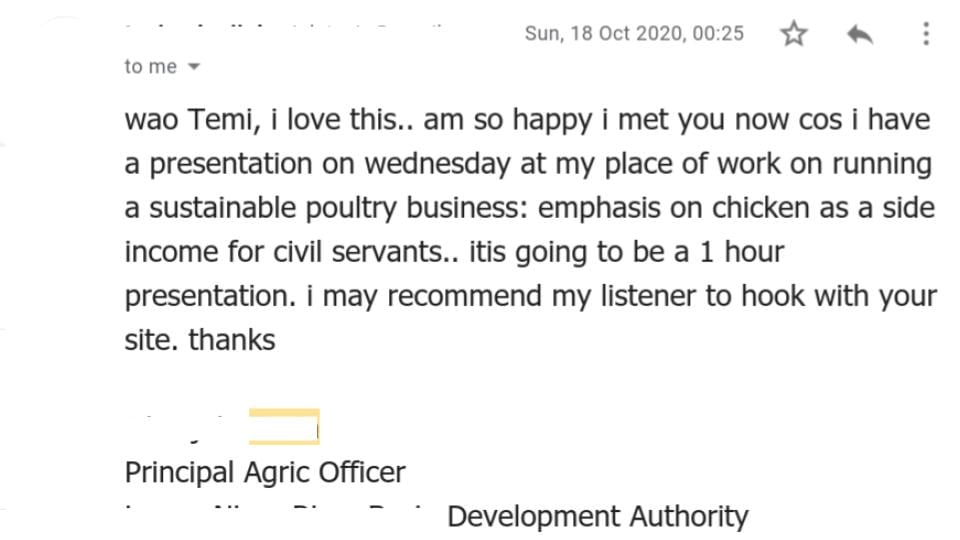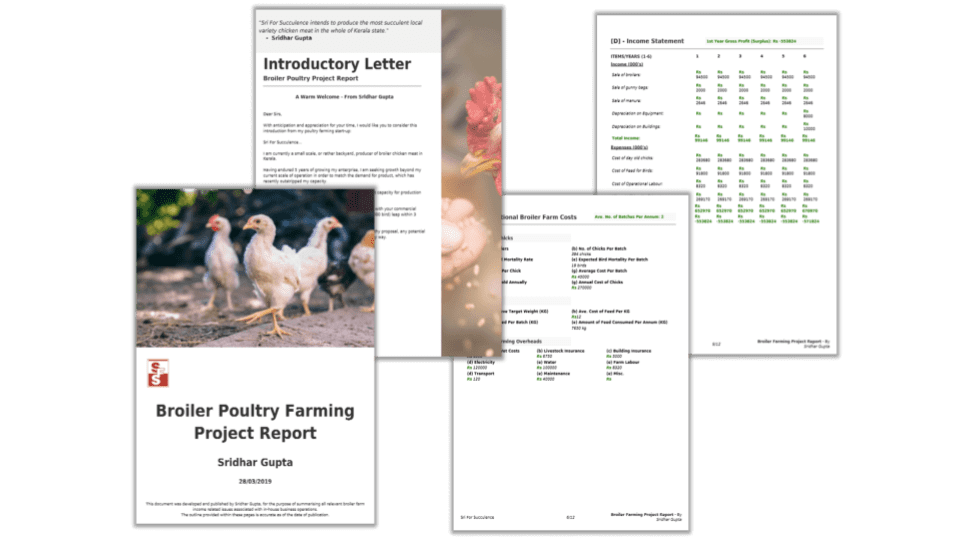 Write Your Poultry Business Plan -
in Just 90 Mins!
Poultry Project Reporter 2.0 - fastest way to write your project report online.
Get Poultry Project Reporter 2.0
…even pilots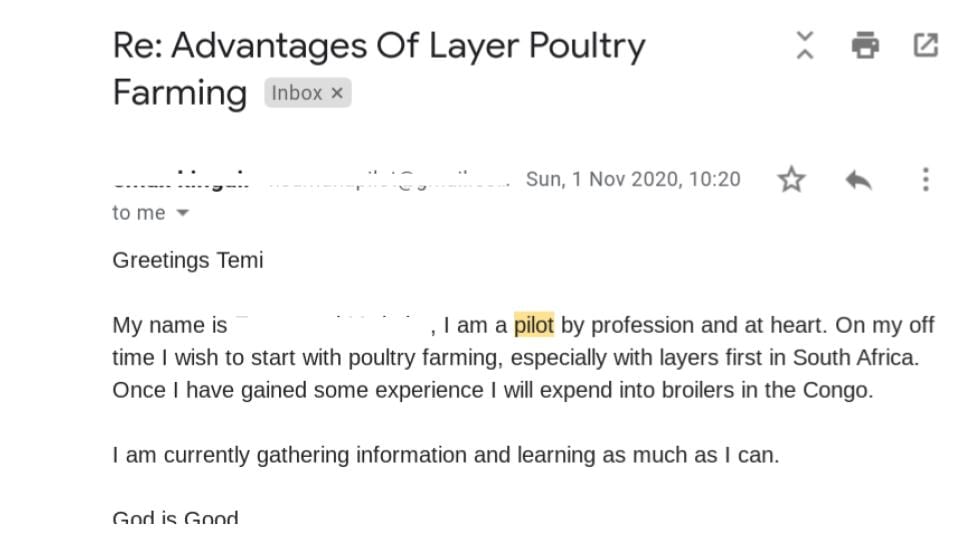 You could say that this proves that pretty much anyone can start a poultry farm.
Whilst you don't have to be a trained farmer, you do need the mental agility to straddle both (practical 'hands on' and commercial) disciplines of this venture.
So, 
If you can bring these two qualities to the table:
Relevant practical knowledge

Strategic commercial thinking
Then, in my opinion. you have a good chance of succeeding commercially in starting a poultry farm business – in any country.
Get To Know The Poultry Industry (Before You Start A Poultry Farm)
As well as some very attractive opportunities in the poultry industry,
There are equally some very real and potentially devastating threats.
So, before you start a poultry farm, you need to know your way around.
Get used to the routes to market and the forces at play.
Also, knowing how poultry fits into the wider livestock production market helps.
FAO Agricultural Outlook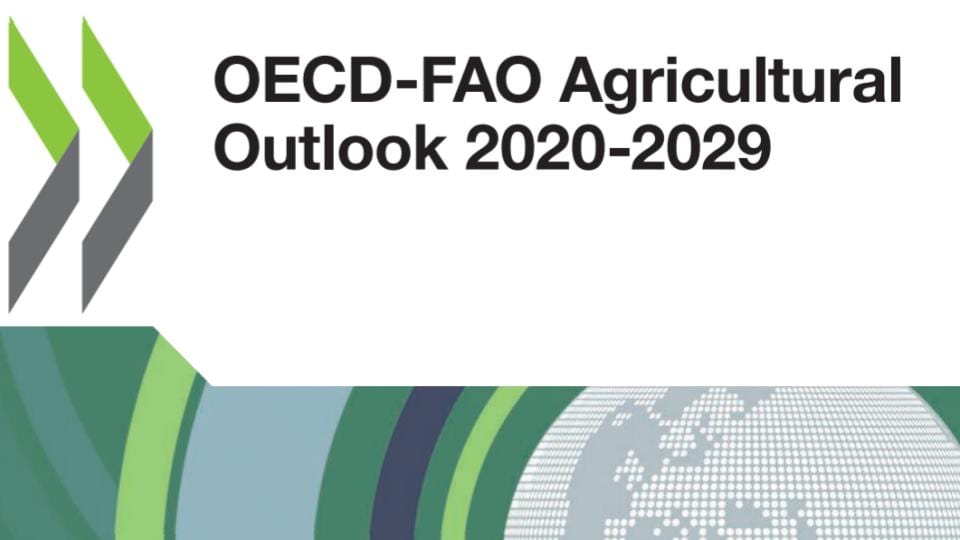 I advise a good starting point is reading the latest FAO Agricultural Outlook Report.
It's heavy reading but comprehensive.
And about as upstream as you can get.
The FAO have a bird's eye view on the worldwide agri trade and their statistics are widely trusted.
However, an outlook is always subjective – depends on how you see things.
That said, their report is filled with iron-clad poultry stats, so definitely worth a read.
https://www.oecd.org/publications/oecd-fao-agricultural-outlook-19991142.htm
http://www.fao.org/faostat/en/#data/PP
Governmental Statistics Office

Your national government's statistics office is your #1 go-to for on the ground figures.
They often present a wealth of information on the poultry industry in your country, 
From price indices to production and demand estimation – with lots of local sensitivity.
Reading their resources is a good way to stay on trend with your economic climate,
And how it affects poultry and is likely to influence your business profits.
For example,
I recently wrote this piece on the latest 2021 poultry industry figures for the Philippines.
When researching I always look to find the primary source.
Why? 
It's the most reliable.
I literally found all of the facts and figures that I needed in just a few clicks.
All under one roof.
Pro tip: want to get the latest breaking news from the stats office? Sign up to the Twitter channel. Again, the Philippines have one – so you're never behind.
That brings us on to…
https://twitter.com/PSAgovph?ref_src=twsrc%5Egoogle%7Ctwcamp%5Eserp%7Ctwgr%5Eauthor
Industry Press

The poultry industry's press has journalists on salary whose job it is to bring the best news – now.
The poultry industry often lights up the mainstream news with news coverage often reporting:
Price volatility

Regulatory pressures

Import-export disputes
…and more.
Articles like this are a gold mine for…
…market insights, research and general sentiment or trend analysis.
https://www.thepoultrysite.com/
Follow The Experts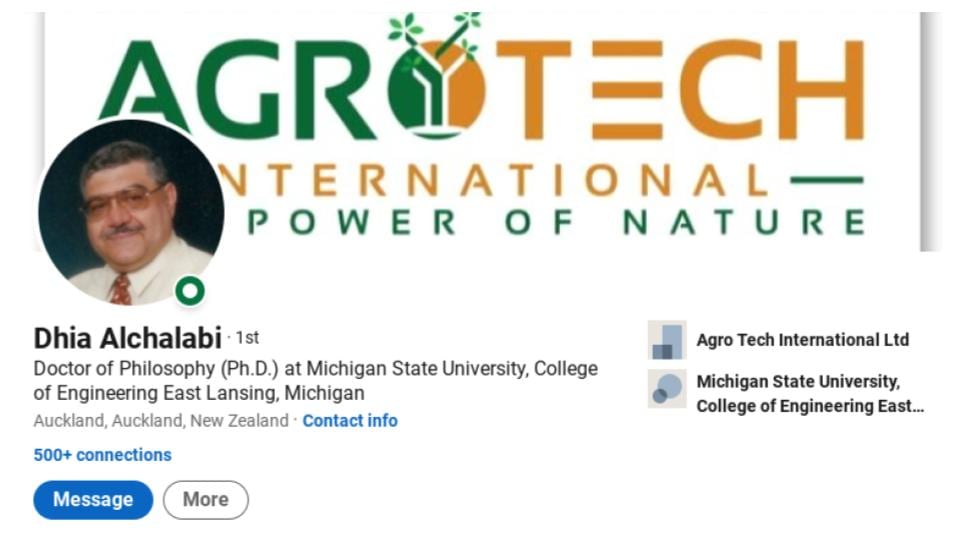 Experts enjoy teaching.
It comes naturally.
But to teach they need an audience.
Often this is where experts fail to reach their potential of passing on their knowledge.
Why do they tend to fail at this?
Lack of time to work at promotion

Money to spend on platforms to get found
So, often experts are all the happier when people who need their help contact them directly.
It's not always the case you get a response, but when you do – you'll be surprised at the valuable knowledge they literally just GIVE away.
For example, 

I recently approached Dhia Alchalabi, expert international poultry consultant.

This was my mission:

To get an expert's view on poultry house environmental control and its impact on profit.

In just a couple of lines of text via LinkedIn (you'll also find experts on Twitter or Research Gate),

And I received some exclusive articles he published years ago, 

Which are still golden today.

With that in hand I published this premium article entitled:

"Increase Your Poultry Profit By $300,000 with optimal environmental control."
Job done.
Visit Forums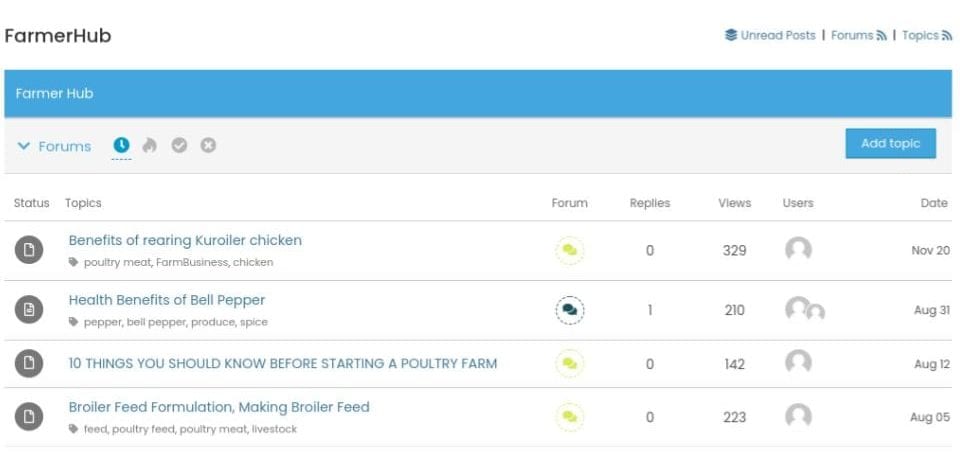 Forums are the digital equivalent of the shambles.
People visit these online pages for help and discussion on specific topics.
I find these IDEAL for market research.
Why?
Because they're filled with lots of 'real life' comments from people at both ends fo the experience spectrum
Sure you've got to do A LOT of fact-checking.
But it's great for coming up with ideas or thinking ways around problems.
For example,

This forum thread on The Farming Forum provides some great leads for mobile chicken house designs. Great research value.

Pro Tip: To find relevant poultry farming forums from your country use the following Google Search Operator command…

poultry farming inurl:'[country abbreviation]' inurl:'forum'

Read The Poultry Business -
Like Never Before!

Chicken Snippets Newsletter - deep poultry analysis to sharpen your acumen, by email.

Get My Newsletter

For example, try finding a poultry forum in Nigeria…

poultry farming inurl:'ng' inurl:'forum'

An example result.
Journalist
Journalists constantly consume quality data.
They will travel far and wide for the right findings.
One mention in a popularly read publication can go a long way to kick-starting your poultry farm promotion.
And it doesn't necessarily have to be for your own product.
The key here is to serve the journalist with what they need.
[So long as it is relevant to agribusiness & in particular: poultry.]
For example,
Say you had plans for launching your poultry farm in Dhaka (within the next 12 months).
Wouldn't it be great if your 'name' already was covered by major new publications?
All you need to have done is to have made some solid journalist contacts.
Here's how...
Type into Google:
poultry market Dhaka
What you get is...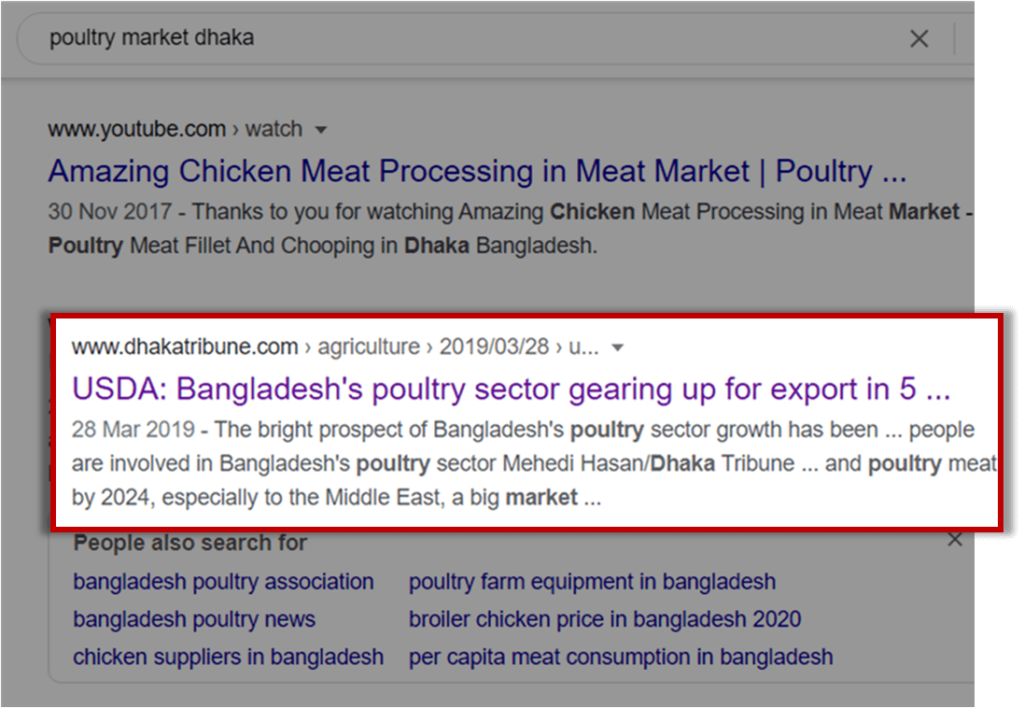 Clicking onto the page, reveals the author's name: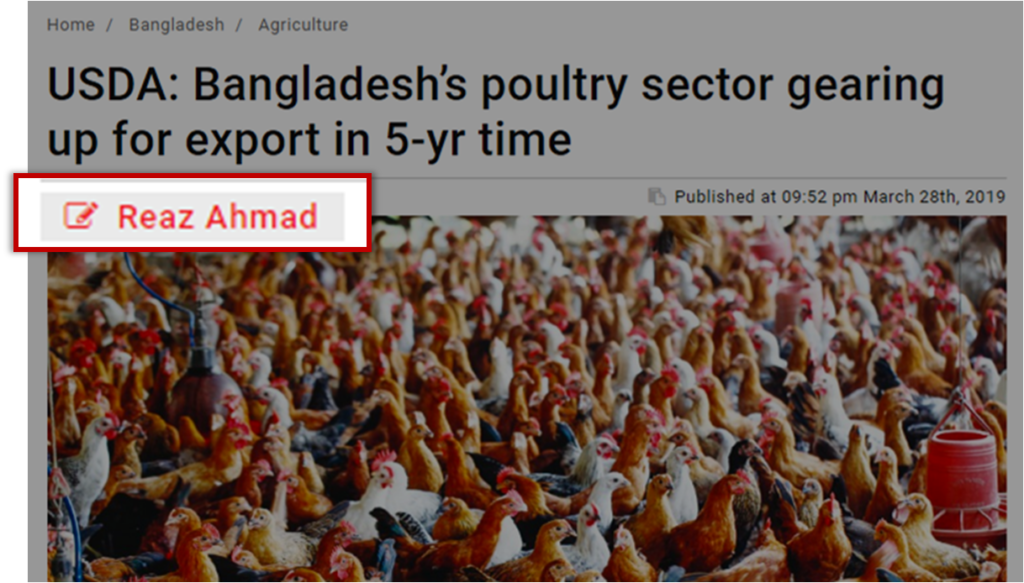 You search for the author's Twitter ID: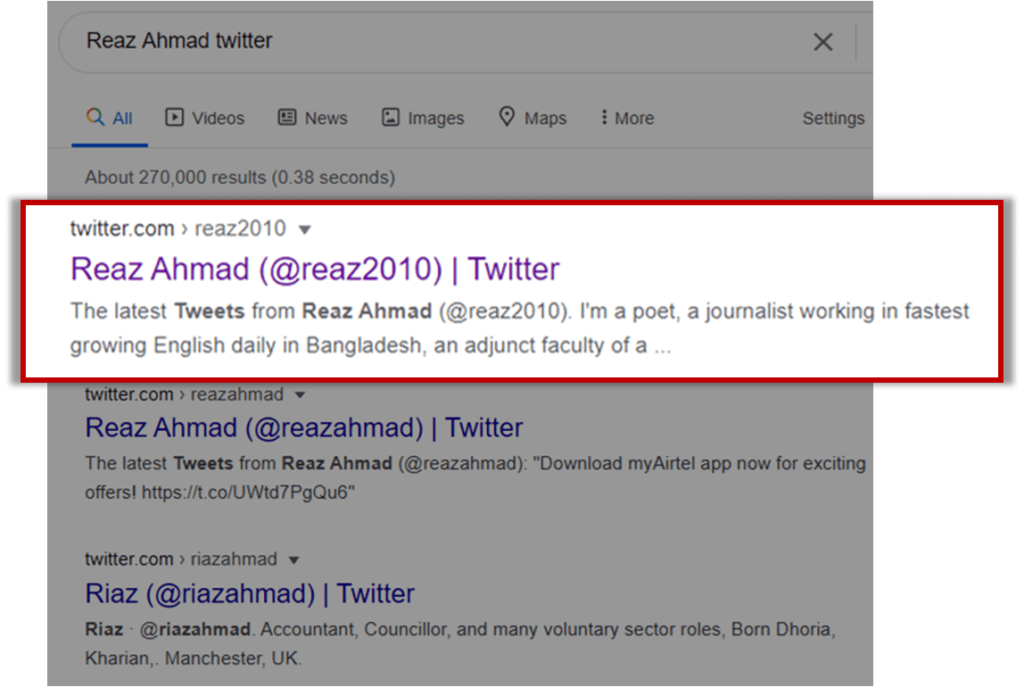 You visit Reaz's Twitter profile page: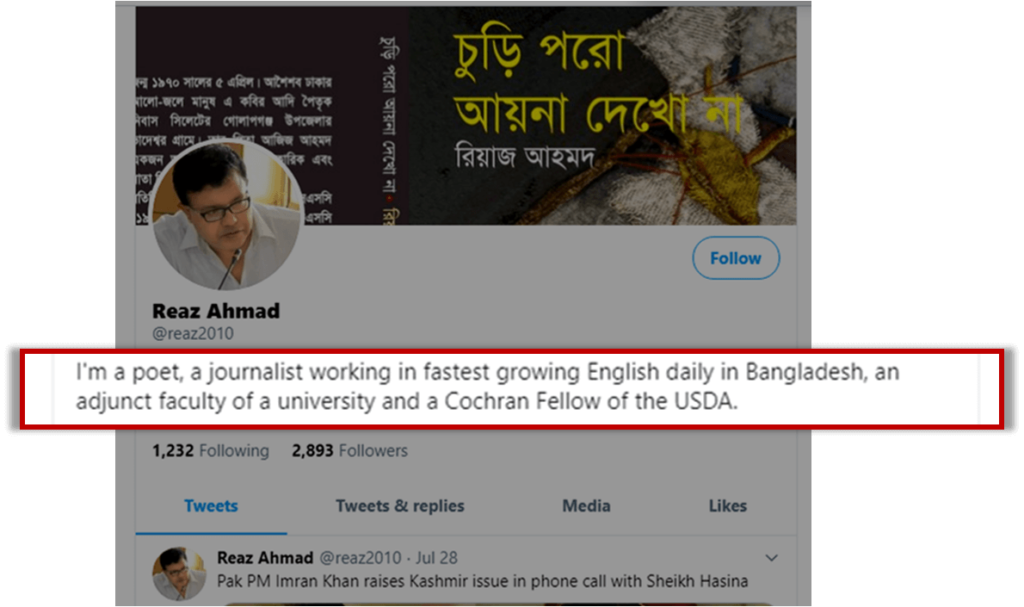 Next, find out the kind of agribusiness story he likes to Tweet: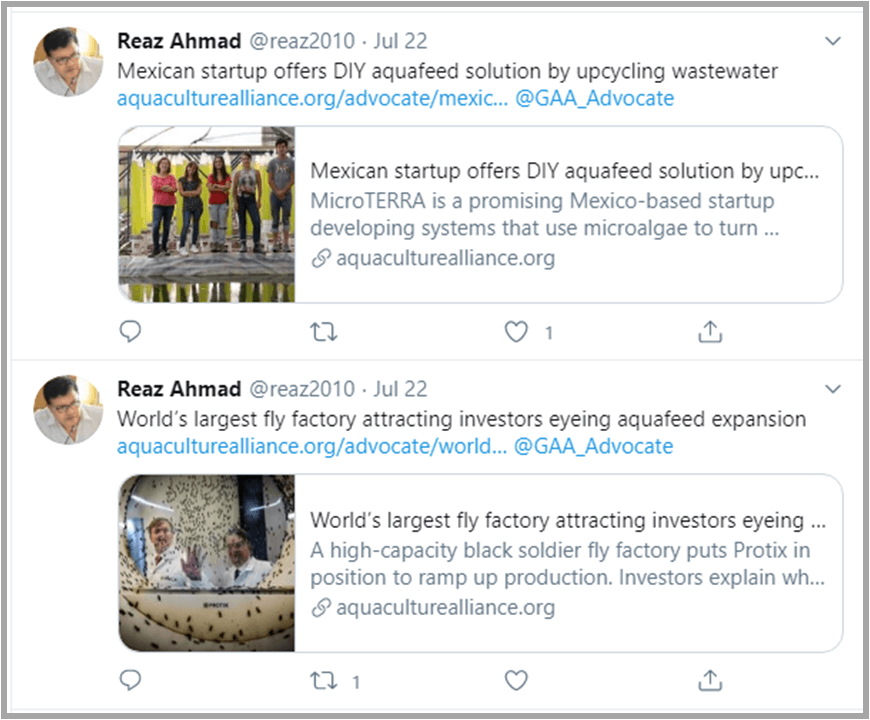 Upcycling wastewater
...from www.aquaculturealliance.org
This is your lead for the kind of material that interests Reaz.
[i.e. the kind of story he might Tweet, or even quote - if relevant - in one of his authored articles for Dhaka Tribune.]
What if you wanted to find many other journalists, like Reaz to contact?
Simple enough. 2-steps.
1) Type this into Google:
intext:journalist intext:bangladesh inurl:twitter intext:agriculture
2) This is the result...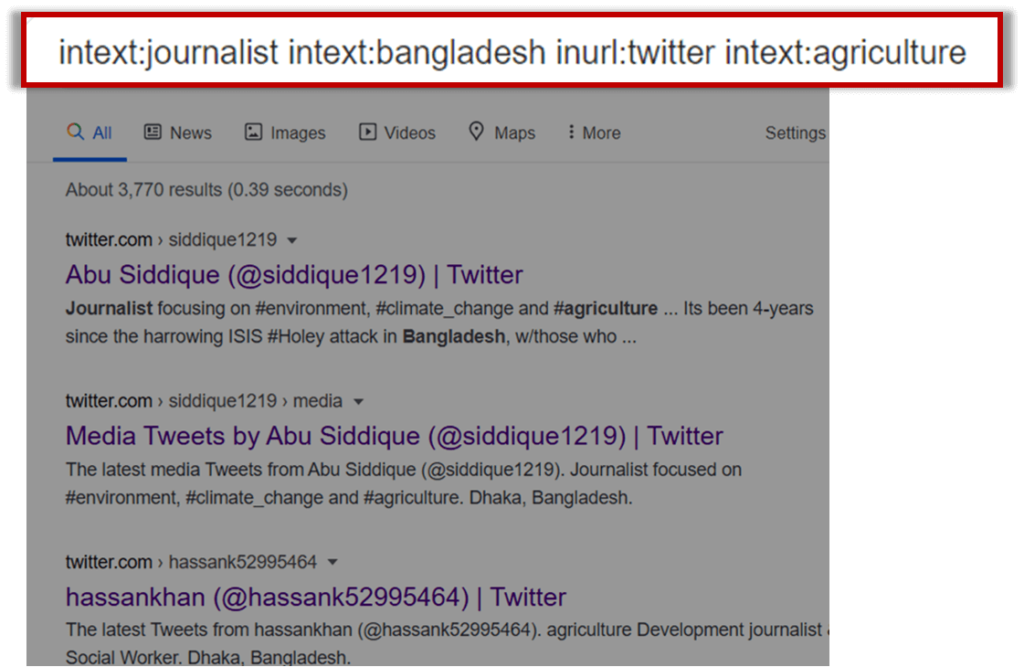 Abu Siddique and Hassan Khan are your next two journalist leads.
Get knocking on some doors for your poultry business.
Find Out Your Key Poultry Economic Indicators
Economic indicators are key inputs for any poultry farming business plan.
In fact, 
When building a complete feasibility plan for a start-up poultry business,
I figure that an entrepreneur would have to discover some 109 economic facts and figures.
That's A LOT of prep for the assignment. 
We're talking months – not weeks.
But it is critical to get reliable stats to base your business on.
The shifting sands of guesswork will only lead to collapse.
Consumption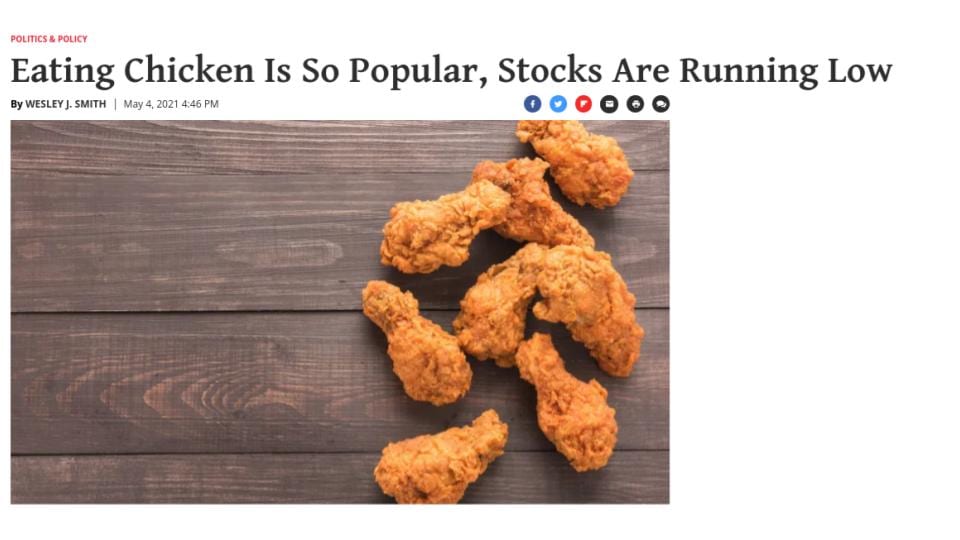 Demand is the root of all economic activity.
Demand drives the market. Without it there can be no trade. 
Somebody has to have a need somewhere for something to be bought or sold.
In the poultry market, the demand is consumption.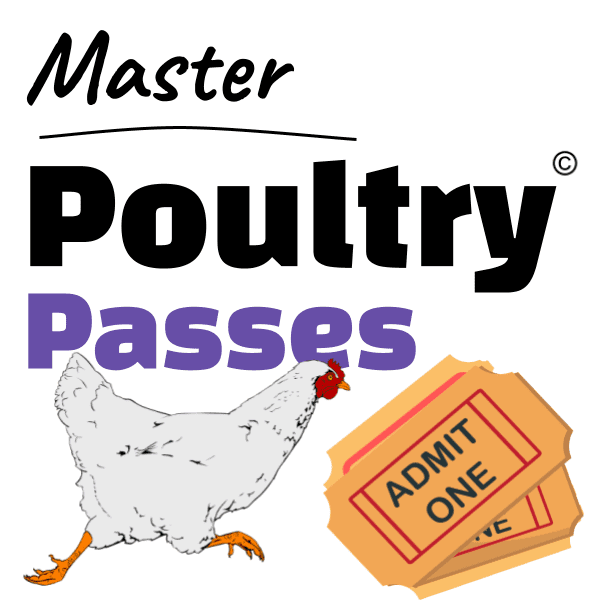 Master The Poultry Business -
Like a Pro!
Poultry Courses Online - most actionable and interactive online poultry course.
Join Poultry Courses Online
People, in large numbers, in every country eat chicken and eggs. And prefer this meat over and above other types.
How many people? Where they are? And in what volume do they eat poultry products? …
…Is usually surveyed and published by the government or institutions.
These consumption figures are usually quoted as a per capita statistic – in kg per person per annum,
And tell of how popular eating poultry products is.
For example,
India's per capita consumption of poultry meat in 2016 is estimated at around 3.1 kg per year.
Again, the government stats office is your first port of call.
How do you measure demand to make estimations for a business plan?
I'm glad you asked,
This is all you need:
https://thebigbookproject.org/advanced-poultry-pickup/calculating-poultry-demand/ (for paid subscribers only)
Production
In poultry, production is to consumption, what supply is demand.
One feeds the other.
Finding out how much eggs or chicken meat is useful for case building.
By quoting the production output of your country or region, 
You demonstrate the need for more producers.
An investor's interest is peaked when a supply gap is identified.
You need some number to justify your intention to serve the market.
Reports, like this one from the US Foreign Agricultural Service are usually packed with useful numbers:
"South Africa produces 19.6 million birds (broiler chicken) per week…" (Source)
For an advanced tutorial on estimating poultry production for your business plan, I recommend reading:
https://thebigbookproject.org/advanced-poultry-pickup/estimate-poultry-production/ (for paid subscribers only)
Import/Export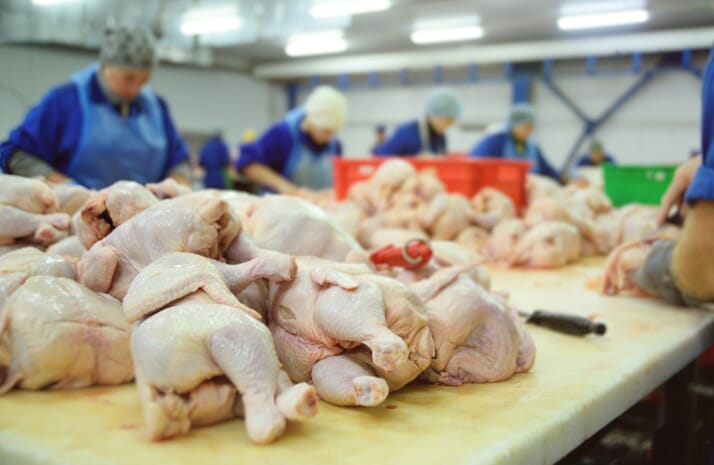 (Source)
Many countries have a domestic production gap in poultry production.
This means they don't produce enough eggs or chicken meat to meet demand.
What's the answer?
Aside from encouraging start-up entrepreneurs to increase production (with discounted funding & poultry farm loans),
Imported poultry products are invited.
(They get more in from outside.)
In many cases, the domestic poultry industry bears a negative impact.
For example,

"On the other hand, the South African Poultry Association is said to have urged the government to increase the tariffs on poultry shipments from the US and Brazilian markets as it contributed to an annual loss of $393m for South African poultry farmers."

(Source: Feed Processing Technology)
Trade tariffs play a large role in discouraging imported products.
Such measures are a country's efforts in preserving the domestic production value chain.
Read the news on poultry in your country – subscribe to receive email alerts.
Trends
Keeping abreast of market trends is key to maintaining sustainability.
Your poultry business has got to be relevant to survive.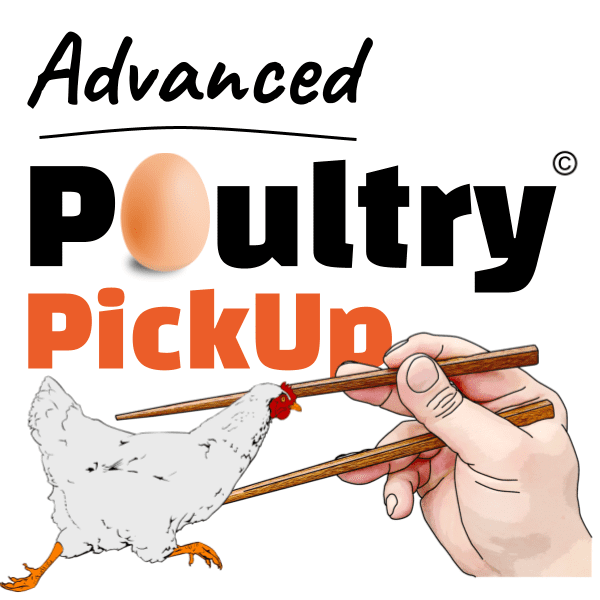 Advance Your Poultry Project -
Into Maximum Profits!
Advanced Poultry Pickup - hands-on, 1-to-1 poultry business consultancy - anywhere.
Start Advanced Poultry Pickup
It's got to continually demand.
But demand is very much a moving target.
What people want today is often different tomorrow.
I find the industry trade press is a useful source of trend discovery.
For example, 
WattagNet articles like this one shed light on what the industry sees as the next thing in poultry.
Trends like:
automated, 

environmental controls in chicken houses, 

feed supplements etc. 
It all adds a variety of options to your poultry farm plans ahead.
Pro tip: Google has a suite of free tools that are useful in such cases. Google Trends is a go-to of mine from time to time. Literally type in an emerging poultry trend like, 'Sustainable Poultry' and the web app will show you a graph detailing the popularity of the trend over time.

It's a smart way of plotting the growth of industry topics i.e. how many people searched over the last x months/years for this?

Also, Google Alerts allows you to get the latest news on, say, poultry prices delivered to your email inbox as soon as Google gets it.
Value Chain
Chickens are bred, then farmed and either sold or their eggs sold.
The hands that the birds pass through (plus all supporting services, like feed etc.)
Is called the value chain.
Here's an example of a poultry industry value chain: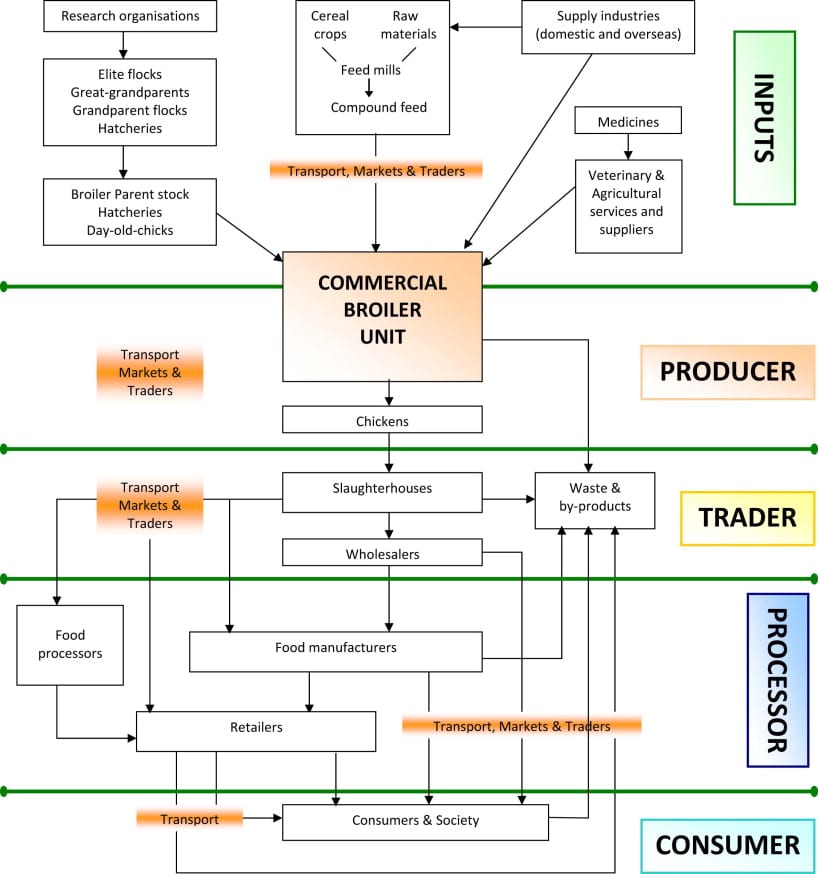 In my experience, 
I have found that you simply cannot market your products or services effectively without knowing your value chain.
(Inside, out.)
The poultry industry is a process. 
Many parts and activities all add value until the product is eaten by the public.
Each participant has either a direct or indirect effect on the profitability of the others.
Your farm is a critical piece of the puzzle.
But is not a business that exists in isolation. It has peers and participants neighbouring it.
Knowing what they value and what they want helps you to develop a strategy to strengthen your cause in the chain.
And there are real tangible benefits to working with those around.
For example,

Suppliers give more favourable terms to customers that strategically partner their cause.

This could result in reduced costs for feed, or chicks.
For example,
Recently, I came across a revealing article quoting many interesting facts about the early years of Cobb-Vantress – broiler breeder global leaders.
I learned a lot from the read – especially how Cobb held a very close relationship with leading retailers like Tyson Foods early on.
And how Tyson Foods actually had a stake in the company historically.
A critical fact to understand if you are in the poultry business.
Why? 
Because this collaboration is partly the reason Cobb is the global leader it is today.  
How and why did this come about?
And what should we learn from this?
It goes like this:
Tyson Foods (as leading food retailers) knew exactly what the market wanted to eat.
They had keen ears to the ground.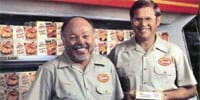 In the 1970's this trend began changing – and Tyson was on to it.
But to adapt to meet the change ahead of their competitors and take advantage of the opportunity,
Tyson needed a partner. 
A producer who was willing to experiment with breed stock with the MOST desired features.
They found their partners in a company of poultry breeders who joined with them in the venture.
It wasn't long before they had bred the ideal chicken to meet market demand.
The Cobb 500 chicken strain landed.
Today, Cobb 500 is arguably the most production efficient broiler in the business. 
From this, I learned that customer demand moves markets.
Get on-trend early and react quickly to get a competitive advantage.
Pro tip: Interview the key value chain stakeholders and get to know their concerns and ambitions. This way you know 1st hand where your value proposition will be well received.

Example: Pakistan Poultry Value Chain

https://www.frontiersin.org/articles/10.3389/fvets.2020.00361/full
Major Market Players
Track and investigate the success of market leaders.
Why?
Their achievements are often rooted in some very hard-to-find lessons learned.
I'm not saying that you should 'copy cat'.
But take a close look at HOW they do what they do, and why. 
It often reveals key strategic strengths or routes to market that would apply to you in your journey.
In a phrase:
Examine a variety of business models.
And don't only look at the biggest. Look at the best. In every niche.
Say, you had in mind to start an intensive broiler farm close to the city,
Why not look at the business model of a sustainable, organic egg farm in the country?
For example,
In this newsletter, I shared some great tips for improving your long term profits through…
Sustainable Poultry Farming (for paid subscribers only).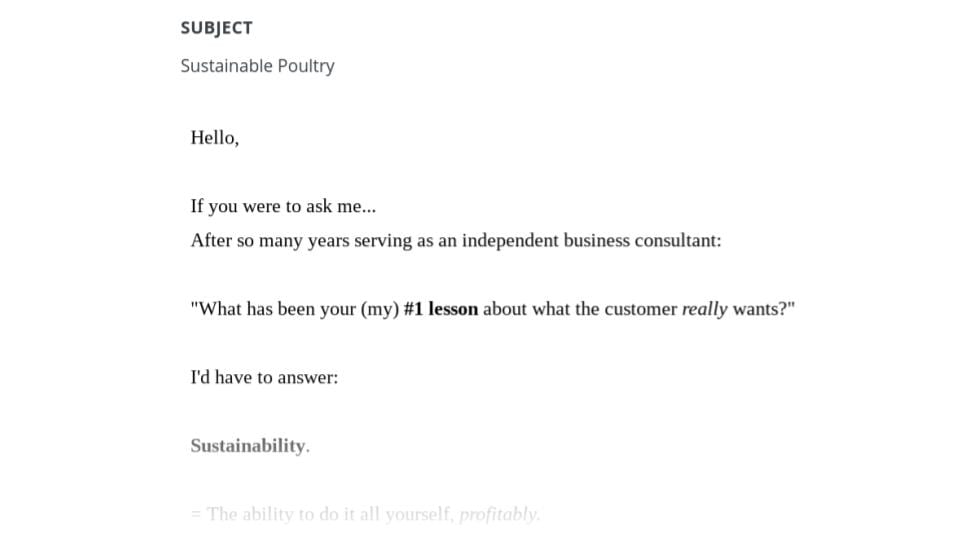 Reading the newsletter…
…you might find that some of the production models of the farmers' don't align with yours,
But what you do have in common is that your ambitions are not far apart.
In fact, every business shares the same (2-part) principal challenge.
How do we serve our customers best…
…and retain optimal profit (- considering what we value)?
The rest is problem-solving.
You stand to learn a lot by thinking 'outside of the box' in business.
Be Prepared For Commitment
Starting a poultry business involves a lot of time-intensive activity. 
Like with anything new, there is a learning curve.
But when you are having to find out all the resources yourself,
And process the information once you have it,
Much time and personal commitment are necessary to succeed.
Here are some pointers to carry you through:
Systems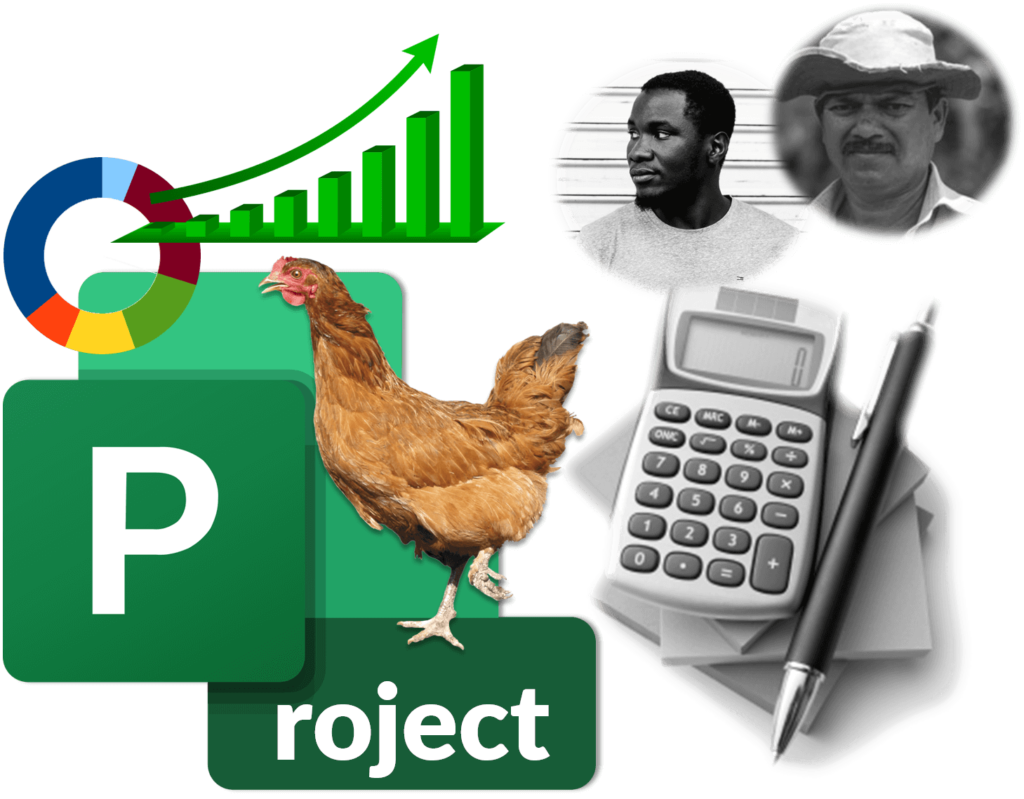 Much time in the early days is spent on research and input discovery.
A poultry farm business plan requires lots of data input.
Land targets

Capacity dimensions

Prices for chicks, feed, equipment etc.

Timings and schedules for production
…and more.
I've found over time that unless you put all your data in one 'secure' and 'convenient place,
You run the risk of losing valuable input information and wasting your time.
This can be VERY frustrating.
Here's my fix: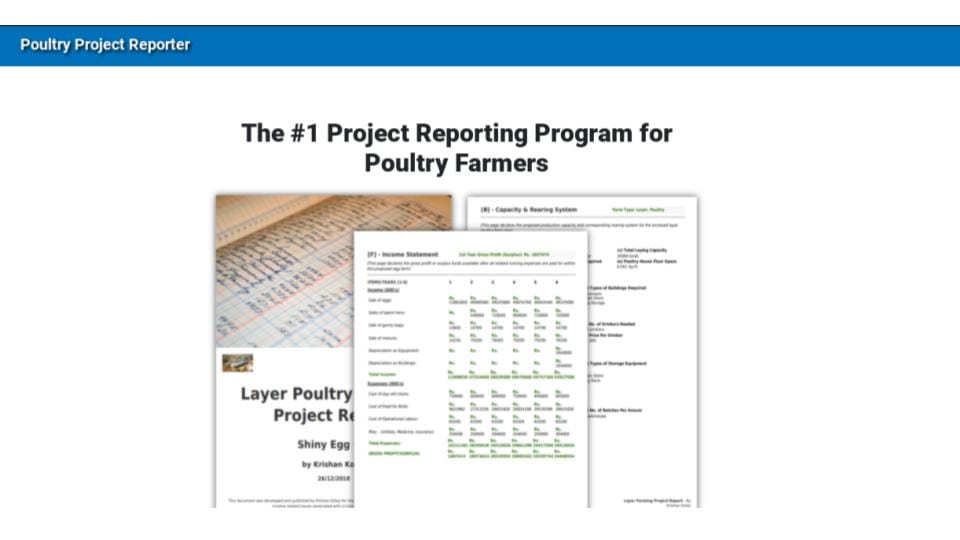 I recently released a new version of my business planning software for poultry start-ups.
It's called Poultry Project Reporter.
With this 2.0 version, I released also a 109-row spreadsheet, detailing all of the key data points.
(Yes, you read that correctly – 109 data points – surprising, but true.)
Having done all the hard work, 
I'm helping poultry entrepreneurs save hours, days and weeks of rooting around. 
Pro Resource:

Take a look at this business records template for poultry farmers PDF download. It's ideal for getting a grasp of the basics of poultry farming record keeping:

https://egrove.olemiss.edu/cgi/viewcontent.cgi?article=1198&context=acct_corp
Accountability
Record keeping is a key discipline of poultry farming startup.
How else can you keep account of your progress?
Especially if you have investors, you'll want to justify your figures on every side with well-published reporting.
For example,
This planner is an example that I use when producing forecasts of egg or meat production: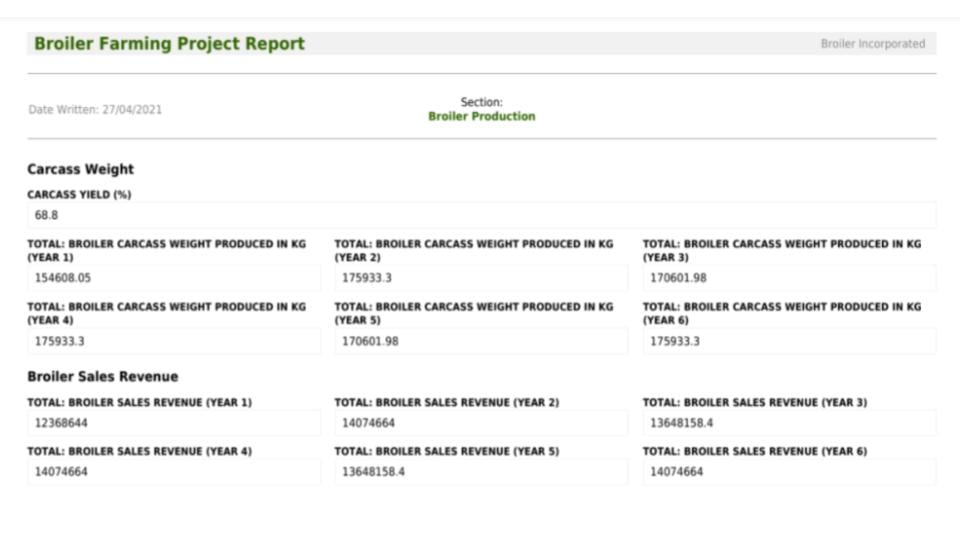 (Screenshot taken from Poultry Project Reporter 2.0)
It gives a very neat presentation of your production figures as an annual snapshot.
A great way of demonstrating attractive returns potentials to investors.
On to another example,
One of my most successful free poultry farming email newsletters over the past year has been:
Broiler Farm Record Keeping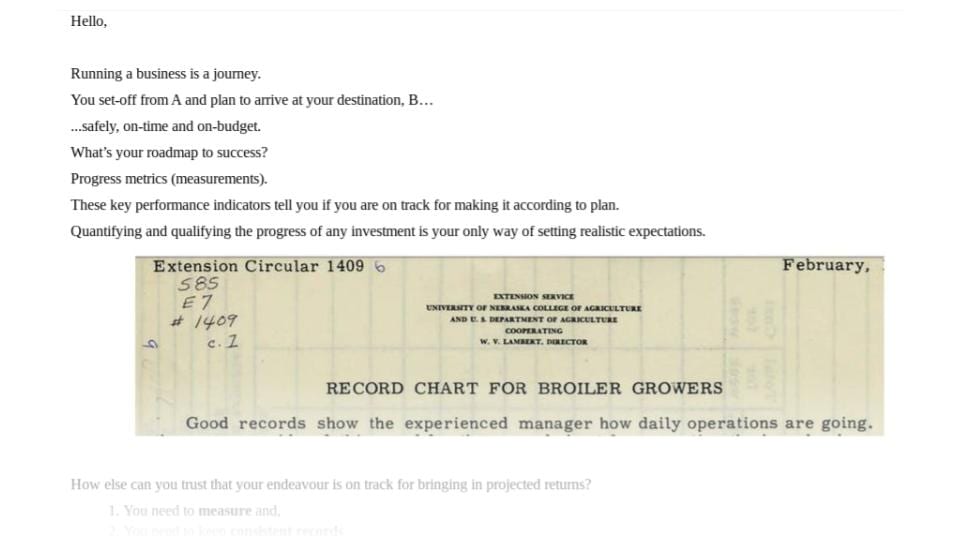 The subject generates TONS of responses.
Like this one: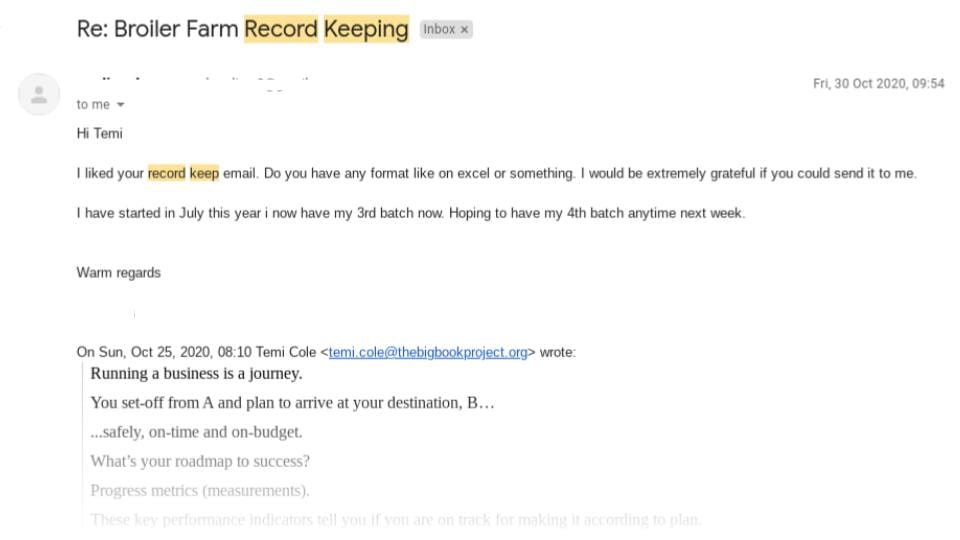 Why?
Because it strikes beginners how important record-keeping is to profits.
Without keeping accurate operational records, you simply have no handle on metrics.
And if you cannot measure performance, you cannot steer profits.
Get a firm foundation on record keeping.
Adaptation
To win at poultry, you need to think poultry.
Timings, seasons, primary products vs. secondary (or by-)products like manure are all features of the business.
Your vocabulary has got to change. And the way you think has got to match up with poultry.
It takes effort to become fluent.
But when learning about the poultry trade, 
I found:
Reading widely around the subject

Going upstream to research papers

Interviewing farmers

Watching expert videos of success cases
…helped me get up to speed quite quickly on poultry.
That's why I wrote this Guide To Learning Poultry Farming.

It's a vault of personally curated PDFs and worksheets etc. for poultry farming beginners to flatten out the learning curve.
On another note…
I find examining project reports is another way of understanding the poultry farming trade.
I learned a lot from looking up poultry farming project reports.
Samples go a long way to getting your head around how the numbers stack up.
In fact,
This is why I decided that The Big Book Project would host a learning archive with lots of:
For getting you off the ground successfully in rearing chicken for business.
Pro tip:

…looking for personal recommendations for broiler farming success from farmers who are ahead of their field?

Type into Google:

intext:'broiler farm' intitle:'success'
Personal funds
As a poultry farming entrepreneur, you are more than a business person.
You are also a principal investor.
What does that mean?
It means you are the first to put confidence in your farm vision by investing your own personal funds.
This email newsletter of mine is a great introduction to  investing successfully in agribusiness:
Finance, Funding, Loans & Grants
Through this newsletter, I have attracted responses like this one: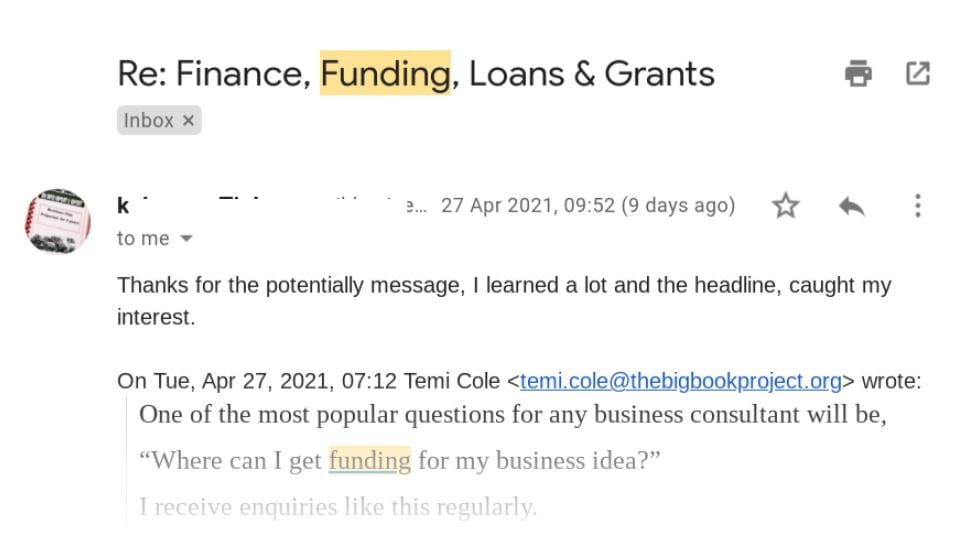 Why?
Because it tells you what you don't know about agribusiness investments and teaches how to improve your proposal writing.
By writing a winning poultry farming proposal you can inspire others to follow the trend by investing in your venture too.
This will help you gather capital for one-off purchases like:
Land 

Equipment

Vehicles

Shed Construction
Also, working capital to get stock inputs and start production. 
But it won't come easily.
This will take your finest efforts in either winning poultry investment for your poultry farm,
Or stumping up the cash yourself (skin in the game, as they call it in business.)
Either way, 
The commitment to make your proposal 'investment' ready takes lots of financial planning.
Choose Your Business Model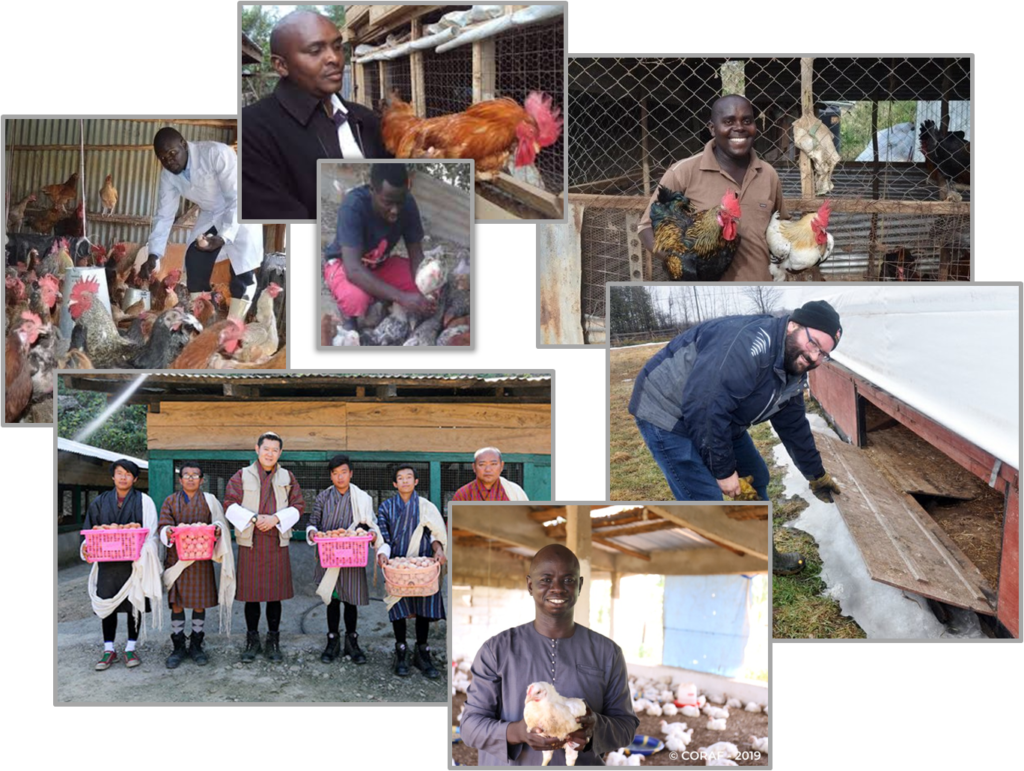 There are various business models and methods of ownership in the modern poultry business.
Each has its distinct profile of risk vs. reward.
Here are some insights:
Independent poultry farm
Just as it sounds, a separate commercial entity without tie ins to any schemes, programs or networks. 
This is a new poultry venture which has its design and destiny firmly rooted in the mind and hands of the owner.
https://www.business.qld.gov.au/industries/farms-fishing-forestry/agriculture/livestock/poultry/poultry-farming-queensland/chicken-meat-production/contract-independent-farms
https://thecounter.org/small-chicken-farmers-thriving-coronavirus-shutdown-poultry-perdue-tyson-covid-19/
Advantages: 
Sovereignty. You make your own decisions. No strategic constraints or other 'cooks in the kitchen'. You steer the company as you see fit – with you and your staff taking all the rewards of independence.
Disadvantages:
It's all on you. You're having to think through the entire business plan yourself, from the ground up. No headstart, no ready-made solution. You work it all yourself.
Cooperative poultry business
A group or conglomerate. It's when poultry farms with a similar vision, get together and combine their collective production to make one big poultry business.
It's run as a partnership or club, with individual parties still retaining their rights to leave.
But the advantages of the Coop are only valid if partners stay committed.
https://www.teagasc.ie/rural-economy/farm-management/collaborative-farming/
https://farmlandaccess.org/collaborative-farming/
Advantages:
Access to niches, like the organic sector, without having to work out the operational conversion headaches yourself.
Coops often provide well versed legal and regulatory advisors and effectors for handling all the tough paperwork.
Disadvantages:
Your production capacity and forward planning is totally taken up by the 'deal'.
If you find more profitable opportunities elsewhere, the divestment costs can be more hassle than they are worth.
Contract poultry farm
Poultry farming with all the worries sucked out.
The contract company provide a 'buffer (or shelter)' against the real economic conditions in the market,
You take cover under their wing and (in theory) have less to worry about.
Like going on a tour of the outdoors,
But some else has already planned the day's activities according to the weather reports.
All you need to think about is what you do best.
https://www.chickencheck.in/faq/chicken-contract-growers/
https://assets.publishing.service.gov.uk/media/57a08a9eed915d622c00080f/riu040412-tz-policy-brief2.pdf
https://www.farmprogress.com/livestock/8-things-know-about-contract-poultry-growing
Advantages:
Predictable input costs and a ready made sales arrangement.
They feed your business with all inputs like bird feed and chicks – even capital equipment.
Plus, they buy the eggs or meat from you at the end.
They take all the guess work out of the equation.
But…
Disadvantages:
You pay for it. The margin the contract company takes reflects all their hard work and risk.
And for you to make a (liveable) profit you're farm is under immense pressure to hit peak performance.
Your input costs are decided on a tournament basis.
This is where the best performing farms (contractors) get the lowest priced inputs. 
In other words, 
You are rewarded on performance.
Also, you are under obligation to play EXACTLY by their rules.
When they want you to spend on new or improved equipment,
You have no choice.
And they can shut cut you off from trade if your refuse or fail to comply.
Joint venture (JV)
I've seen some really smart joint ventures in the poultry industry.
One's that really make A LOT of common sense.
Playing to strengths is what makes joint ventures work. And a mutual benefit to share.
And poultry has many distinct benefits to offer other agritraders in potential JV.
https://cooksventure.com/pages/our-story
For example,
I covered a JV story of an ingredient-and-recipe-meal-kit company and a multi-generational poultry breeder,
Who teamed up to play to strengths. 
It's just one of many great examples of how to make JVs work in the poultry trade.
Advantages:
Gain core business competencies that would have been costly and the least,
And impossible at the most.
You're able to reap almost immediate commercial benefits.
For example, 
In considering a growth plan for your farm – you weigh up a JV.
The idea is to double your sales within 12 months.
You seek a venture partner that offers your business instant access to a customer base that is likely to buy your product.
You work with them to introduce your egg or meat product to their audience.
Disadvantages:
There is still work involved with making a joint venture successful. 
The expectation can be that things will immediately work out – but it doesn't happen that way.
It often takes a lot of time agreeing terms – which can be costly.
Also, you lose privacy. Your partner will usually require access to some areas of your business that otherwise would be sealed off. 
Franchise poultry farm
The cookie-cutter approach.
Ready-made (or at least on paper). And a bit like buying a business with a working model from off the shelf.
https://www.internationalegg.com/app/uploads/2018/02/October-2018-increasing-egg-availability-through-smallholder-business-models-in-East-Africa-and-India.pdf
https://sugunafoods.co.in/farmers/why_suguna/why_suguna.asp
Advantages:
Formula-based. 
The franchise owner (franchisor)  should already have a method of making things profitable, without your trial and error.
Often, their branding comes with benefits such as awareness within your market.
A headstart of their experience and expertise.
Disadvantages: 
You still need large upfront capital investments.
You are often tied in to pay franchise fees for supposed benefits, like a website etc. 
(This money comes straight out of your bottom line, whether you make money or don't.) 
They usually come with restrictions on how you market and the techniques you use to access the market.
They have a brand reputation at stake and will not allow you to take chances.
Acquire an existing poultry business
You hit the businesses-for-sale market and hunt down a potential target to take over.
With the right capital and a solid prospect,
You could find yourself taking on a very profitable 'going concern'.
https://www.facebook.com/shelter.mart/posts/6-plot-poultry-farm-land-for-sale-at-senya-breku-price-ghc-200000-negotiable-ref/2952174158189632/
https://ghanapropertycentre.com/for-sale/land/mixed-use-land/central-region/gomoa-east/6310-poultry-farm-plus-apartment-on-10-plots
Advantages:
An existing book of paying customers.
Established supplier arrangements for chicks, feed etc.
Land which is already purposed for a poultry farm.
Buildings and flock already producing.
Often staff who know how to manage the farm.
Immediate cash flow.
Owner's residence, if you find the right business.
Disadvantages:
Can be difficult to value properly.
Hidden flaws or nasty surprises in the physical assets or financial paperwork.
Debt, at times.
Establish Your Target Market
Choose Your Market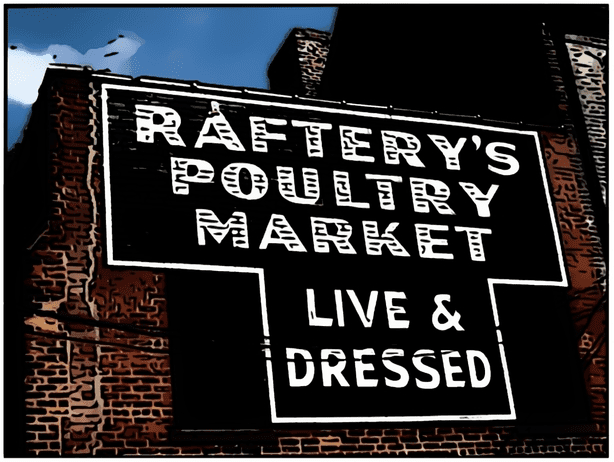 The poultry market is diverse.
There are SO many pockets of commercial advantage that you can pick up.
I recommend subscribing to trade press like Poultry World.
Case studies & interviews are a great way to get a feel for the segments within the market.
They often present very informative, yet real-life close-ups of what makes certain poultry businesses successful.
A key failure made by many is:
Presumption.
It goes…
"I have this great idea to start a poultry farm doing [x,y,z]"
But a successful poultry farm delivers the needs of the customers.
Being customer-led means you don't misalign your offering.
Instead, you spot gaps where you could make all the difference and attract loyal customers.
For example. 
https://nesfp.org/sites/default/files/resources/niche_poultry_enterprises_in_new_england.pdf
https://www.chickenwhisperermagazine.com/nutrition/to-buy-or-not-to-buy
Find Out What People Want
The driver of the poultry industry is demand.
What customers want to eat.
To succeed in poultry farming you'll need a deep understanding of your customer's intent.
The mere fact that eggs and chicken are popular food choices & are eaten in vast quantities is not enough.
Having a long term profitable poultry business relies on you knowing 'WHAT' & 'WHY' your customers buy…
For example,
This article published in Wattagnet reveals some quality concerns voiced by industry leaders.
Matters like antibiotic-free birds were top of the list.
Whilst drug-free birds might be the 'WHAT' consumers want,
The 'WHY' is discovered by reading stories like this one..
(a biography from 'Farmer Paul', co-owner of Pasture Bird):
"Throughout my athletic career and physically demanding job in the Marine Corps, I always had achy joints that seemed to get worse and worse.  
What started out as ice baths in college led to Motrin (Vitamin M) in the military and then full-blown arthritis symptoms in my early 20's."
Used to the idea of combat, 
Paul decided to tackle his health symptoms head-on with a change in diet: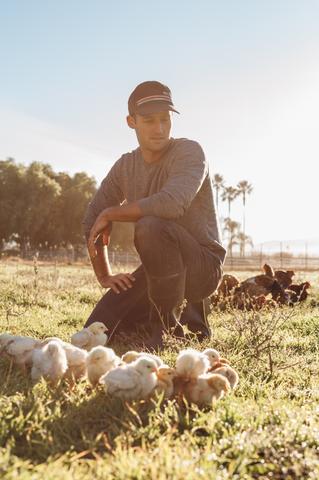 "As a Crossfitter, I'd heard the hype about Paleo but never committed to trying it out.  
I finally gave it a go and after two weeks felt like a kid again.  
I could breathe through my nose, joint pain was gone, energy levels were up, and my sleep came back to normal.  I'd never look back."
From there, 
Paul vowed to complete his mission to share his findings with as many as would listen:
"My wife and her whole family even jumped on board.  People were losing weight, feeling better, and just overall healthier and happier."
And then…opportunity knocked:
"The problem was, the more we jumped into meat labeling the more we learned that some companies were just [misleading us].  Many Free Range chickens never actually went outside, and Antibiotic Free birds actually got a bunch of antibiotics.  Wait what?
We were [really disappointed]  Honestly.  We felt cheated, misled, and lied to."
Suffice to say, the blend of athlete / soldier / certified accountant in Paul took entrepreneurial courage,
And decided on a venture to scratch that itch – enter Pasturebird:
"So in April of 2012, we were sitting around over Easter with the family joking around about getting some chickens for the backyard.  
Nobody had any type of a farming or livestock background, so I thought it was just a big joke.  
But sure enough, my brother in law Rob disappeared from the room for about 5 minutes and returned with a big grin on his face. 
"Guys, I just ordered 50 chicks and they'll be here in 2 weeks" Rob said.
Over the next few years we continued to realize that there was a huge gap in the market for pastured poultry into wholesale accounts like:
People wanted it, but the actual product didn't really exist.  
So we grew.  
And grew.  
And grew.  
And now, we're the largest pastured poultry producer in the USA (and maybe even the world)."
So, 
How do you find out the unplugged gaps in your market?
Simple:
Start listening to the consumer.
But there's one important 1st step, before you can listen…
You need to find out where they gather to talk.
And in 2021 – there is one universal answer:
SOCIAL MEDIA.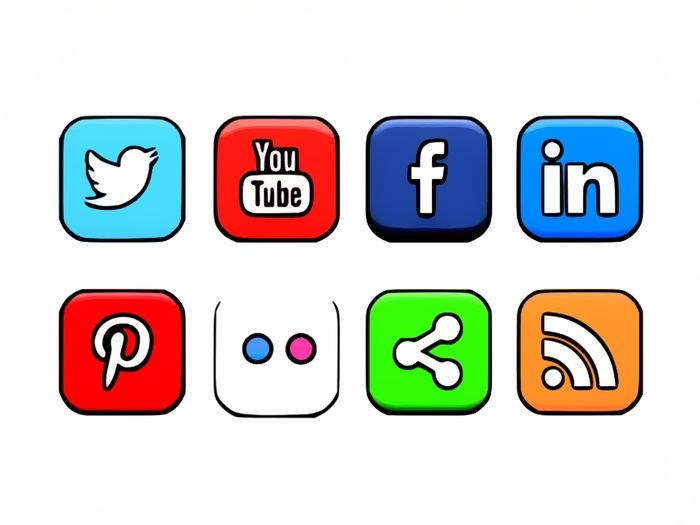 The numbers speak for themselves:
So, without a doubt, we now know where to listen.
Now, here's how to do it:
Type this into Google – antibiotic-free inurl:'reddit'
And you'll find 1,640 topic threads-worth of discussion from forum members on the topic, like:
https://www.reddit.com/r/business/comments/ufjtz/antibioticfree_meat_business_is_booming_thanks_to/
https://www.reddit.com/r/Omaha/comments/1694gw/your_go_to_provider_for_hormone_antibioticfree/
Now, swap reddit for instagram:
Type this into Google – antibiotic-free inurl:'instagram'
The hashtag #antibioticfree has 41,422 posts.
https://www.instagram.com/explore/tags/antibioticfree/
Twitter also is a massive source of consumer social insight,
Statistics like this:
500 million tweets are sent each day.
Declare the potential for listening 'consumer research' the platform offers your poultry business.
Want an expert guide of best practice of how to research using Twitter?
Here's a complete tutorial from media consultant, Simon Owens:
https://www.linkedin.com/pulse/how-use-twitter-conduct-market-research-simon-owens/
For the official statistics on social media usage globally:
https://www.smartinsights.com/social-media-marketing/social-media-strategy/new-global-social-media-research/
And one of the go-to resources online for the state of social media today:
https://buffer.com/resources/state-of-social-2018/
Long term buyer interest (Peace of mind)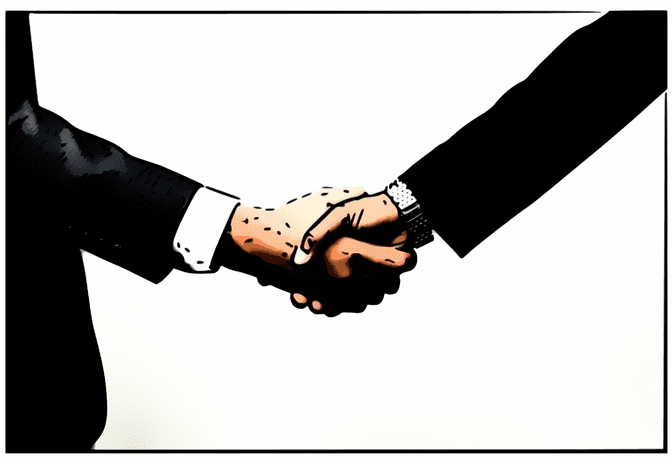 Your poultry business will benefit from a diverse mix of customer types.
Each type called a segment (in marketing language).
Every segment has distinct needs and therefore present pro's vs con's for your business model
One thing you will want to get a healthy balance of early on is:
Long term buyers.
It's no secret that brand loyalty in marketing terms is GOLDEN.
Repeat purchase adds a massive amount of ROI onto the bottom line.
For every customer who buys regularly over years,
You literally snowball your returns.
It's called customer lifetime value. 
As far as marketing strategies go, it's a golden oldie –
But in recent years it has made a massive comeback:
Returning Customers Spend 67% More Than New Customers
In the poultry farming business, there are many ways to secure long buyers,
Some independent and others by obligation.
One popular but 'tied-in' method is by becoming a contract grower.
This is when as a farmer you enter into a contract with what's known in the industry as an integrator.
Integrators are deal aggregators.
Their whole purpose is to acquire advantageous commercial arrangements,
For running a model of poultry farm which is geared for optimal profit.
Everything from forward contracts on inputs to exclusively buying out all stock,
Integrators are both supplier and buyer for poultry farming businesses, 
Offering significant peace of mind and risk limitation to farmers.
But as with any favour given in business,
This relationship comes at a cost to the farmer.
Namely margin. And obligatory rules, policies and laws.
The producer in this circumstance is entirely bound by law to yield full strategic decision making to the integrator.
The producer is simply left to focus on rearing. 
(Minus the usual pressures of the input vs. output balancing act of their independent peers.)
This guide neatly outlines pros vs. cons of the broiler contract farming arrangement:
https://www.thepoultrysite.com/articles/guide-for-prospective-contract-broiler-producers
For an example of what terms and conditions can be included within such a contract,
Take a look at this AB connect poultry producer terms:
https://www.ab-connect.co.uk/sullivan-poultry-terms.html
There is quite a lot of debate in the industry about how fair the terms of such arrangements actually are.
Industry analysis like this one, examines the features of such agreements in detail.
The purpose being to weigh-up the sharing of risk vs. reward.
Moving the goalposts (even just a little) can either give or take significant advantage.
Trade Sales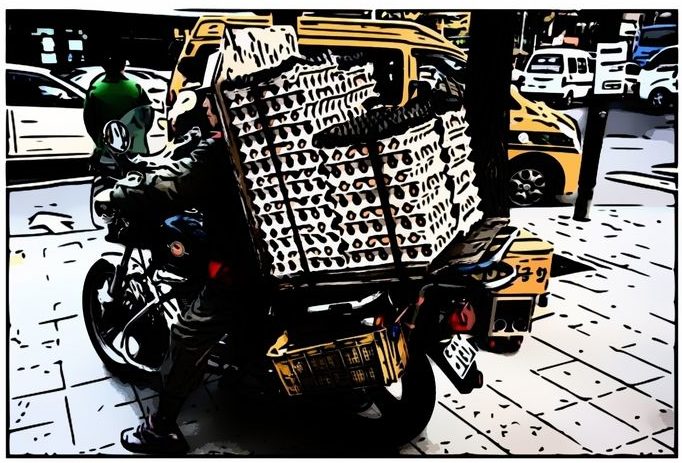 Selling your poultry farm produce to other businesses (business clients or business-to-business B2B) has distinct advantages.
Product volume per purchase is one of them. 
In other words, bulk – or wholesale.
But who would buy wholesale from you?
Profitable business customers for your poultry farm could be hotel chefs, canteen cooks, caterers and specialist retail shops.
Why?
They have a CONSISTENT need for LOTS of eggs and chicken.
The benefit for you is simple…
…for the expense of landing one trade account with a business buyer, you (potentially) get  years worth of sales & profitability.
A very cost-effective arrangement if you can find it.
Finding a local or regional grocery store or chain that will stock your eggs, for example, can get you into hundreds of households – all at once.
Here's a quick guide for getting your poultry products on the shelves of your local store:
https://content.ces.ncsu.edu/how-to-sell-pastured-meat-products-to-grocery-stores
Also,
A fellow small-scale egg producer who has enjoyed good success in such a business-to-business sales strategy is:
Eddie Ferreira – otherwise known as Farmer Eddie of Eastern Cape, South Africa.
He clearly has worked HARD to get his certified organic eggs networked around his region.
Take a look at his list of stockists:
https://farmereddie.co.za/organic-egg-store-locator/
Very impressive.
But what about getting your produce on the menu of eateries?
For example,
Chefs of relatively small hotels even get through hundreds of eggs every week, serving breakfast alone.
But how do you sell either your eggs or chicken to chefs?
Here it is:
This study is the ideal guide to helping you build good commercial relationships with chefs:
https://core.ac.uk/download/pdf/188052014.pdf
The study reports on the findings of a survey taken of restaurant owners in America.
The analysis literally shows you exactly what chefs and restaurant owners are looking for in:
Local food producers

Types of food they prefer to buy locally
Here's a digest of the analysis which points out the most critical points for success:
https://smallholdingsforsale.co.uk/how-to-make-profit-selling-produce-to-restaurants-from-a-smallholding
A vital study for your poultry farm marketing plans.
Selling To The Public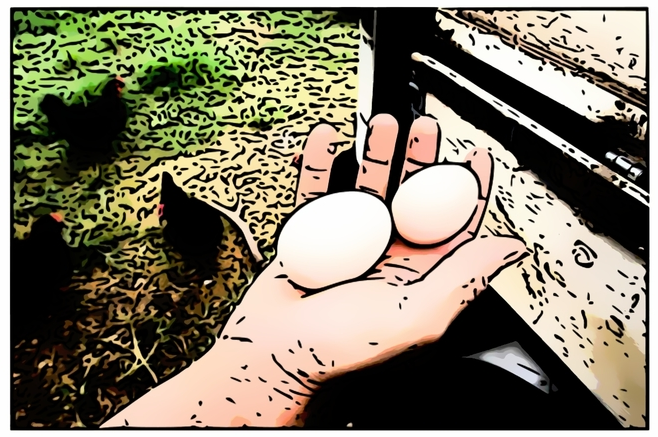 So,
That was selling to trade customers, 
But what about selling your eggs or chicken meat to the general public?
Selling your poultry products to households can be a much steeper challenge than selling to businesses.
There are more of them.
Plus, you can't go to them (as easily) – they've got to come to you.
In which case, your poultry business needs:
To understand the likes & dislikes of the different customers (niches) 

Develop products that suit the most profitable niches

Know what messages will sell you products best

Build a brand that supports those messages

Find out where your customers do their product research

Discover ways of starting conversations with your customers

Provide ways customers can conveniently buy your eggs or chicken meat
Here's a useful list of example top-selling producers & their brands:
https://smallholdingsforsale.co.uk/5-qualities-to-copy-from-top-selling-produce-at-farmers-markets
The article is full of useful insights for how you would position your poultry business to attract the crowds.
https://extension.psu.edu/management-considerations-for-implementing-e-commerce-in-a-food-or-farm-business
It's no secret that the internet is a very effective tool for selling directly to the public.
This guide shows you how to build an online shop for selling your poultry products:
https://smallholdingsforsale.co.uk/how-to-sell-produce-online-farm-shop-guide
For a more traditional approach, the following guide shows you how your farm might partner with local markets to boost sales:
https://smallholdingsforsale.co.uk/farmers-market (For the pro-digital entrepreneur.)
And finally, this is an advanced strategy for using collaboration to your advantage.
One of the most popular articles from my poultry farming newsletter – entitled:
'Agri Value Chain'
…is an expert tutorial in how working with your fellow poultry businesses can promote tons of demand for your farm products.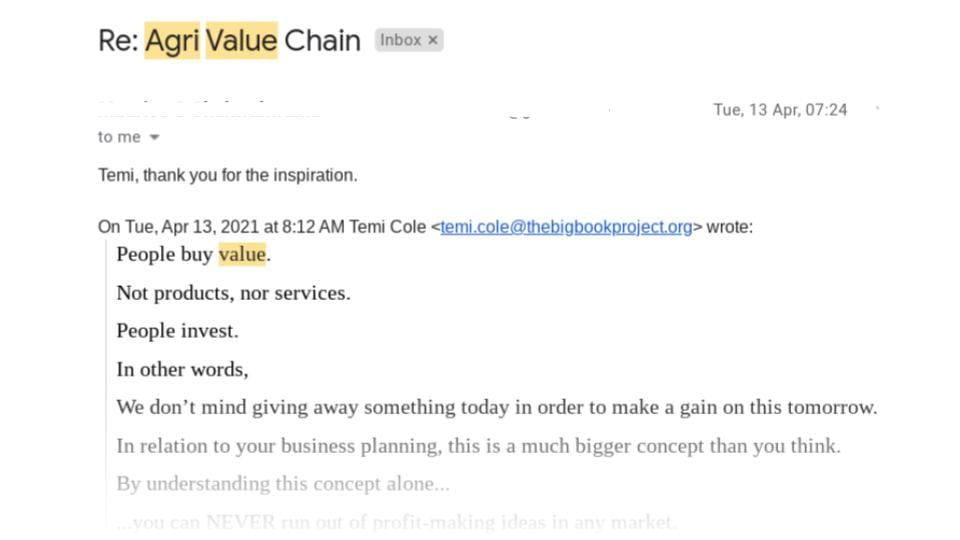 Well worth a read.
Direct Selling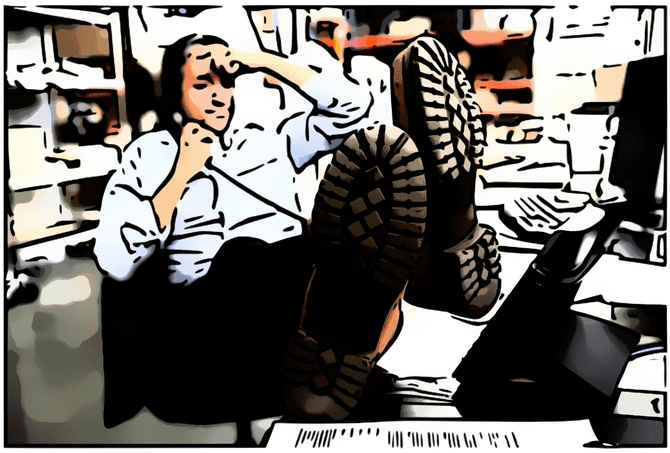 Selling is a contact sport.
The art of doing it well is all in the personal touch.
Getting your eggs or chicken meat out of the farm gate and into the right sales channels will take persuasion.
And persuasion at its root is about positioning.
Positioning is perhaps the most misunderstood and yet most critical factor for marketing and sales success.
Why?
(And what IS positioning?)
Positioning is how to frame something in relation to something else.
For example,
In geography – positioning is determined by longitude and latitude.
Grid style.
Just like on a chessboard. 
Or even a spreadsheet.
Each square, cell or playing piece can be pinpointed according to where it lies against the horizontal and vertical axis.
By calling out the coordinates – we are able to locate the exact position of our target.
The same can be said for marketing and sales.
In order to accurately hit your target sales targets, you need to position your offer.
In other words,
It is important to focus your communication on the topics and customer concerns that REALLY matter.
Let's take selling eggs to a grocery store manager, for example…

If the store manager gets complaints from customers disappointed with low stock volume of premium organic eggs,

Then there's no point trying to sell him cheap caged-hen eggs.

Neither he nor his customers want to save money on the product,

They actually want premium-priced QUALITY eggs – and LOTS of it.
Getting your positioning right saves on wasted sales opportunities.
For a gentle introduction to the idea of organising your egg or chicken meat marketing,
Take a look at this FAO guide – it's quick, simple and straight to the point:
http://www.fao.org/3/Y4628E/y4628e06.htm
(An excellent beginner's summary to farm gate sales for poultry farmers.)
Now, let's advance forward…
What you also ought to know about direct selling is that it is SYSTEMATIC.
A highly strategic flow of communications,
That leads to a predictable outcome of products sold.
Recently, as part of my premium business planning email training course called:
Business Planning Specs (…that's right, 'specs' – as in 'spectacles', get it?)
I condensed my 16 years worth of direct selling experience into an expert guide called:
Grow Your Poultry Business With Direct Selling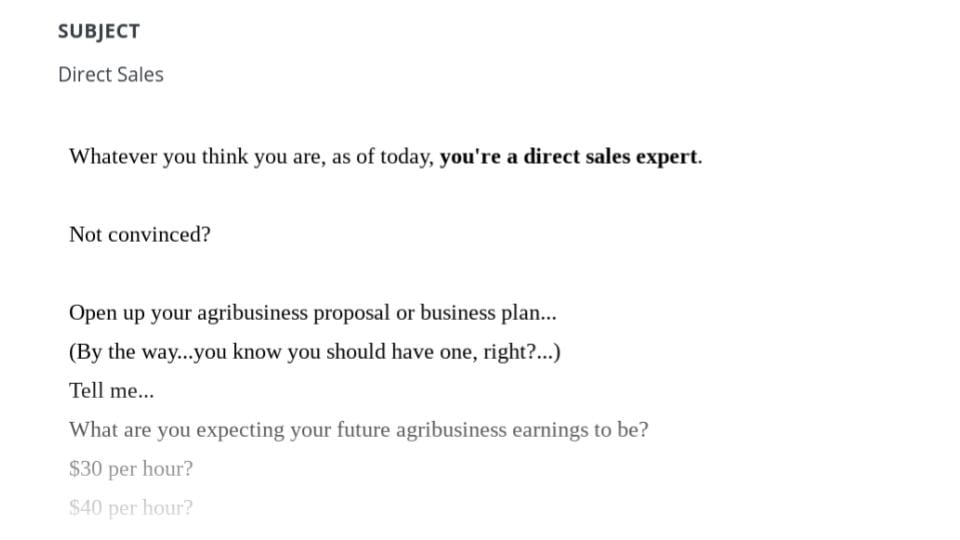 In this guide, 
I reveal EVERY direct selling technique that helped me build my own businesses and others.
By using the same enclosed tips,
I turned cold contacts into over 6-figures worth of sales revenue to date.
Here it is:
https://thebigbookproject.org/business-planning-specs/direct-selling/
Location
Proximity To Market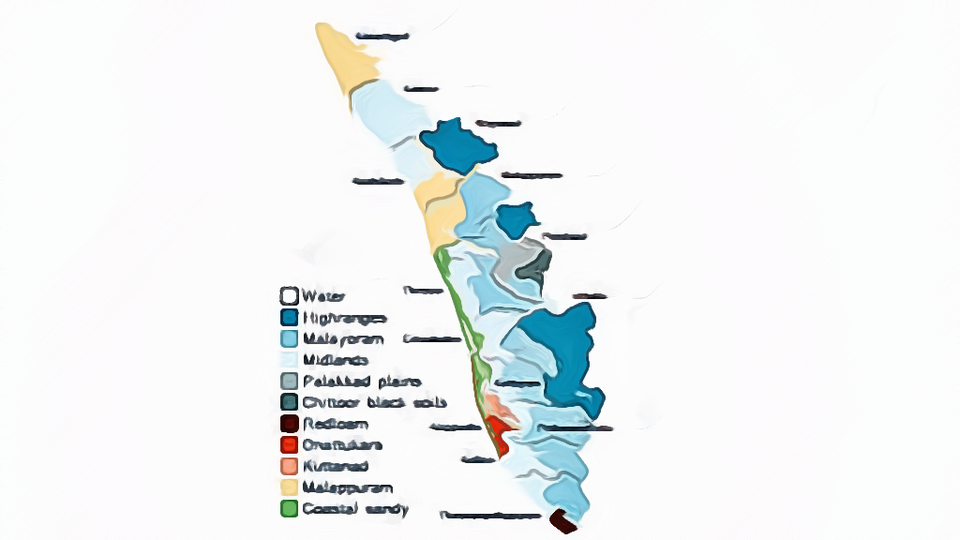 Immersion is a key factor to your poultry business success.
(Immersion = deep dive.)
Why?
Because immersion leads to:
Saturation & solution.
By definition, the word 'immersion', means to plunge into.
Getting your feet wet in business is not bold enough. 
You won't win being tentative.
You've got to dive in to reap the rewards.
The reason is that business is littered with problems.
The more problems you solve, the more valuable your business becomes.
The tougher the problem, the more valuable your solution for it.
And the toughest problems will require your every effort to overcome.
If author, Malcolm Gladwell's book Outliers is anything to go by,

It may take you 10,000 hours of soaking up the problems of your customers before you stumble upon something worthwhile to sell to them.
It's time to get immersed.
But how do you act like a sponge to draw up insights from your customers?
You need to be around them and engage them to talk.
This is one reason why proximity to your poultry marketplace is important.
(And I mean marketplace, rather than market.)
Or even better territory.
By definition, this is the geographic area in which your customers live and work.
Both business clients and consumer households.
The area being the maximum distance that you are physically and profitably able to serve with your poultry products.
Get a map.

Take a compass.

Put the point in the precise location of your farm.

Make a judgement on how far you could feasibly travel to deliver your eggs or chicken meat and still make a profit.

Set the range of the compass accordingly and draw your circle.

Everything that falls within is your viable sales territory.
Everything outside is to be excluded for now.
This is your sales territory. 
Full of income-generating sales potential and profit-making opportunities.
Now, it's time you OWN it.
Here's EXACTLY how to do that:
https://www.repsly.com/blog/sales-territory-management-best-practices
Next up, transporting your stock once you've sold it.
Transport Connectivity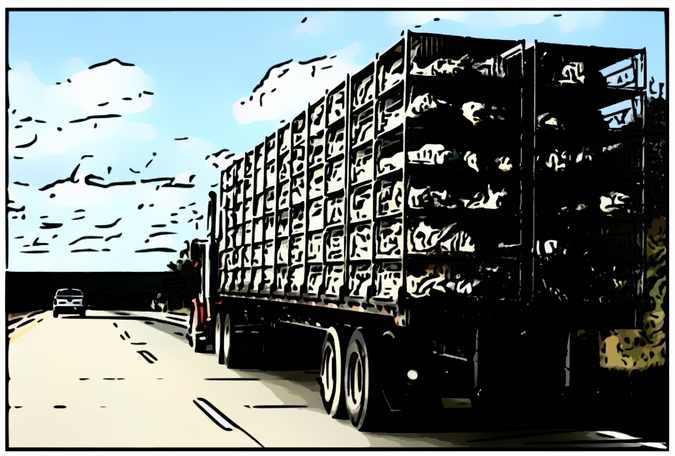 Location is one thing to consider, 
But transporting your eggs or chicken meat to the customer is yet another.
This detailed PDF produced by the Poultry Service Association is a valuable practical guide (with worksheets) for getting your broiler birds to market – SAFELY…
Here it is:
Poultry Handling and Transportation Manual
Also, here's an easily digestible introduction to the basics of getting your poultry products to market:
https://thebigbookproject.org/poultry-farming/project-report/location/transport-logistics/
Building & Construction
Building your chicken houses and other civil structures requires capital investment.
Materials, like concrete for foundations and timber framing,
Alongside labour will feature as significant one-off costs in your poultry project planning.
Ongoing, your poultry business will also have to hold contingency funds for expanding the capacity of bird houses,
And for maintaining all structures on-site.
Also remember to factor in biosecurity measures like – fencing around the farm perimeter and surrounding bird pens.
Generally speaking, there are three main ingredients when planning our poultry farm building and construction.
Here's the list:
Automated

(Source)
Poultry farming, like any livestock farming model, is labour intensive.
Many man-hours per week are required to keep your flock in good laying or growing order.
Feeding, drinking, weighing, monitoring and observing, cleaning, removing dead birds, collecting eggs, data recording…
…are just some of the routine duties.
All these manual efforts keep the flock in optimal condition, and operations ticking over profitably.
There is, however, another MASSIVE factor in maintaining tip-top poultry farm conditions.
Environmental control.

Heating.

Lighting.

Humidity.

Ventilation.
These conditions, according to the experts, are strong contributors to poultry profit.
How? 
Because they influence the bodily performance of the birds.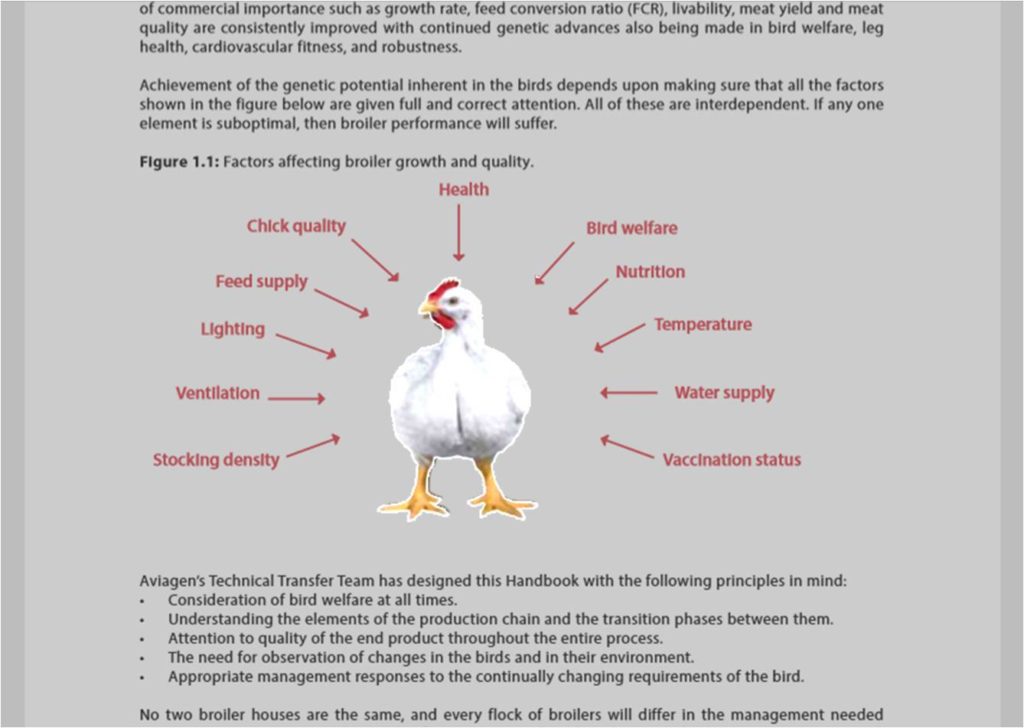 (From Broiler Farming: The Definitive Guide)
Getting the balance right helps the birds:
grow, 

develop, and;

convert more of their feed into chicken meat and eggs.
I recommend this basic introduction to broiler housing environmental control: 
https://www.thepoultrysite.com/articles/basic-introduction-to-broiler-housing-environmental-control
For help understanding what solutions you have available for environmental control of your bird houses,
 I find the following paper to be a really useful outline:
https://www.researchgate.net/publication/324483130_Environmentally_Controlled_House-In_Poultry_Production
The internal poultry house is competing with external conditions.
Tropical climates pose danger to birds because of the threat of overheating.
As a chicken doesn't have the temperature regulating control of sweat glands, 
They are less able to lower their body temperature if exposed to very hot climates. 
Other issues, such as adequate airflow from wind-assisted ventilation, will impact how comfortable birds feel on your farm.
For deeper understanding of the relationship between the internal and external poultry environment,
I recommend reading this article:
https://www.farm.com.np/knowledge/environment-controlled-system-of-poultry-housing/
Whilst systematic poultry house environmental control requires the installation of electronic equipment,
Which is a costly investment,
The real financial benefits of an increased feed conversion are often worth the upfront cost.
In a recent edition of my premium poultry farming newsletter,
I share some very revealing insights on the relationship between poultry house environment and lowering your feed costs.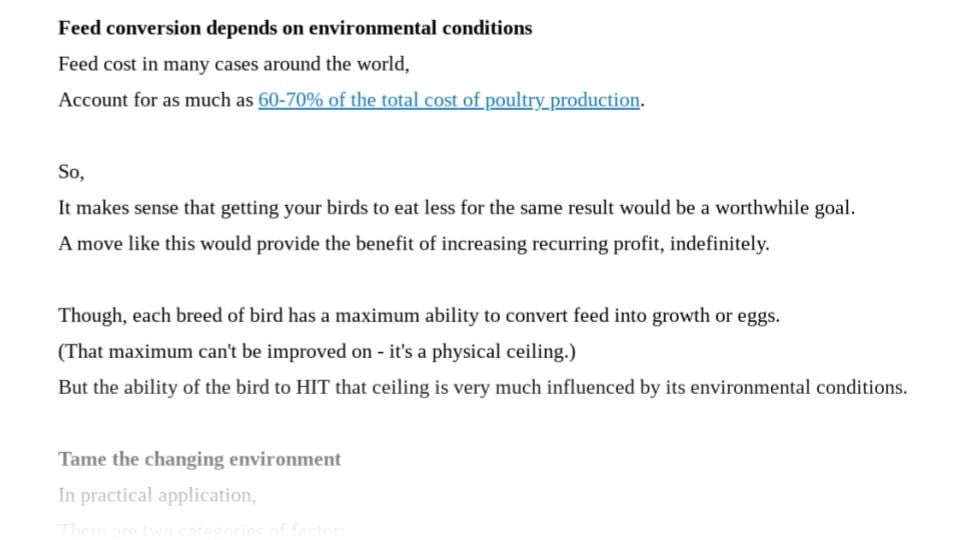 The email was based on a study led by Dr. Dhia Alchalabi (Poultry Farming Consultant),
In the study, Dr. Alchalabi shows how in farms of all sizes, increasing feed conversion can lead to huge profit increases.
I recommend you study the detail.
Here it is:
https://thebigbookproject.org/advanced-poultry-pickup/poultry-house-environment/ (for paid subscribers only)
Bird Houses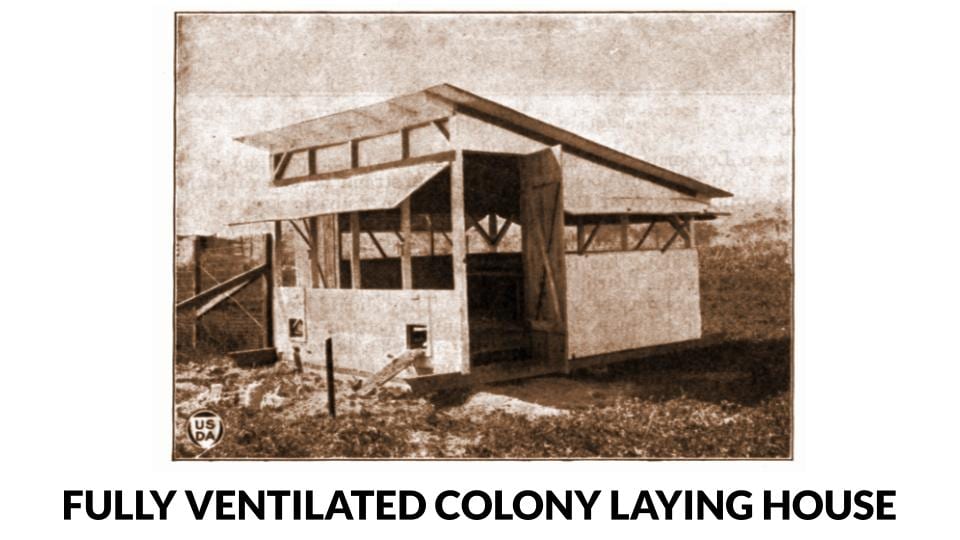 (Taken from Poultry Houses: Poultry Houses: 197 Designs, Structures, Plans & Systems (PDF Guide)
From experience, 
There are very few truly actionable tutorials on the internet for building your own poultry house.
This resource however totally fits the bill.
It's many decades old – but the value still holds good today as it did on the date of publication.
This article features step by step features for building both broiler and layer houses –
As well as houses for chicks, pullets and adult hens.
It includes:
materials,

measurements and dimensions and

example pictures with guidelines for capacity.
It's a brilliant effort at bringing the beginner up to scratch on how to construct the ideal poultry house.
(And better yet – it's all in PDF!)
Here it is:
https://digital.library.unt.edu/ark:/67531/metadc1758/m1/3/
Site Layout & Design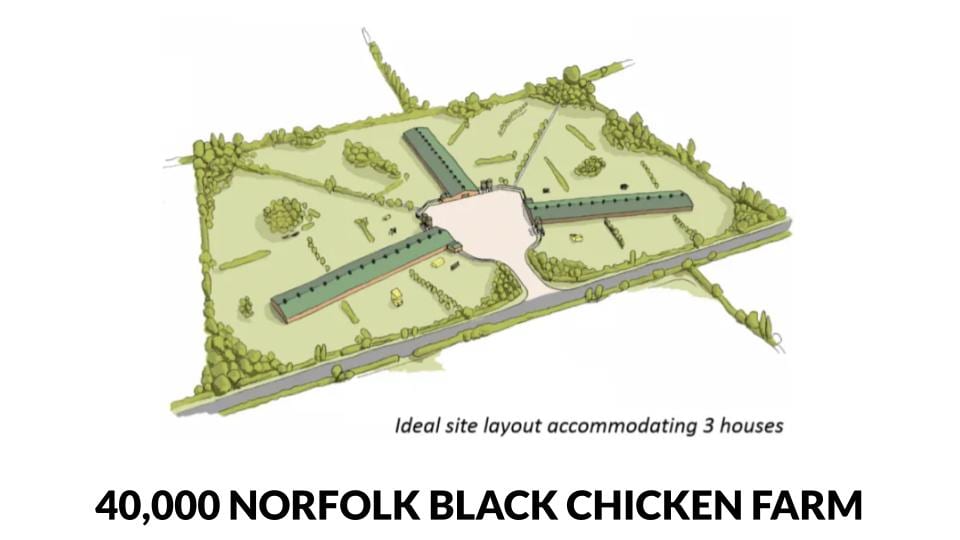 Physical business operations TOTALLY depend on workflow efficiency to be profitable.
In other words,
For a business to succeed properly and things to be done on time,
Staff need to get around from A-B with as much ease (and as little obstruction) as possible.
Just think of all the practical activity that takes place on a poultry site:
Arrival of chicks and carrying them to the brooder

Changing and washing of staff before they enter into bird houses

Carrying feed bags from storage to the houses

Cleaning out litter after a batch is culled or sold

Weighing birds for monitoring performance
…and much more.
A well planned and designed site…

…ticks along like clockwork and is free from accidents and spills.

A poorly planned and designed site…

…is sluggish, slow, error and accident-prone and ultimately unprofitable.
Here's a very beginner-friendly video presentation from Africhic which is comprehensive.
(I recommended watching it before planning your poultry farm site layout):
https://www.youtube.com/watch?v=WXZDNdXoZf4
For an expert walk through the best practice principles of site planning,
Take a look at this short guide.
I published it in my Poultry Farming Project Hub:
https://thebigbookproject.org/poultry-farming/project-report/strategy/design/
Regulation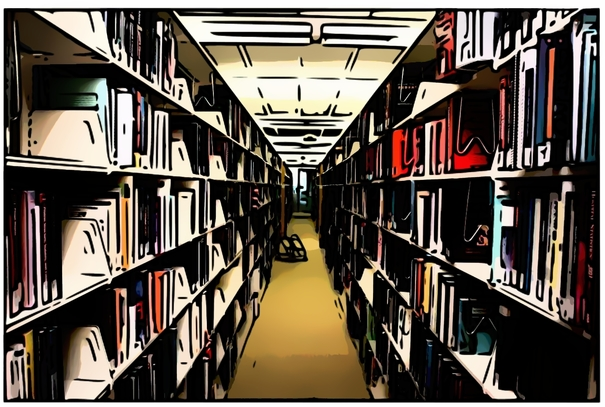 The poultry farming industry is highly regulated in almost every country.
There are strict rules governing the value chain from breeders to growers and sellers.
The rules control scale, pricing, labelling and more.
As a poultry farmer, you need to be up on the latest guideline, do's and don'ts.
Pro Tip: 

Your country or region is VERY likely to have a poultry association. Its members will comprise fellow farmers, grain producers, retailers and other value chain members. Their purpose is to fight the cause of participants in the poultry industry. The goal? To provide a fair playing field for all involved…as best as they can.

For example, here is the Kerala Poultry Federation website: https://poultryfk.in/
Their #1 goal?
≡ "To assist and promote the growth and development of poultry in every way in the country."
Try finding your local, regional or national poultry association.

Type into Google Search: '[place name]' poultry association
One useful service provided by such an organisation is reference paperwork.
Having the benefit of experience, they usually stockpile resources like guidelines and registration forms on their website.
For example, the South African Poultry Association have all their useful start-up documents saved here:
(Again, this is just an example – your own relevant poultry association should have something similar).
The laws governing farming and processing practices in the poultry industry often come under fire.
For example,
In South Africa, there were recent changes made to how much brine is permitted to be injected into chicken carcasses.

https://www.engineeringnews.co.za/article/south-african-national-standard-that-focuses-on-the-welfare-of-chickens-2021-03-18/rep_id:4136
Even as small a difference as 2% in the amount of brine,
Which is injected into the chicken meat can rock the balance of profit for producers.
Here's another example:
An article on meat safety law from South Africa shows minimum standards that are expected of abattoir conditions:

https://www.gov.za/sites/default/files/gcis_document/201409/28520a.pdf
Ideal if you plan to get involved in meat processing in South Africa.
Or, let's take The Philippines for example,

A Barangay Certificate (or Certificate of Residency) is required when opening any new business.
So, if you are starting up in the Philippines poultry industry, 
Be sure to enquire officially about this and other relevant licenses.
Training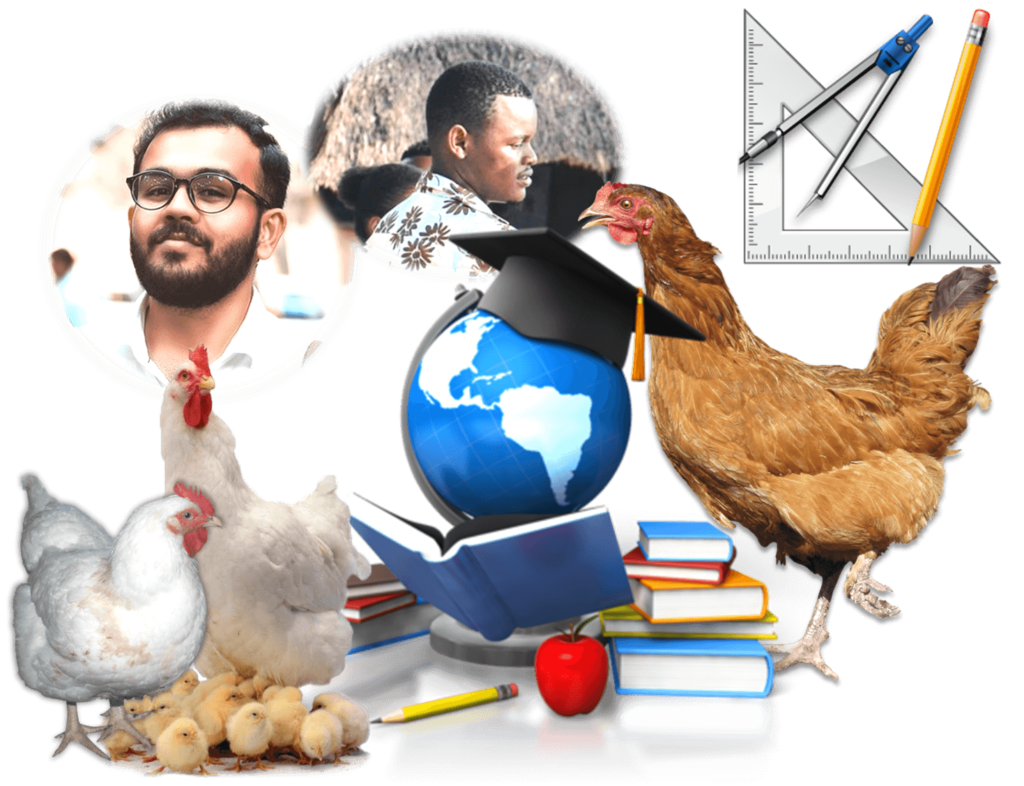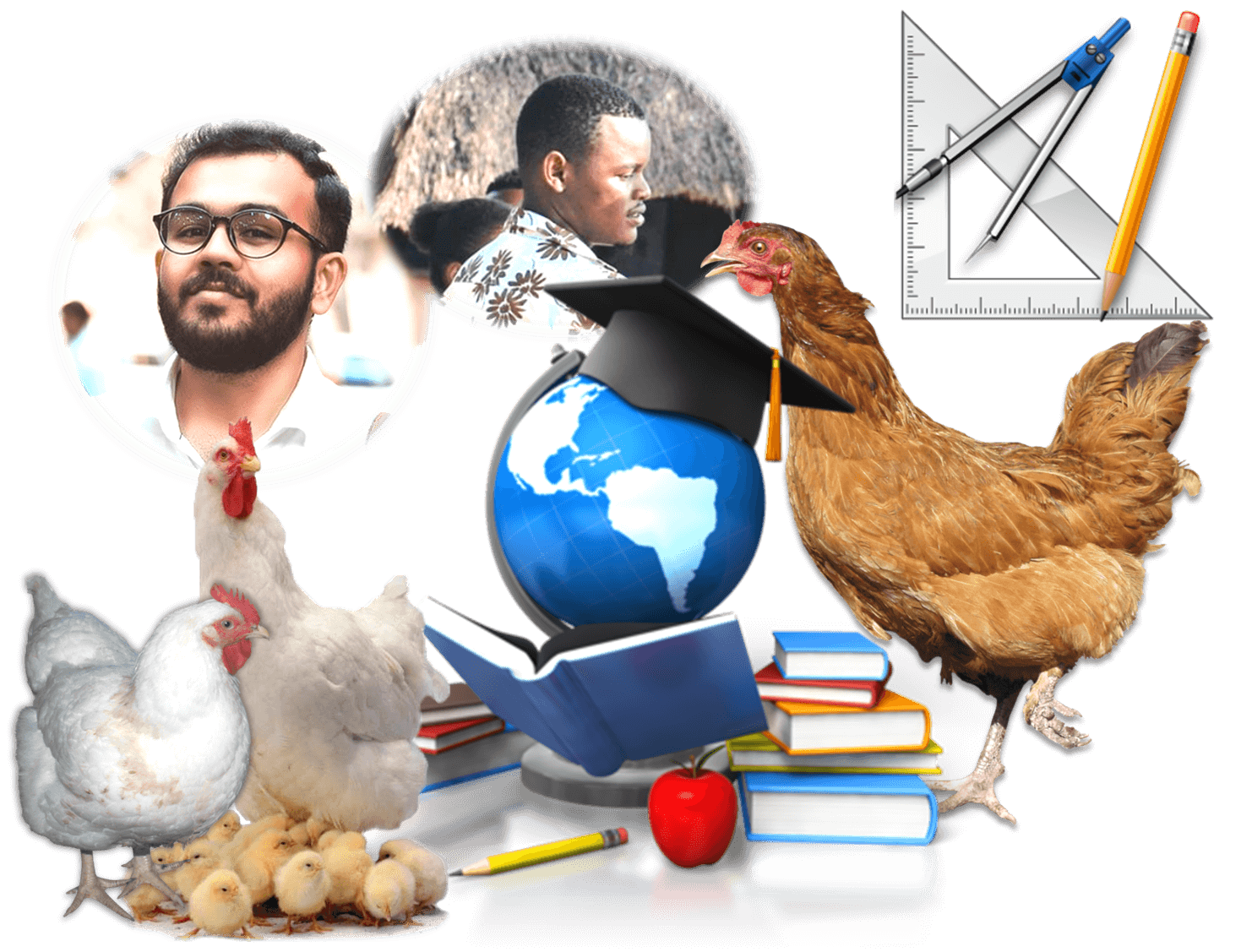 Training is a huge factor for business success.
It's a safeguard against lack of experience, and for most…
…the best way to get your knowledge up to speed ASAP and therefore reducing risk of failure.
Running a poultry business is a multi-disciplinary act.
Spinning plate on all sides and a wide range of skills needed to make it a profitable venture.
Here are just some of the key skills necessary for success in the poultry trade – in any country:
Husbandry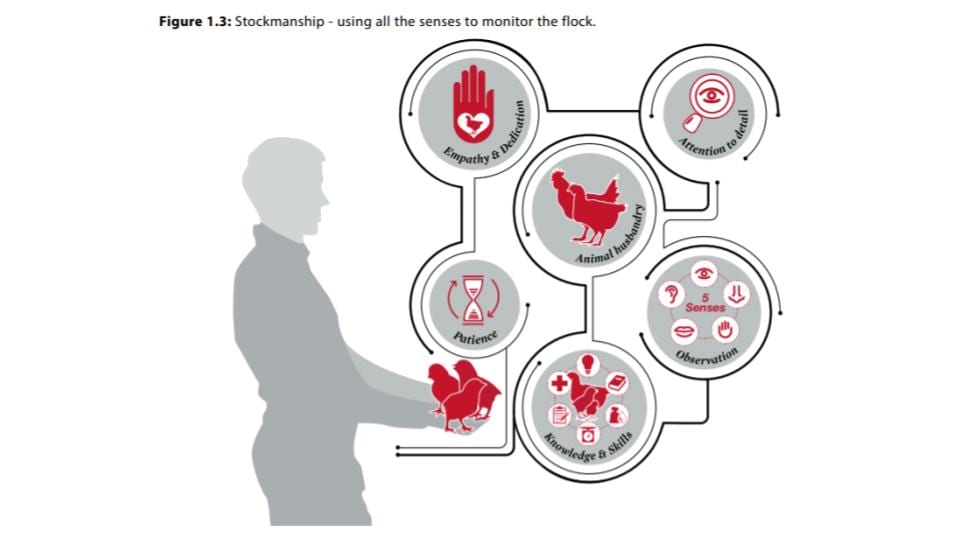 The nature of the business at the grassroots level is animal husbandry.
Handling the birds from accepting them on your farm either as day-old chicks or pullets,
And seeing them through to the end of their productive life.
This is the job of the husbandman.
Keeping the birds in tune with their top performance parameters takes specialism.
Access to such teaching may not always be possible in person.
Here are some quality tailor-made resources for learning better bird skills:
The Big Book Project – Poultry Farming eBook & Email Course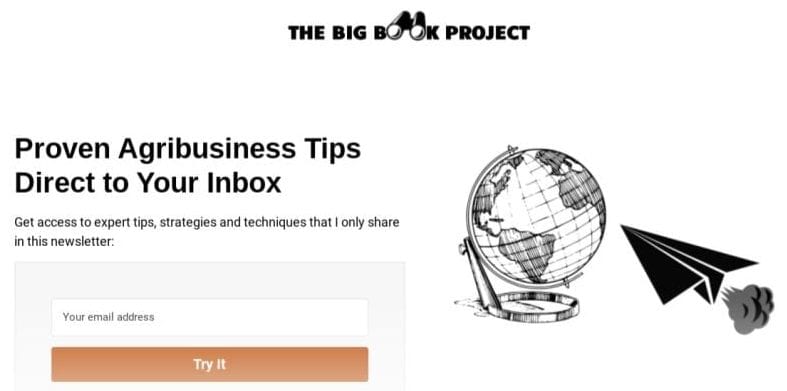 For the last 12 months now, I have provided a free email course and eBook for poultry start-ups.
So far, 6,308 students have been admitted to it.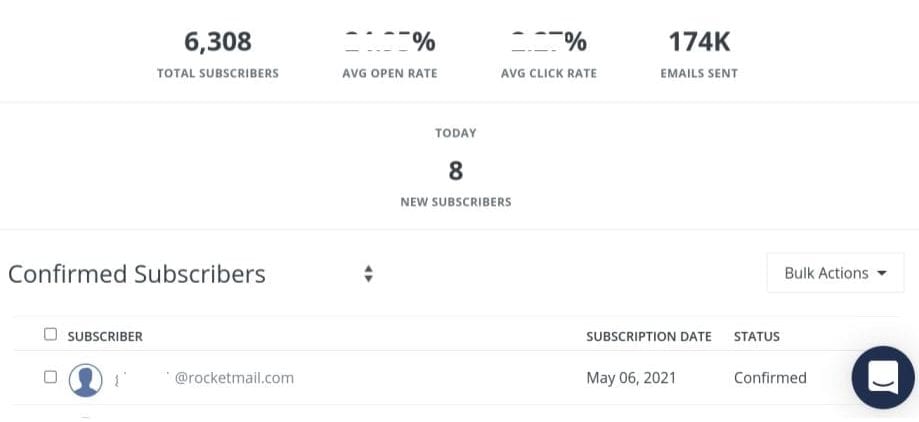 It's the ultimate handbook for getting on track for optimal profit when starting a poultry business.
I recommend you sign-up today, if you haven't already received emails from me.
Advanced Poultry Pickup
Due to the success of my free email course for start-up poultry farmers, 
I developed and launched a premium newsletter training program in November 2020.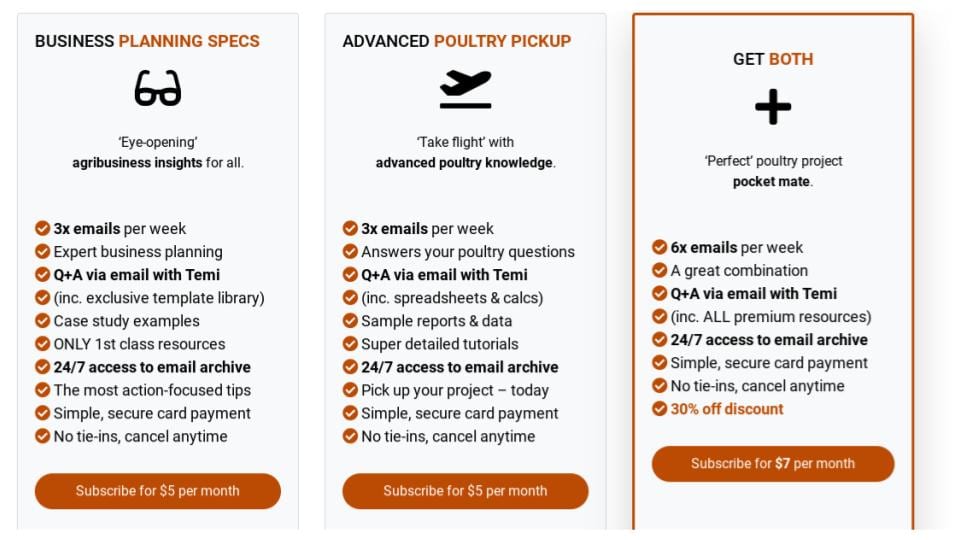 The aim?
To show you the EXACT techniques, proven by advanced level farmers, which are able to take your poultry business to the next level of ROI and profit.
Strictly for the pros.
I recommend you sign-up today.
Knowledge Base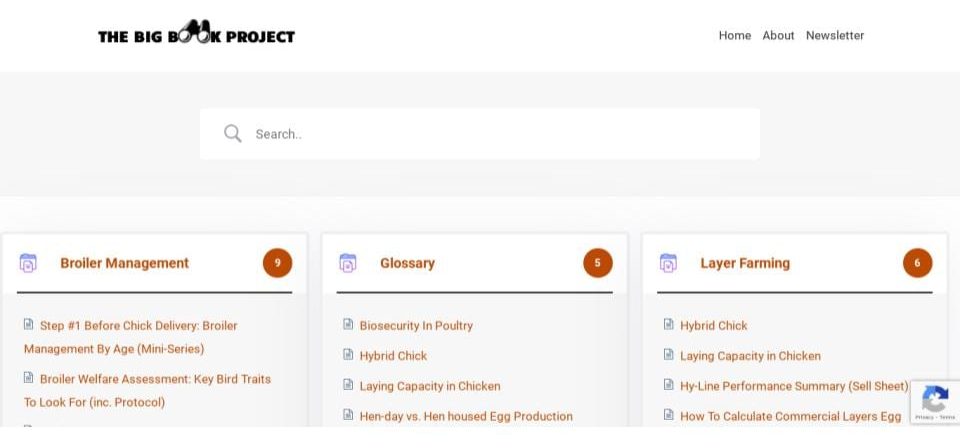 Facts are facts and never change.
Even in poultry.
Knowledge items like feeding schedules, production volumes and growth targets are the same today as they always have been.
Yes, new commercial breeds shave off some cost as well as push the production ceiling,
But within reason, chicken doesn't really change.
Based on this,
I produced a poultry farming knowledge base filled with facts and figures relating to rearing and steering a poultry business.
Almost daily, readers request either:
a copy of a feeding chart, 

disease chart
This was my reason for publishing the one-stop-shop: Poultry Farming Knowledge Base.
It's a work in progress and still growing and relies on your input.
Take a look and get in touch if you have any request:
https://thebigbookproject.org/knowledge-base/
Breeder Manuals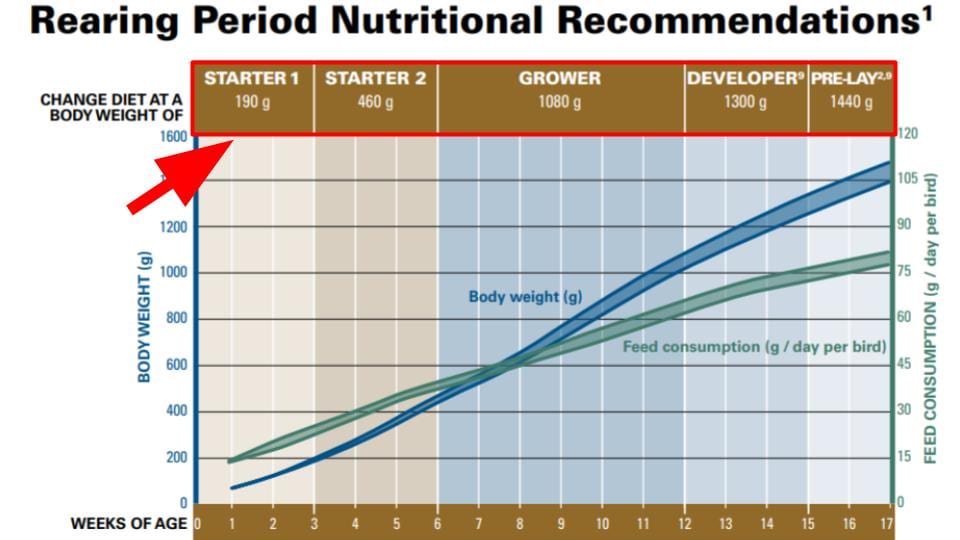 Breeders know best.
It's their business to know.
Critical bird behaviour and performance down to the last percentage point presents a GREAT advantage to anyone downstream,
Including your poultry farm.
And to remain ahead of their peers, 
Breeders are forced by reason of their trade to plough $millions into research and development.
EVERYTHING they learn, they document in user guides.
And at regular intervals they revise the edition of their guides giving producers like you the chance of getting even more return on your farm investment.
For example,
Here is a broiler management guide from leading meat bird breeder Aviagen:
http://en.aviagen.com/assets/Tech_Center/Ross_Broiler/Ross-BroilerHandbook2018-EN.pdf
A layer management guide written by Hy-Line (leading layer bird breeders) can be found here:
https://www.hyline.com/filesimages/Hy-Line-Products/Hy-Line-Product-PDFs/Brown/BRN%20COM%20AUS.pdf
Planning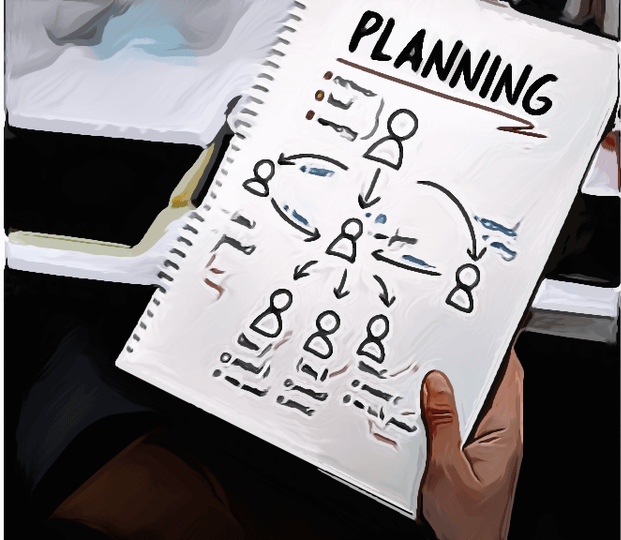 Without doubt, 
The #1 request that I get  from readers of The Big Book Project is:
Help with business planning.
Like this one…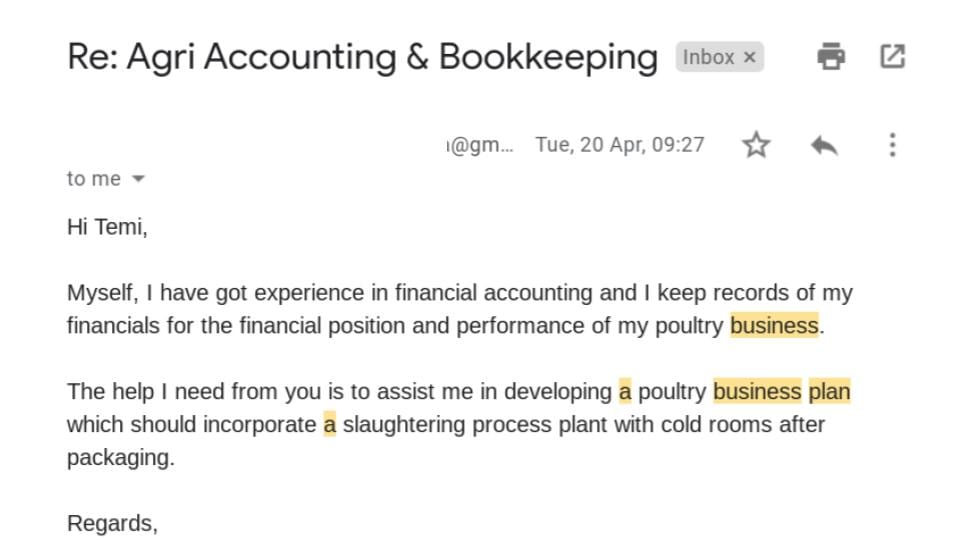 What's interesting is that this topic (business planning) must be among the most heavily published commercial related topics online.
And still, the more that gets published, the LESS confident beginners are of what to do.
Plus, 
Being a general discipline that applies to every business it can be difficult to translate into poultry.
This is EXACTLY the reason that I put together my premium agribusiness planning newsletter for start-up poultry farmers.
I called the newsletter:
Business Planning Specs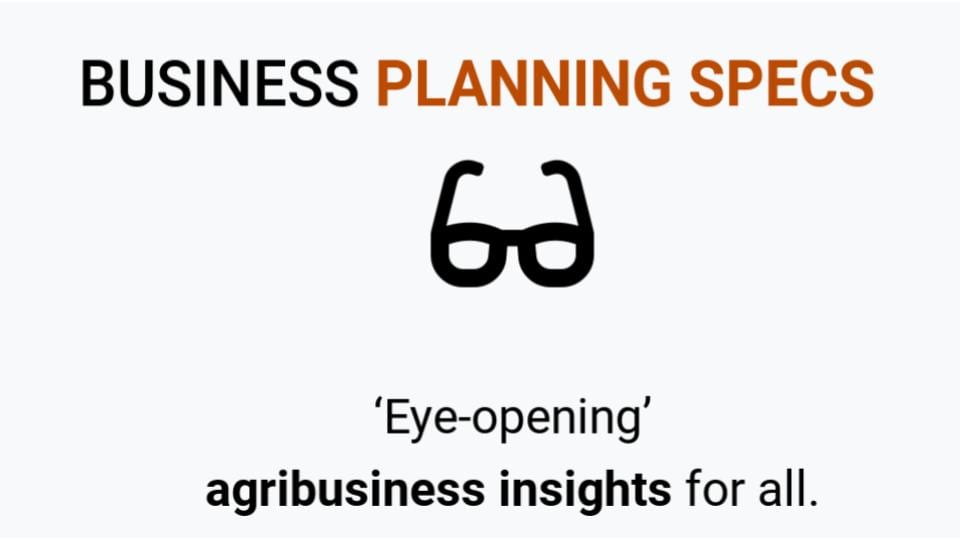 The goal with it was to help you…
(*whether you are a complete beginner or an experienced business planner) 
…see precisely what your business plan should be doing for you and why.
It's a detailed digest with lots of practical examples, plus templates to work with immediately.
And you get it delivered in chapters directly to your inbox over the course of a few weeks.
Made for convenience. For the self-paced learner in you.
I recommend giving it a try today (paid subscription).
Economics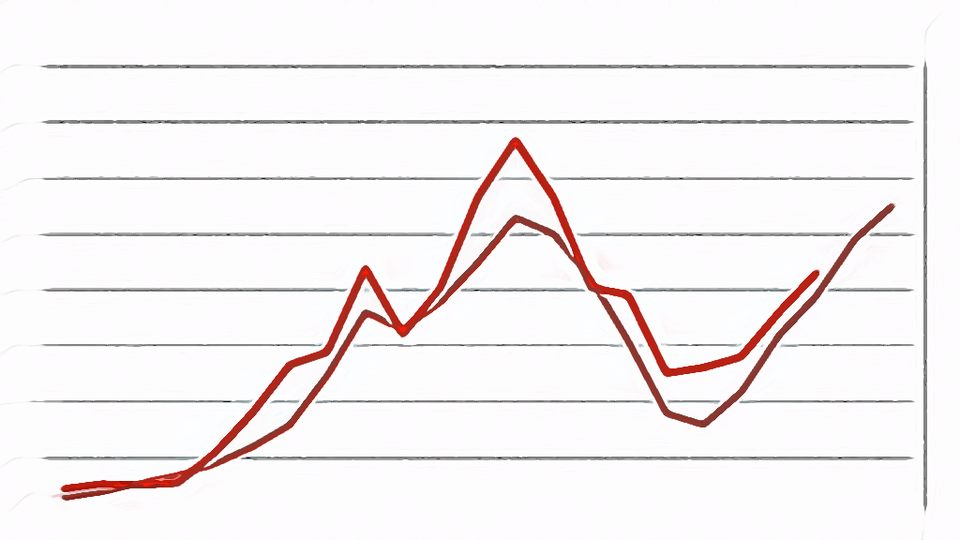 (Taken from the Poultry Farm Project Report Hub)
A fundamental step to being successful in poultry farming is:
Economic understanding.
You need to know the conditions affecting the wider commercial climate.
Issues such as:
…can quite suddenly cause a snap on pricing.
This is not felt any more sharply in poultry trade than with feed costs.
Feed costs contribute the majority of production expense for most poultry farms.
Often poor grain harvests or competition for grain supply from 'shoulder industries' like biofuel,
Puts a strain on availability.
And where availability shortens – prices rise.
Articles like this one – really make it easy for you to get a hold of the basics.
A highly recommended read:
https://www.thepoultrysite.com/articles/feed-costs-affecting-the-poultry-market
Business Management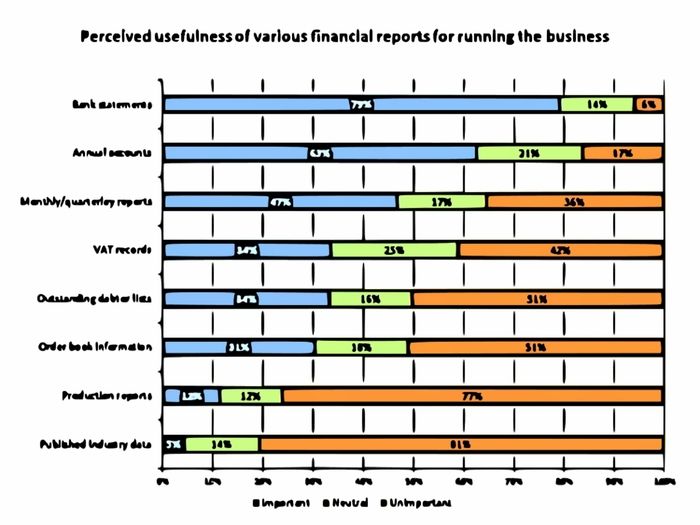 Besides planning and economics – your business head needs to know…
…Management.
In other words,
How best to handle the daily running of your business (and not just your birds),
For the most profit.
For example, 

Risk management is a necessary feature of any business – and is an ongoing need.

What is it and why?

It's when businesses take proactive measures against things that could go wrong.

And they do this as a way of preserving any future loss of income.

In professional project management, 

Project managers (known as PMs) use risk management matrices, like this one:

https://thebigbookproject.org/templates/risk-management-matrix/ (for paid susbscribers only)

To log all known risks and score them according to likelihood and damage potential.
I recently published a library of over 30 business templates to make it easy for you to learn and practice better business management.
I recommend using these templates in your poultry business planning.
For example, 

A risk in your poultry business could be that all of your sales revenue is tied up in one client.

This leaves your business exposed to the risk of losing that client along with ALL of your future sales.

This would be logged in your risk management matrix.

A potential solution would of course be to diversify your customer base.

The cost of doing this would be more of your time doing business development to attract prospective clients.
Investing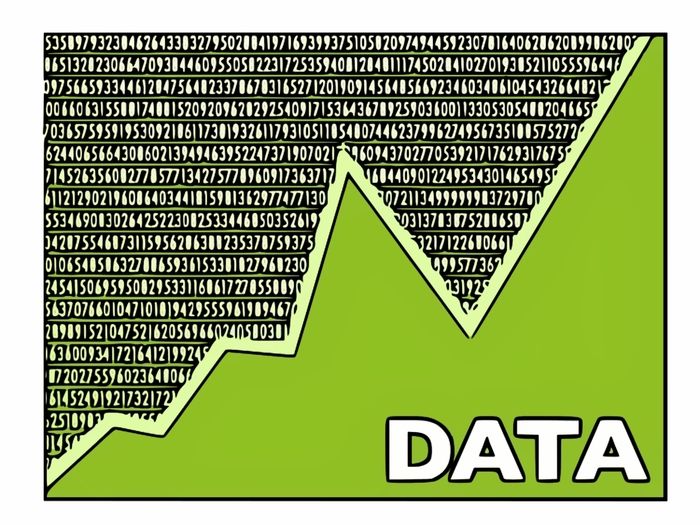 Starting a poultry business is an investment.
Things of value from you go in, for the hope of a reward later on.
Making profitable investment decisions takes knowledge.
Either by experience or training.
Or sometimes, even both.
Some years back when I was studying as business management postgrad,
I came across a most innovative method of learning real-life business principles.
Software simulation.
The software, in this case, is called Markstrat.
In a nutshell,
The software simulated real market conditions,
Whilst mimicking for you the experience of being a marketing director responsible for launching your company's products.
Round after round you had to adjust your:
product mix (types of products offered, pricing, positioning, placement etc.)
Whilst reacting to how the market received your decisions and staying on target for maximum sales.
In short, it was very life-like and quite addictive (if I'm honest) but the lessons learned stay with me to this very day.
Unforgettable.
This was what drove me to invest my time and experience into developing a similar resource,
But this time only for poultry farmers.
The software I developed is called Poultry Project Reporter.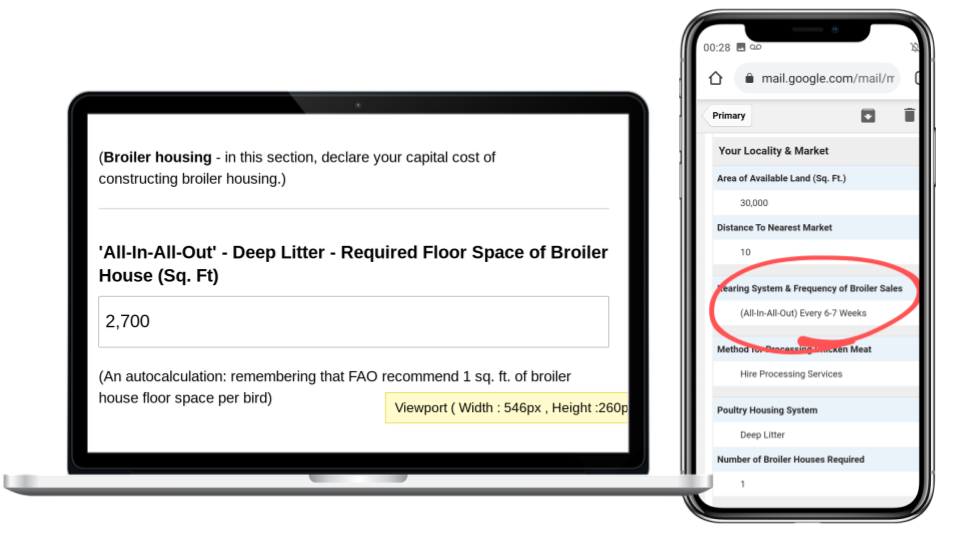 Poultry Project Reporter 2.0 is the fastest and most flexible way to build your winning layer or broiler proposal.
I recommend that if you are writing your project proposal that you subscribe to use the software today.
It plays on 109 project variables (cost & metric inputs) related to either a layer or broiler farm business,
And auto-calculates accurate outcomes of profit and ROI based on what business model decisions you make.
It's basically the IDEAL zero-risk, but HIGH IMPACT way to learn which rearing systems & business models make the most poultry profits.
I personally use the system almost everyday. 
And I produce some of the internet's most detailed poultry financial reports and analysis using it.
My most popular analytical tutorials like this one:
https://thebigbookproject.org/advanced-poultry-pickup/broiler-income-analysis/ (paid subscribers only)
It was entirely made and automatically calculated using Poultry Project Reporter.
I would dream of writing a poultry project proposal without it now.
Type Of Business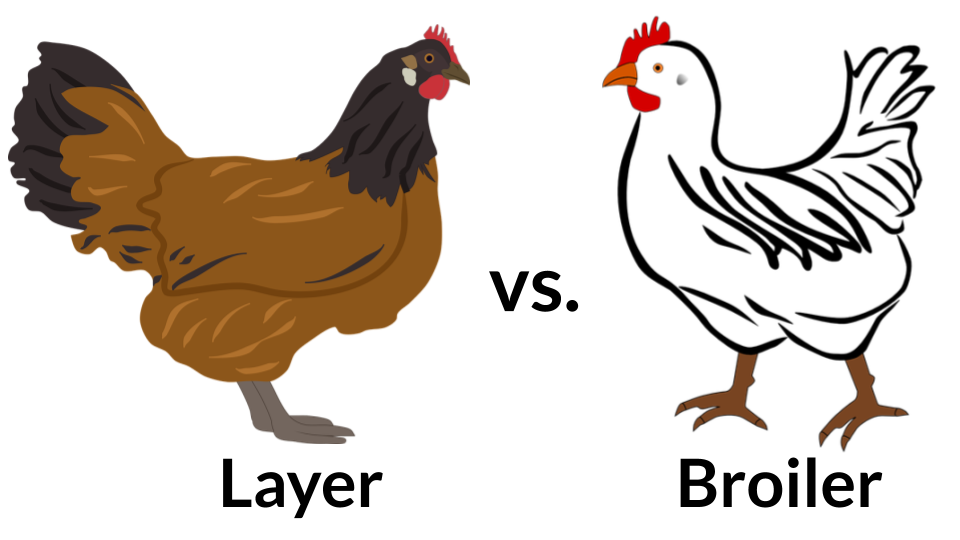 There are so many different types of poultry-related business out there.
And each having its own profile. Suiting some types of owner and not others.
As a golden rule, I always say, before making a decision it always pays to research thoroughly.
That way you don't miss out on a more profitable opportunity and stumble upon threat.
Here is a brief guide to choosing the right poultry business for you:
Know The Value Chain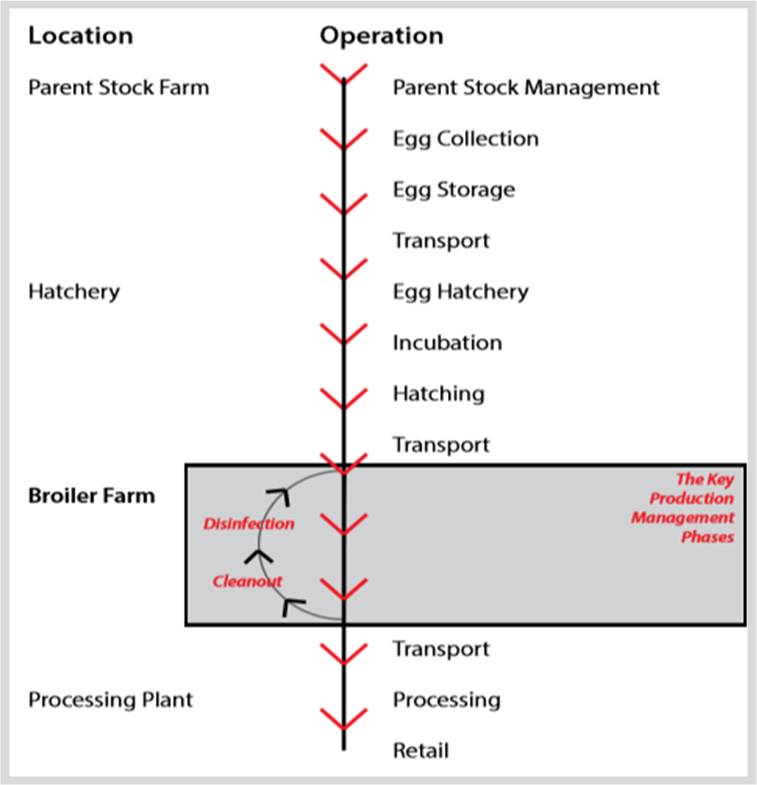 (Source)
The spine of the poultry industry is the value chain.
It's what makes it stand.
From beginning to end much like a river starting up in the mountains and flowing out to sea,
The poultry value chain sets a course from breeder to eater with all in between.
Here's what all of that look like: 
Breeder
These are the upstream providers of commercially tried and tested strains of broilers and layers.
Their strength is to selectively breed the most productive birds on the market.
Competition for finding more percentage improvements on performance, 
Drives the breeders to produce more and more economically viable birds.
Hatchery (Day Old Chicks)
Hatcheries take from the proven stock of breeder strain and multiply the potential.
Their business is to provide ready stock of chicks for producers to take on and rear for profit.
They are the accelerators of the poultry trade. 
Wholesalers making stock available and plentiful for retailers to purchase.
Rearing
There are some layer farms that prefer to receive ready-made 'point of lay' birds than day-old chicks.
In such a case, the farm indirectly pays the cost of rearing the birds from day one.
It's actually bundled into the price of the birds.
The benefit to the farmer is you get the birds delivered ready to lay and therefore fast forward your egg production timescale by 18 weeks.
This has clear cash flow advantages, yet (I say it again) not without cost.
Which brings us on to…
Layer Farming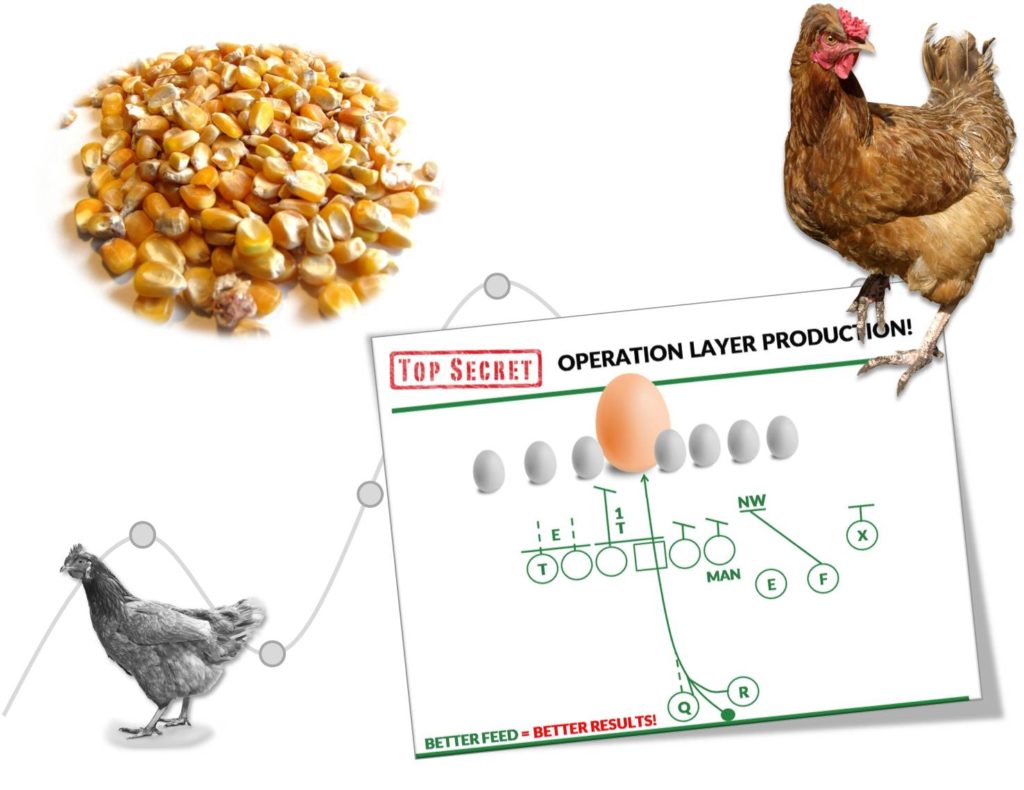 This is the practice of rearing hens for the purpose of producing table eggs. 
Layer hens at peak performance will approximately lay an egg per day.
After some 72+ weeks of age layer hens generally fall beneath the line of profit-making and are culled.
Broiler Farming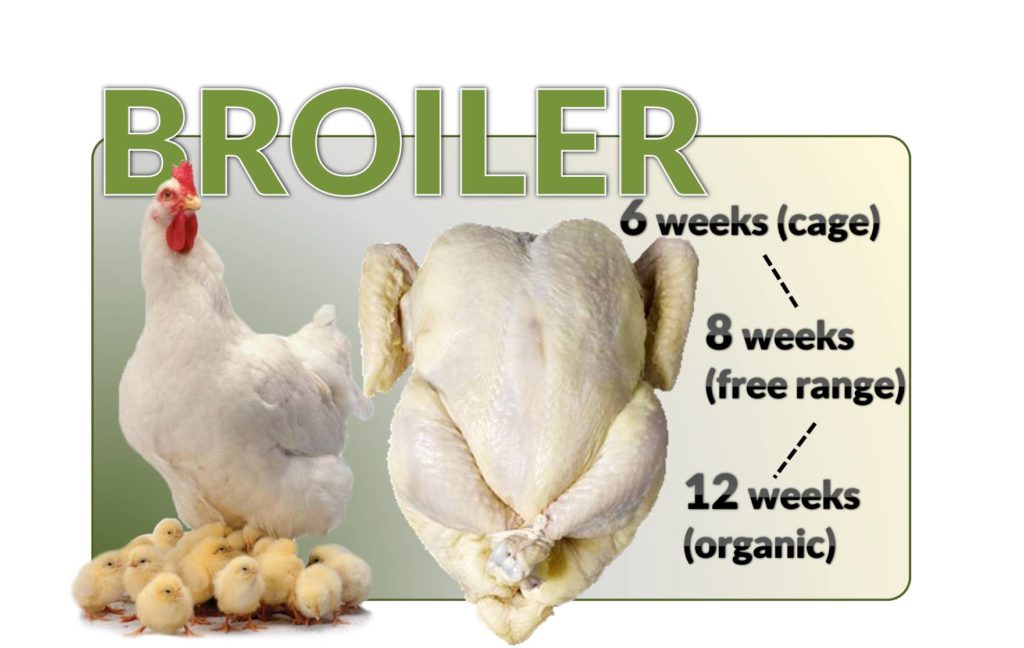 (Taken from Broiler Farming: The Ultimate Guide)
This is raising special table meat birds for – exactly that, chicken meat.
They are raised from 1 day old and reared for approximately for 6-7 weeks until peak weight.
Then, the birds are rounded up and shipped off to market where they are sold either live or as carcasses.
Further processes occur where the carcasses are divided into pieces, sometimes frozen, sometimes delivered fresh and handed over to wholesale and retail.
Packer
Packers are exactly that. 
They specialise in taking the stock from the hand of the producer and preparing it for retail.
They are yet another link in the chain and their involvement (just as with the involvement of every other link) puts a squeeze on the margins on producers.
This can at times prove unpopular when it threatens the earnings and survival of farmers.
Equipment Vendor
Poultry equipment is specialised and more than often manufactured in The Far East.
This makes the availability of such equipment at times rare or at least hidden if not promoted effectively.
Equipment vendors are the source of getting poultry farming kit like cages, feeders and drinkers at affordable rates.
Whilst capital intensive to hold stock, 
This kind of business can be quite rewarding if you strike a good balance between supply and demand – keeping inventory lean.
Agent
The classic middleman.
Agents are the market makers of the poultry industry.
Where the marketing efforts of the producers and farmers lack bite.
These opportunists land big volume deals which make all the difference,
And receive a commission for their efforts.
They save farmers time and resources doing the business development themselves,
Often a very welcome exchange,
Yet they cost the value chain yet again more margin.
Feed Miller
The people convert bare grain into complex feed mixtures,
Which are tailor-made for optimising bird growth and productivity.
Whilst their product is not as perishable as the birds themselves,
The timely and tightly controlled:
Preparation

Production

Packaging

Storage

Delivery
…of the product must be orchestrated with precision to land fresh, quality feed on the doorstep of the farm,
With minimal or even zero-loss.
These are just some of the key players in the poultry farming industry – and food for thought for the type of poultry business you want to start.
Rearing System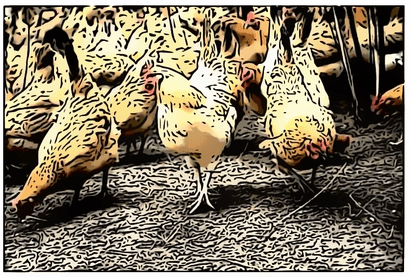 There are many ways to commercially raise chicken for eggs or meat.
And the decision isn't always so clear cut.
Often, the first thoughts are always BIG and FAST are best.
But more and more it is seen in markets across the world,
That poultry consumers are becoming much more…
…QUALITY conscious.
According to Dr. Osler Desouzart, 

'…a Brazil-based food-industry analyst who helps poultry companies with marketing and planning through his company OD Consulting.'

"A premium chicken sold at a premium price cannot be made… with second- grade feed, with the lots managed by untrained people and with the 'cost dictatorship' determining that the least expensive ingredients should always be used," 

"Quality begins at the beginning, but has to go all the way to the end. There is no 'partial' quality, or quality just in parts of the process, by part of the departments and part of the time," 

'Today's consumer wants to know what he eats, from where it came and how it was produced. He wants assurance that what he eats is safe for his health and the environment' "My point is that if European producers try to fight the imports with their unbeatable prices and tailor-made bulletproof productions that resist any quality assurance audit, they shall fail. If they think that they can entrench behind protectionism, they are doomed."

(Source: The Poultry Site)
Organic
According to thegrocer.co.uk, 

"…sales of organic produce in the UK rise by 12.6% to £2.79bn in 2020 – the category's highest growth level in 15 years." (Source: The Grocer)
A large proportion of this growth is due to organic poultry products, according to The Soil Association.
No chemicals on feeds (pesticides etc.), 

non-GM, no hormones, 

no antibiotics
… purely reared naturally – without intervention.
Yes, there are many hoops to jump through to obtain official accreditation as this label is heavily regulated.
But once achieved, a premium price tag will not be resisted by the consumer.
In fact, the premium price tag on organic foods, in the UK for example, can fetch as much as 89% more:

"Organic food also attracts a hefty premium over non-organic food. In 2016, in the US, a survey by USDA found the organic premium varied from 7% for fresh spinach to 82% for eggs. In the UK, the organic premium is higher. Shoppers pay on average an organic premium of 89%."

(Source: Economics Help)
Free Range
To some, animal welfare has multiple benefits.
They go something like this:
If your layer or broiler flock spent more time outside than inside:
Birds would enjoy a far better life having more exercise and better health

Access to natural foods sources from foraging gives a more nutrient dense product

Consumers enjoy better nutritional value for money.

The soil receives back nitrogen rich manure which is recycled for more growth
Because of this, there are segments of consumers who see free-range eggs and chicken as greater value.
(…and the health benefits as being worth paying more for.)
According to a 2017 study by Kenyatta University, Kenyan poultry consumers,

"…exhibit  high  preferences for indigenous chicken eggs and are willing to pay 41.53% more compared to other eggs." 

(Source: Analysis of Consumer Preference in Product Attributes: A Case of Indigenous Chicken Eggs in Kenya)
Now, the label Free Range Eggs are certified and not a marketing-ism. 
Therefore you:
apply, 

meet criteria and 

then are awarded 
…before being able to use the product description lawfully.
The process differs from country to country but here is an example from the UK: 
https://www.egginfo.co.uk/egg-facts-and-figures/production/free-range-egg
And just in case you are still a little confused (or a lot) about the definitions of what makes an egg 'organic' vs. free-range, for example…
This guide clarifies things in an easy to understand way:
https://www.farmdrop.com/blog/egg-labels-truth-difference/
Deep Litter
At the 'lighter end' of the semi-intensive scale of production is deep litter poultry farming.
In summary, this is how it works:
The birds spend their entire time indoors, but are free to roam within the house. Uncaged.
They spend their time on the litter which in turn must be kept clean to prevent disease.
For broilers, at the end of their typical 6-7 week rearing period the house is cleared out and litter usually sold as fertiliser.
Layers spend their production life on the litter and at the end of 70+ weeks, the flock is culled.
During this period the litter is topped up and changed.
But how often and how much?
My answer:
I recently wrote this simple guide to the deep litter method for chickens to help you calculate the cost for your project:
https://thebigbookproject.org/knowledge-base/deep-litter-method-for-chickens-a-simple-guide-to-calculating-the-cost/
If you were thinking, how deep exactly should deep litter be,
This is just the article for you:
https://thebigbookproject.org/knowledge-base/how-deep-should-poultry-litter-be/
And what about the type of material?
What works best for poultry litter?
Here is an easy to use table for comparing the benefits of poultry litter.
https://thebigbookproject.org/knowledge-base/common-types-of-poultry-litter-material/
Caged (Intensive)
Caged poultry farming is intensive.
The chickens are denied the freedom to roam around the birdhouse.
The short term commercial benefits are: 
a smaller floor space required, 

no litter needed and 

time-saving (automated manure collection, feed and drink systems)
For these reasons, a caged set up is sometimes preferred by farmers.
But how do you choose the most suitable cage system?
To answer this question, 
When I recently upgraded and improved my software Poultry Project Reporter to 2.0.
It is now able to predict how many repeatable bird cages you need.
Plus, it can advise on the type and shape of the cage.
Here's a PDF example of a broiler form cage report: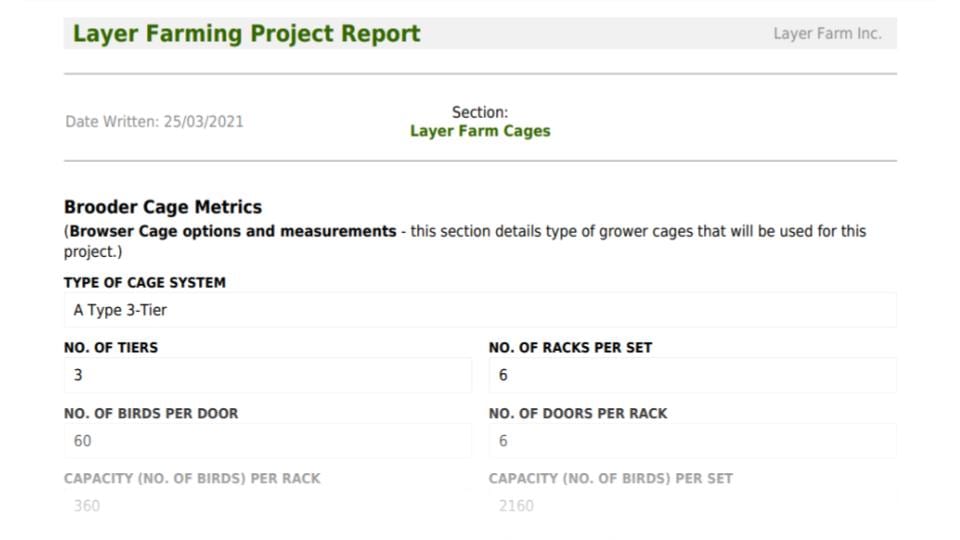 (Taken from Poultry Project Reporter 2.0)
Also,
For a useful tutorial of the types of poultry cage systems – 
Take a look at this page:
https://www.farming-machine.com/livestock-machinery/chicken/layer-chicken-cage/
Yield, Performance, Quality & Mortality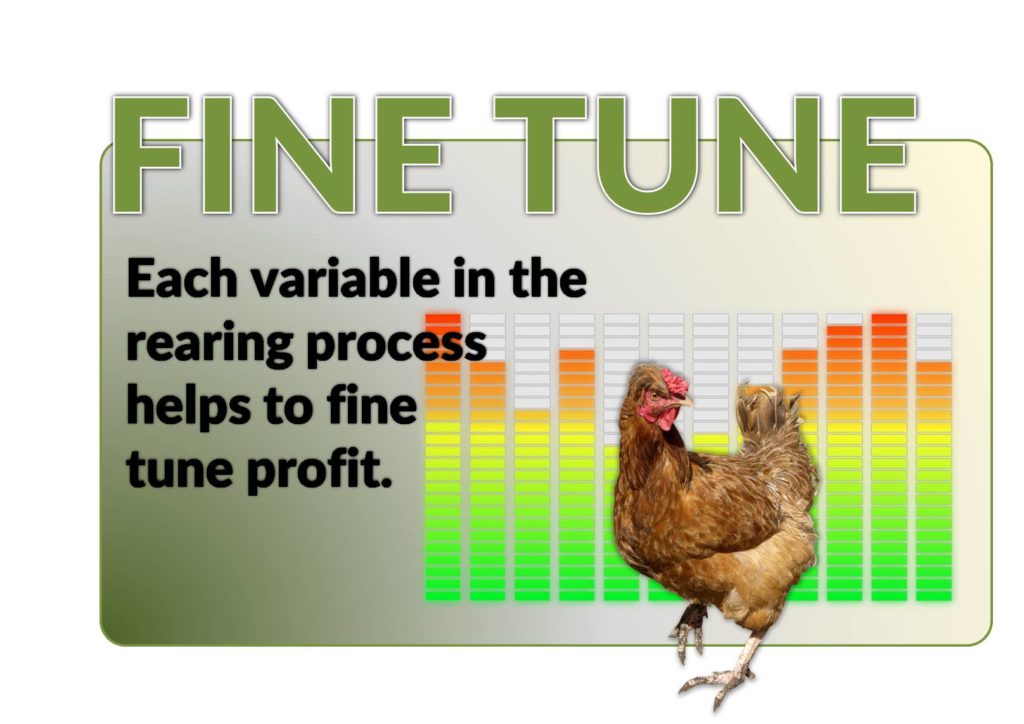 (Taken from Broiler Farming: The Ultimate Guide)
Poultry farming, like any business, is target based.
What does that really mean for you?
It basically means all of your efforts will be entirely wasted UNLESS you hit the mark.
And the mark for sustainable profit is getting more distant and difficult to reach, by the day.
Inflation, price volatility and increasing competition work to squeeze margins.
This means that the modern-day poultry business owners must be:
More results-focused than ever before.
Whatever the model, 
So much is riding upon every individual gram of weight or hen day egg, 
That poultry farmers are under increasing amounts of pressure to perform.
Survival in poultry farming comes down to due diligence.
And in particular with your METRICS.
As everything in the business comes down to metrics and measurements.
Master them – and you'll give yourself the eyes to see the road to success.
Know Your Standards & Targets
First, things first,
Your poultry product has got to be legit.
Without passing the quality standard tests, you simply can't get your eggs or meat out of the farm gate.
So,
Knowing the standards and being very comfortable with your ability to meet them is key.
Pro Tip: Find your country's relevant egg or meat standards by typing into Google:

'Table egg standards [country name]'…E.g. 'Table egg standards Philippines'

Example for the Philippines: http://spsissuances.da.gov.ph/attachments/article/1101/PNS-BAFS35-2005-TableEggs.pdf

'Meat Inspection code [country name]'…E.g. 'Meat Inspection code Uganda'

Example for Uganda:

https://members.wto.org/crnattachments/2017/TBT/UGA/17_5529_00_e.pdf

Whilst these standards help you see what is expected,
You still need to know how to achieve the goals set.
This is EXACTLY why I included these two resources in my Knowledge Base:
Broiler welfare assessment template

used by the RSPCA in England for rating general condition of broiler birds. I recommend using this to assess your broilers before marketing:
https://thebigbookproject.org/knowledge-base/broiler-welfare-assessment/
Kadaknath egg quality rating

is a rating system and calculator for assessing the quality of eggs from a Kadaknath bird. Using these 10 indicators you get a solid system for measuring egg quality. I recommend take a look at this study:
https://thebigbookproject.org/knowledge-base/benchmarking-kadaknath-egg-quality/
ROI Analysis
Return on investment (ROI) is what poultry business survives on.
If you don't get out greater value than what you put in, 
Then your business is not sustainable.
It cannot survive.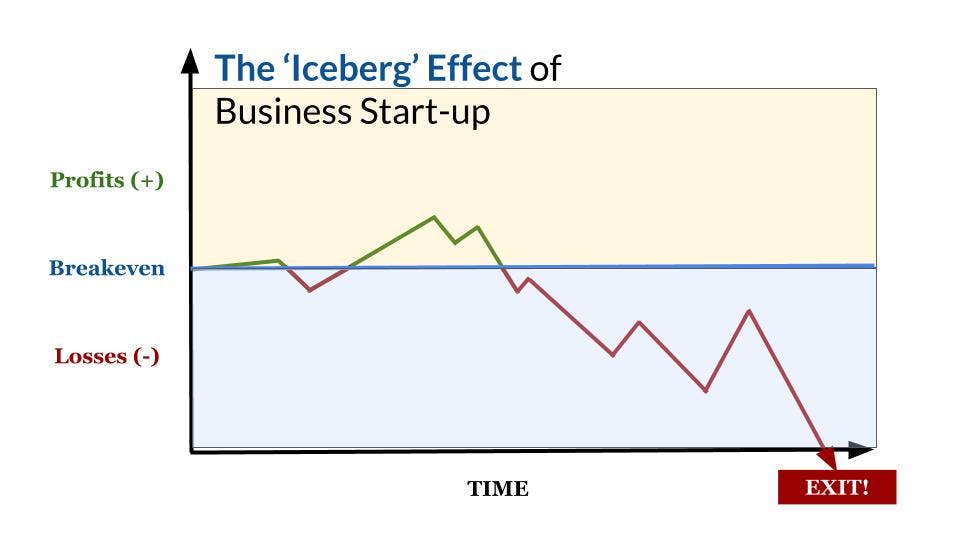 ROI is not guesswork either. 
It comes down to expert financial calculations and estimates.
You need a FRAMEWORK – tried and tested that gets results.
That's exactly why I produced Poultry Project Reporter.
When I started The Big Book Project, I spent so much time writing out poultry proposals 'long hand',
And I found the manual method was:
Slow

Error-prone

Repetitive

Generally off-putting
And speaking with over 5,000+ subscribers of my email newsletters who are start-up farmers and poultry professionals,
It seems I wasn't the only one with this problem.
I decided to scratch the itch.
Over:
1,800+ software design & development hours later

109 individual data entry points

74 integrated PDF-fillable forms & calculators

Countless ('000s) factual expert references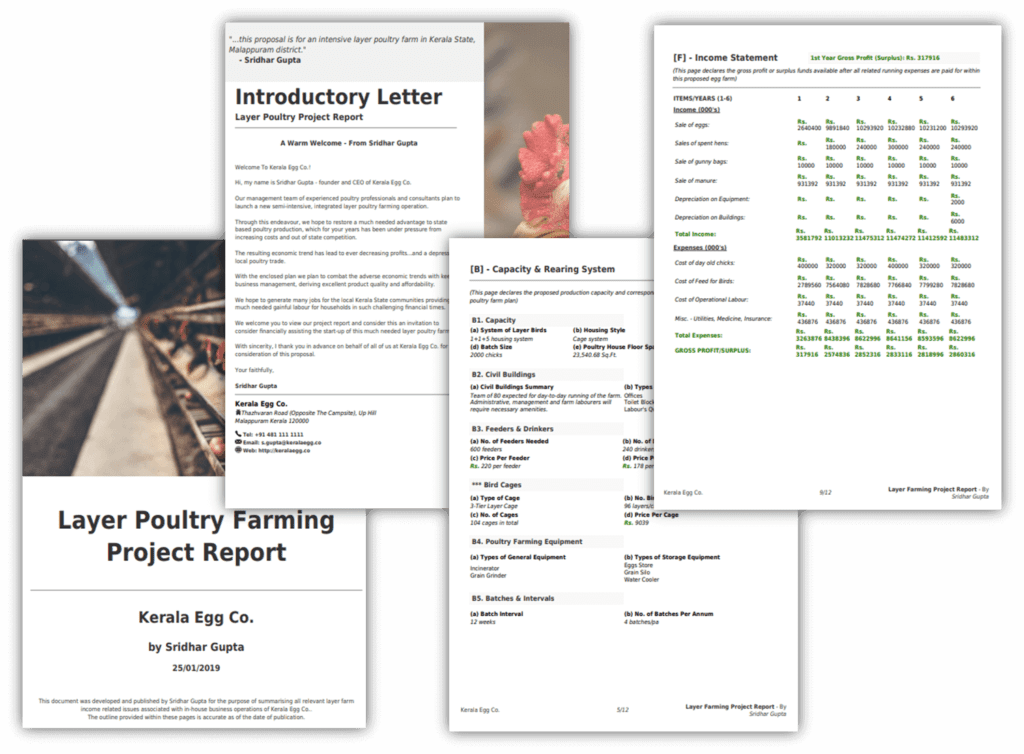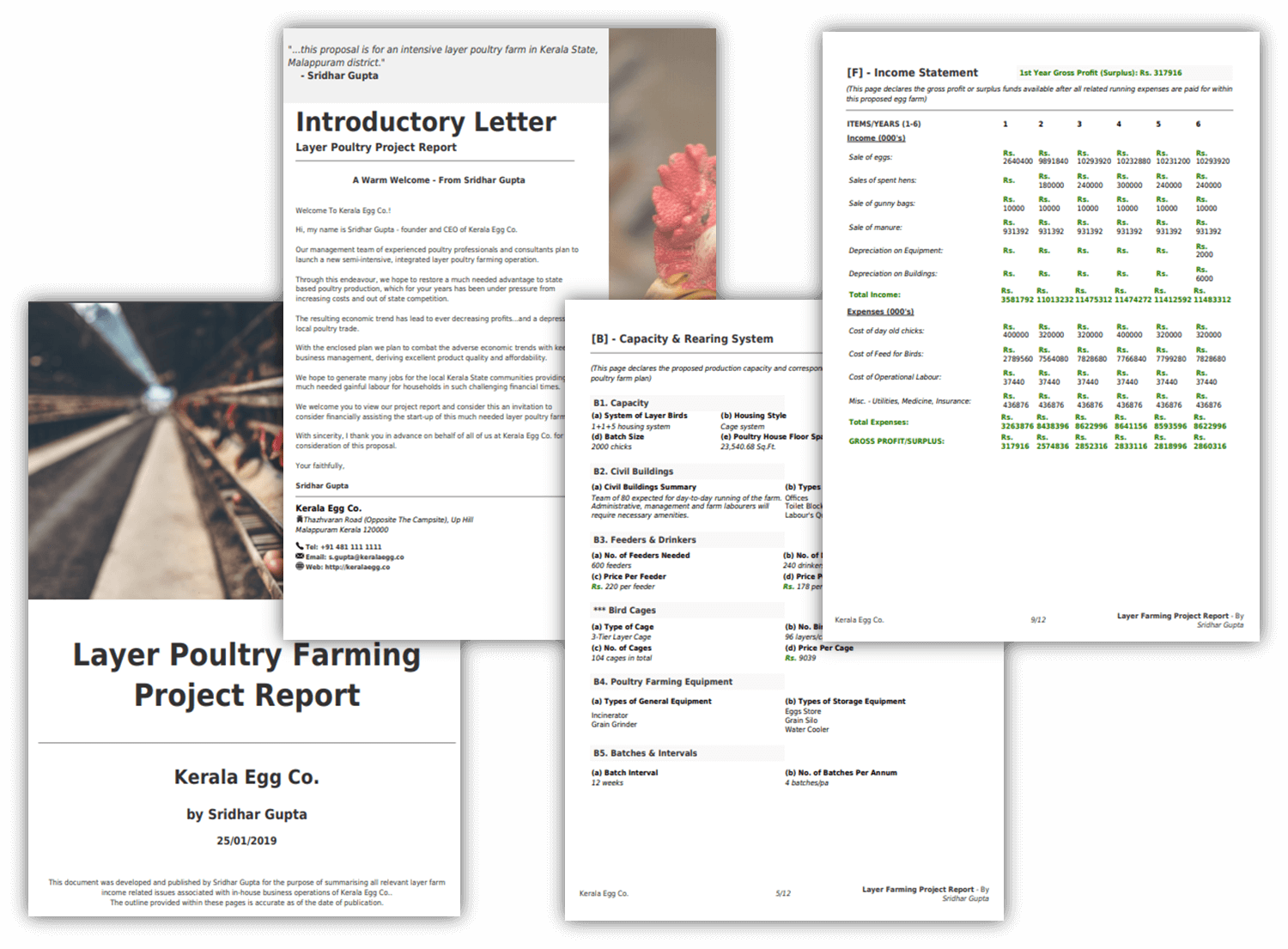 …the Poultry Project Reporter was complete.
I launched it in September 2020 and picked up my first few license holders, 
Ranging from value chain managers, PhDs and start-up farmers.
A good start, but still there was work to do.
The launch version had some speed issues, lacked memory and was a little rigid in parts.
Not wanting to leave a job half-done I took to completely overhauling the system,
And adding to it all of my first wave user suggested improvements.
It now answers ROI queries in multiple currencies, is generally much quicker and now is mobile friendly…
…PLUS much more.
Welcome to Poultry Project Reporter 2.0
One of the features I added, which was one I personally really wanted to see,
Was the ability for the software to take an individual section of a poultry business financial proposal & run a 'micro analysis'.
In other words,
I wanted users to get analytical value from it without having to fill in the ENTIRE form each time.
And because of this feature, it works great as an ROI scenario planner.
It lets you run all kinds of interesting comparisons helping you weigh up the most PROFITABLE decisions,
BEFORE you invest in your poultry business idea.
In a recent premium email newsletter series, 
I weighed up the profit-making potential of various broiler and layer production models,
Showing how the slightest of changes in egg or bird production gearing can make a significant difference to your earnings.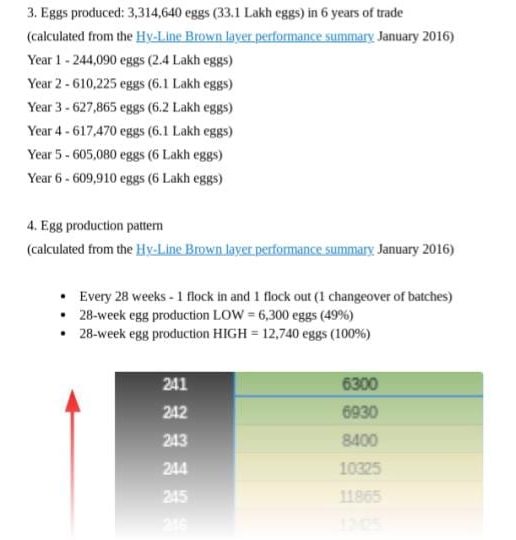 I highly recommend you read these before planning your poultry business income:
https://thebigbookproject.org/advanced-poultry-pickup/layer-income-analysis/ (paid subscribers only)
https://thebigbookproject.org/advanced-poultry-pickup/broiler-income-analysis/ (paid subscribers only) 
Example Egg Yields
Egg yield in principle is quite simple.
With a commercial layer breed like the Hyline Brown, you can expect each hen to produce:
1 egg per day – 96% of the time (during peak laying weeks e.g. week 29)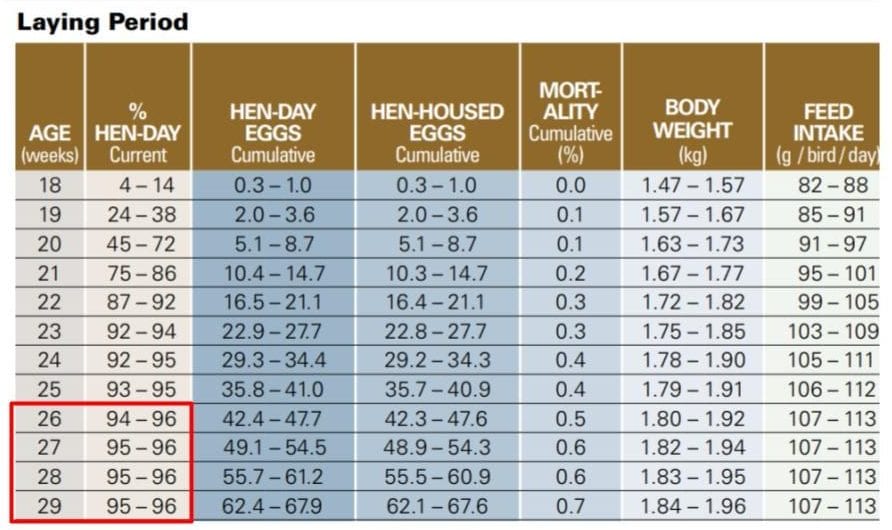 Lohmann Brown Classic, on the other hand, achieves a hen-day egg production of 93%.
Just a few points shy of Hyline Brown.
But that is assuming, that your husbandry skills are on par and the birds are receiving all of the input help they require…
Food

Water

Lighting 

Heat

Ventilation etc…
Now, that's just talking of one bird.
But don't things get complicated when you start projecting flock production?
And even more so with multiple flocks?
How do you estimate production then?
The answer…
…it's very difficult.
Why?
Because there are just SO MANY variables involved that you can quite quickly tie your brain in knots.
Factors like:
Interval of buying batches

Age of each flock 

Number of multiple batches

Culling age
…add layers of complexity and make accurate predictions seem almost impossible.
Tough, isn't it?
But here's how to beat it:
In response to overcoming the challenge of accurately predicting egg production using various rearing systems,
I included within Poultry Project Reporter an egg production statement.
What does it do?
Well, on one hand, it's quite complicated…
…it splices up your multiple flock egg production models into separate layers,
And using the expert breeder data according to age the software lines up each flock and its egg output,
(…now, here's the SIMPLE bit…)
Blending them all together into one neat flow of eggs – complete with ups and downs, taking into account:
Age of hens

Culled flocks (

spent hens

)

Mortality adjustments
The result:
A seamless statement of EXACTLY how many eggs your farm will produce, looking forward up to 6 years.
And like I said, 
At the click of a button, you can switch between production models to see the difference.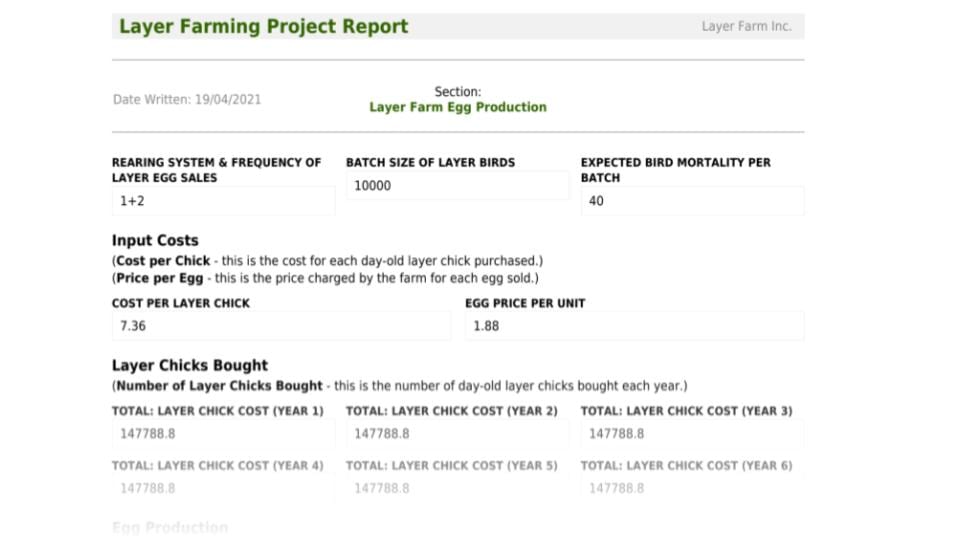 My premium email newsletter:
Layer Production Systems, outlines many scenarios for you to look at.
Like this one:
How many eggs per year will a 1+2 rearing system with a batch size of 1,500 chicks produce?
My answer?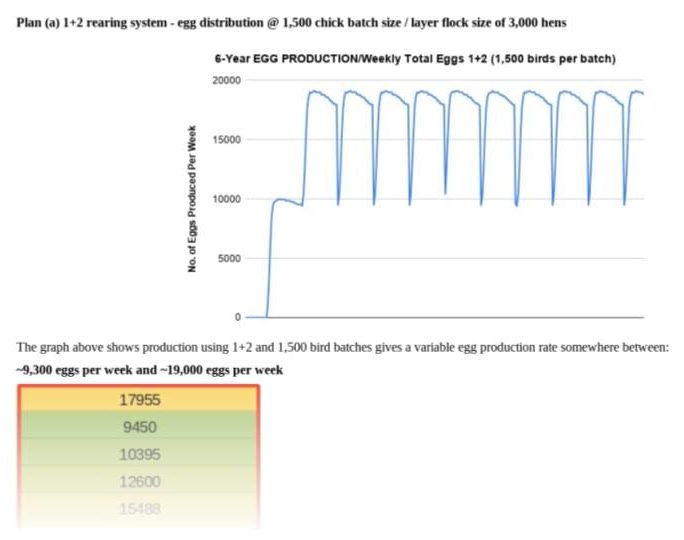 (Taken from Layer Production Systems – Poultry Project Reporter Email Newsletter)
In-depth.
Very revealing.
I highly recommend reading this:
https://thebigbookproject.org/advanced-poultry-pickup/layer-production-systems/ (paid subscribers only)
Example Meat Yields
Meat yield also has its complexities.
Although, on the face of it – the production dynamic is a simple 1-to-1 relationship.
Not like with egg layers.
Egg-laying calculations needs to take into account hen-day egg averages.
But 1 broiler chicken = 1 chicken carcass.
Simple enough.
But we can't just stop there…
…it gets quite a bit deeper than this in practice.
Firstly, there is the weight of chicken.
Broiler carcasses are sold on weight.
Either per kg or per lbs.
One chicken of greater weight therefore will be sold for more money at market.
But then there is the issue of meat yield.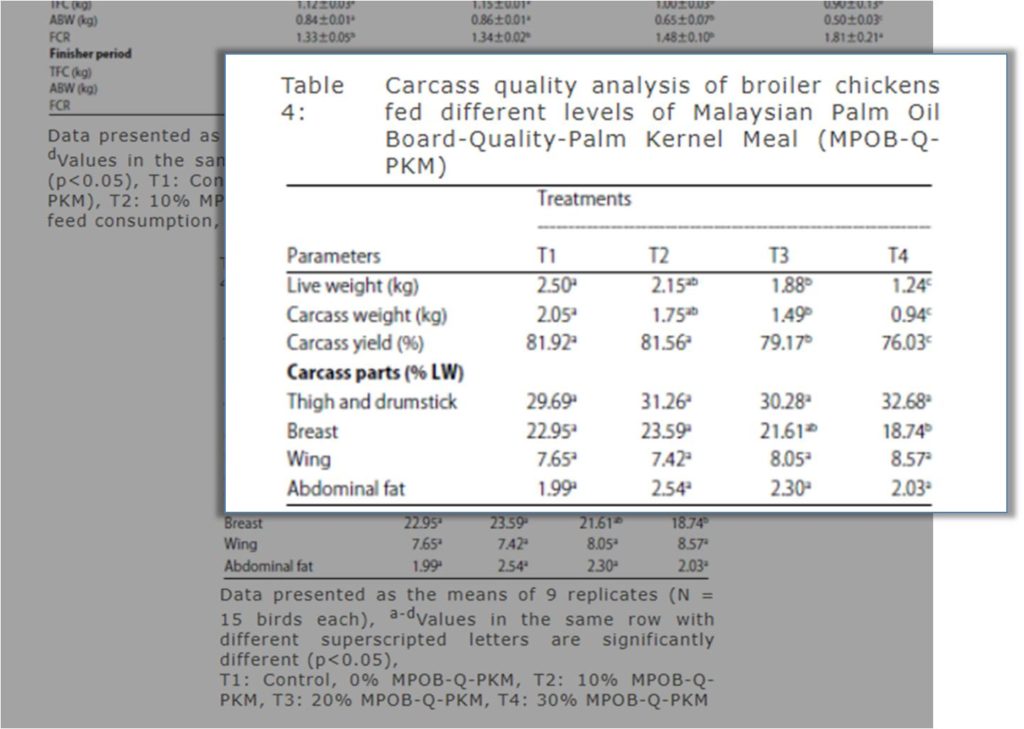 (Taken from Broiler Farming: The Ultimate Guide)
Meat yield takes into account that not all of a chicken carcass is meat.
The is bone tissue, blood, head, feet, feathers, inwards and more…
Leading studies say on average you can expect 68.8% meat yield from a broiler bird carcass.
In other words, 
You can generally expect that a shade over 2/3rds of a broiler chicken's body weight will pay you back in marketable meat.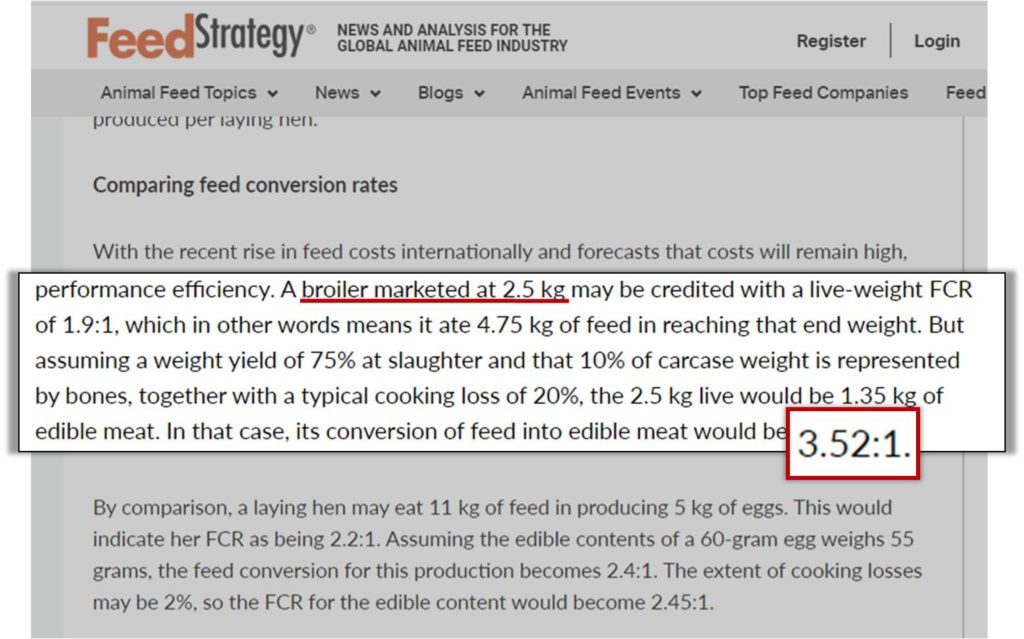 (Taken from Broiler Farming: The Ultimate Guide)
And all of that happening within a period of 6-7 weeks.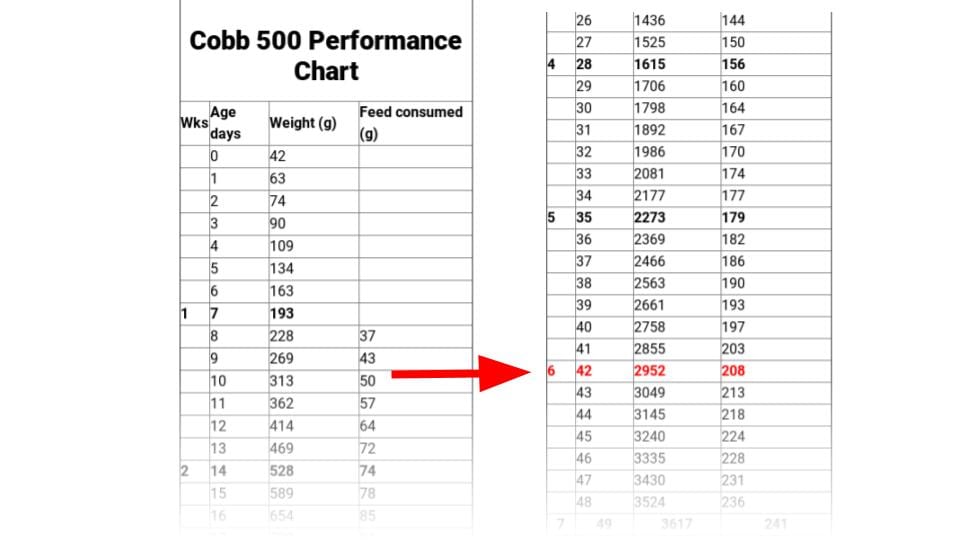 From day-old to market-ready.
But again, that is the single bird version.
What about when you scale it up to a flock?
Adopting a single flock farm model, otherwise known as All-In-All-Out,
The farm's entire cash flow dependency rests upon a single flock's 6-7 week production cycle.
In between (or rather during) rearing cycle,
The farm suffers from ZERO cash flow (awaiting the big payout at the end of the cycle).
With a multiple flock model.
You get an overlap of production. 
Like this 4+1 broiler rearing system: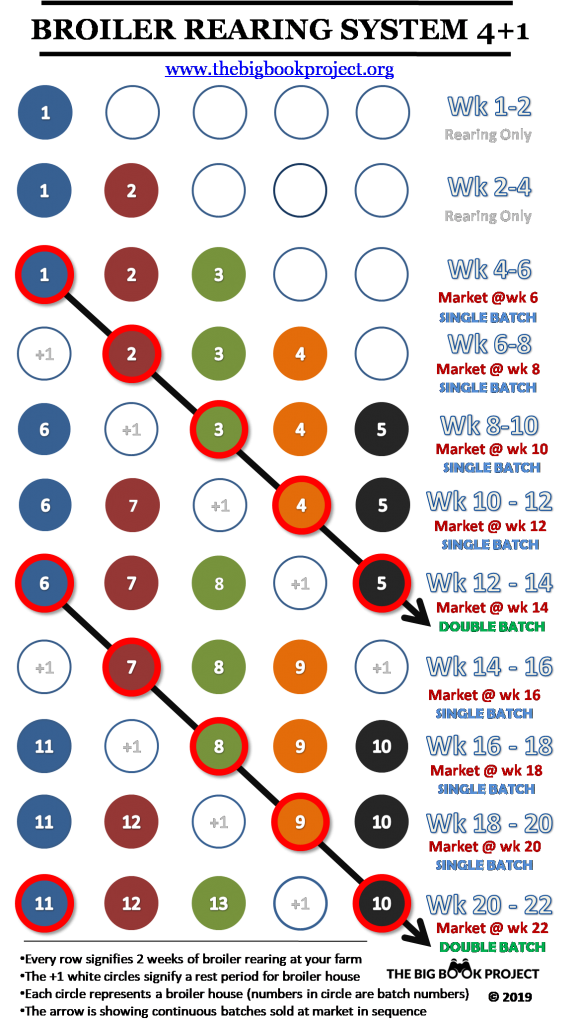 (Source)
You reduce the dependency. And smooth out the cash flow.
This model takes more capital outlay and expenditure to house more flocks at once,
But if achieved, 
The farm benefits from a more consistent income stream.
As for how that REALLY looks like, along with some detailed examples,
I highly recommend reading my premium email newsletter called:
Broiler Production Systems (paid subscribers only)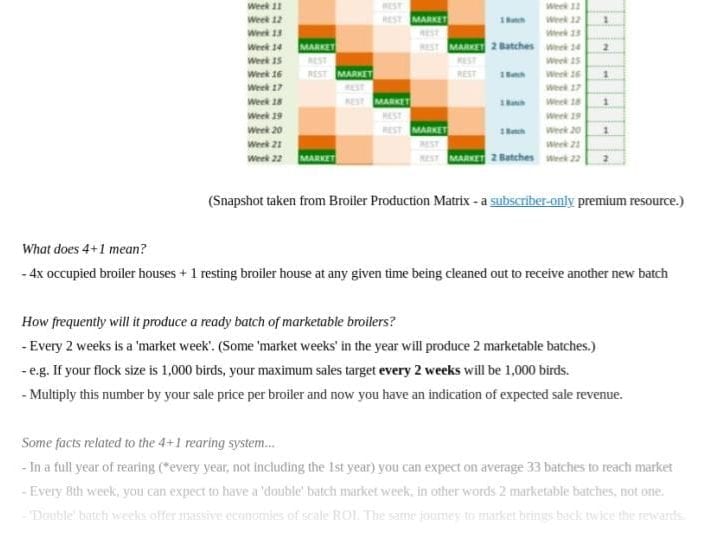 (Taken from Broiler Production Systems from Poultry Project Reporter)
In it, I open the lid on EXACTLY how you model cash flow with the broiler business.
And how to set things up to maximum profit.
A recommended read:
Broiler Production Systems (paid subscribers only)
Age Distribution
Mature birds bring marketable product.
Juvenile ones don't.
Peak performance for both broiler and layers is like a harvest. 
Until you reach it, your business is unprofitable.
And beyond it, the same applies.
There is an optimal window where all your hard work comes back to you in either:
High volume. high-quality eggs, or;

Nutritious, optimal weight, healthy chicken meat
Leading poultry farming consultant, Richard Jackson of St. David's Poultry  claims:

"The first week of a broiler chick's life forms the basis of its health and productivity for its entire time on the farm."

(Source: Farmers Weekly)
That said, 
I recommend reading this knowledge base article I wrote recently.
It tells you the critical steps to prepare before accepting a new broiler chick batch:
https://thebigbookproject.org/knowledge-base/step-1-before-chick-delivery-broiler-management-by-age-mini-series/
Timings
Everything in poultry farming works to schedule.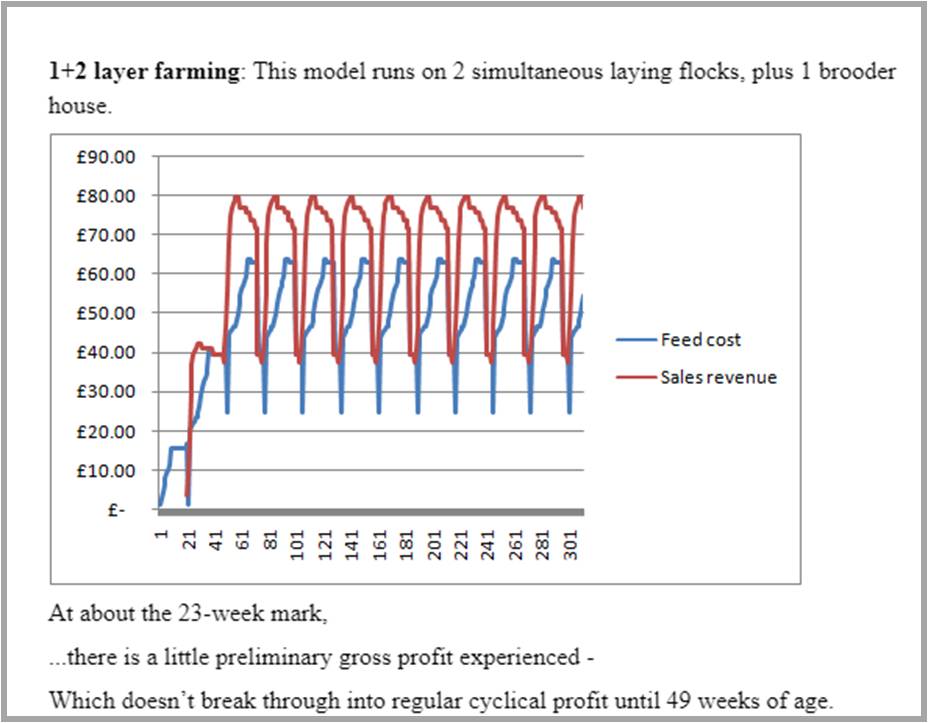 (Taken from Projecting Layer Egg Production – Free Poultry Farming Email Course)
You simply can't rush nature.
It takes its course and can't be changed.
On one hand, this sounds like a constraint.
But thinking it through another way,
It just gives you some firm parameters to work with.
Some predictability.
With good time management – your model has no hiccups.
And your cash flow will be as expected.
But any slips and trips will have an impact on your timing for delivery, sales and income.
This short guide will help you understand the importance of rearing cycles.
Average Mortalities
Bird mortalities are routine on every poultry farm.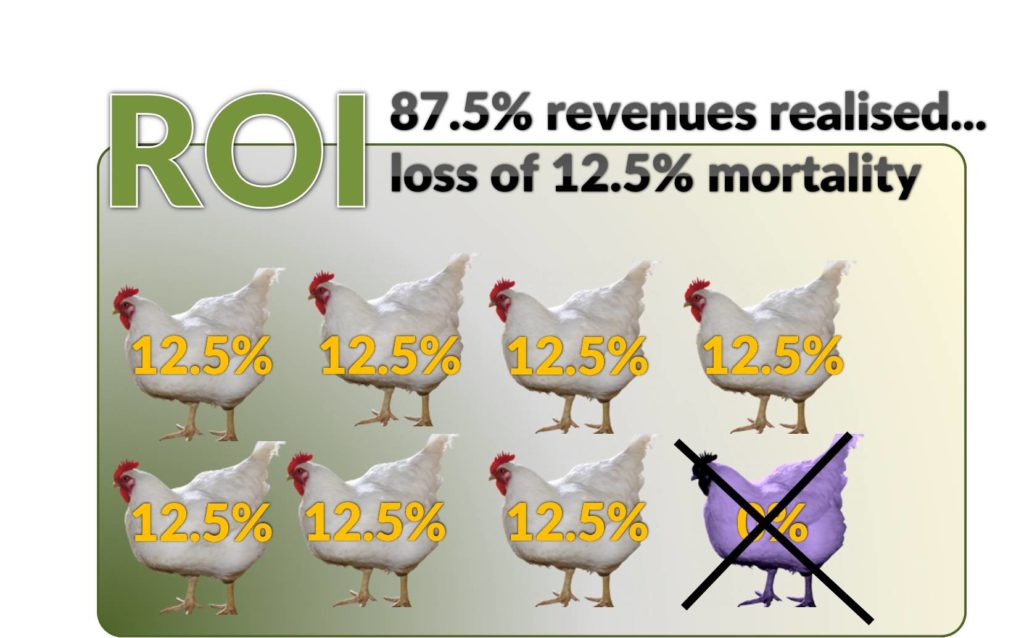 There are a certain proportion of broilers and layers in every batch that will never reach their potential.
This is to be expected.
And budgeted for.
In the Hyline Commercial Brown management guide, 
The cumulative mortality rate is 8.4% over 100 weeks.
The broiler equivalent can be found in the U.S. Broiler Performance Report,
This survey quotes an average mortality rate of 5% (the data sample accounts for 95% of the total US broiler output).
Ratios & KPIs
Every poultry farmer needs a performance dashboard.
Like driving a car, 
To safely operate the vehicle you need a continual view of the car's vital stats.
Fuel

Oil level

Speed

Revs etc.
Any blindspot will threaten the chances of the vehicle reaching the desired destination.
The same can be said of managing a poultry farm.
When developing Poultry Project Reporter software, 
I made sure that I added a Key Performance Indicator Dashboard.
I call it ROI Metrics.
The page is really simple, yet very (VERY) important.
What does it do?
At a glance, it gives you the following ROI-related measures: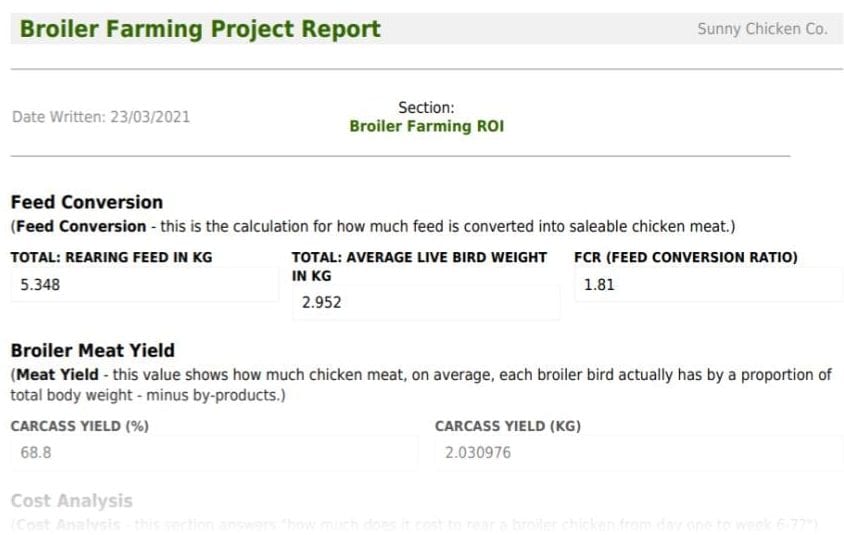 (Taken from Poultry Project Reporter software 2.0)
Feed Conversion –  how much feed by weight is converted into meat?
Broiler Meat Yield – how much of the broiler carcass is actually meat?
Cost Analysis – what is the feed and chick cost for raising a marketable broiler?
Revenue & Margin – what is the average sale price of a broiler and how much gross profit is there?
Manure Yield – how much manure will the average broiler produce in a rearing cycle of 6-7 weeks?
This simple report gives you the key profit-related metrics in one.
Production Modelling
Optimal profits in poultry farming take some engineering.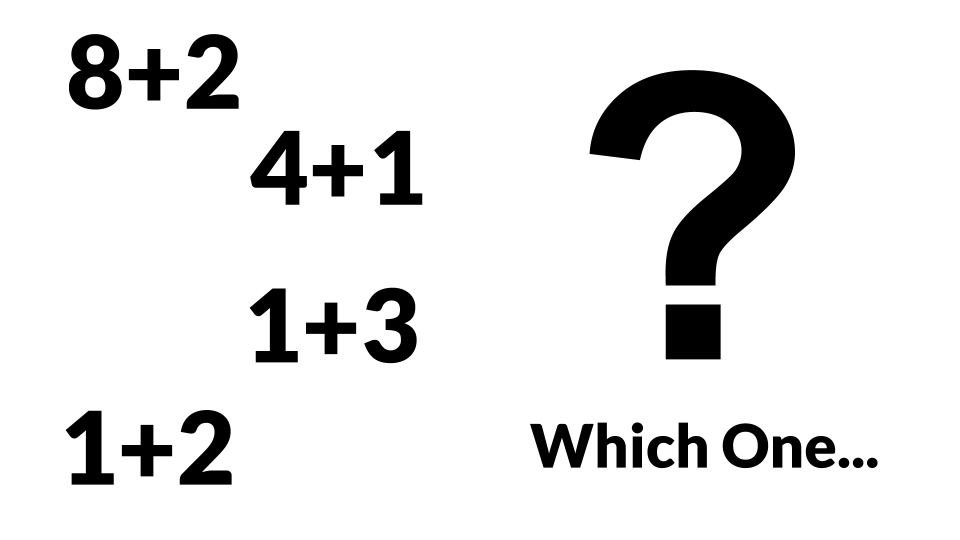 I have found that deciding on the ideal poultry rearing model is like commissioning a tailor-made suit.
You have in mind a desired design and result.

Choose the ideal material, colour and style.

Get measured up.

Production.

Adjustments.

Final fit.
The ideal result?
A perfect fit (for you).
Let's take a look at the key components of a poultry business production model.
Cash Flow & Obligations
An important factor in planning a poultry farming business is structuring cash flow.
Here is a simple fact about starting up…
…if you have expenses before generating income, these obligations come out of investment funding.
Perhaps out of your own pocket, if that is the case.
Whilst some start-up farmers have the financial ability to carry this initial burden,
Others don't.
But the ideal situation is that your flocks begin generating their own income as soon as possible.
For example, 

If you compare broiler and layer farming – they each naturally offer different cash flow benefits.

Broiler farming begins producing income as soon as the first flock is sold (6-7 weeks).

Layer farming from day-old chicks, however, has a 20 week delay before income is generated.

But on the other hand…

Layer farming produces daily product and consistent cash flow.

Whereas, broiler farming income arrives in a lump sum when a flock is sold – some 6-7 weeks from arrival.
Want to visualise this clearly?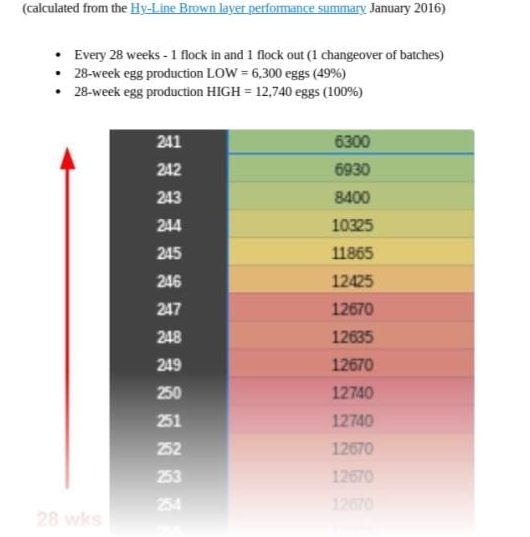 (Taken from Layer Income Analysis – Poultry Project Reporter Email Newsletter)
I recommend reading a series of premium newsletters that I recently published (paid subscribers only):
https://thebigbookproject.org/advanced-poultry-pickup/poultry-income-statement/
https://thebigbookproject.org/advanced-poultry-pickup/broiler-income-analysis/
https://thebigbookproject.org/advanced-poultry-pickup/layer-income-analysis/
Single Flock
Some farmers prefer single flock models,
And simply won't touch a multi-flock design.
Why?
Often, the answer is BIOSECURITY.
Multi-flock farms have a higher potential for cross-contamination and disease outbreak.
Naturally, you avoid this by raising 1 flock at a time.
I discuss the in's and out's of this for a broiler farm within this post:
https://thebigbookproject.org/knowledge-base/broiler-rearing-system/
Multi-Flock
Multi-flock poultry farming is like a sound equaliser on a Hi-Fi.
By overlapping and layering flock productivity,
Farmers can achieve the most profitable blend of production.
Common layer farming systems are:
1+2 = 1 brooder batch + 2 layer hen batches

1+3 = 1 brooder batch + 3 layer hen batches

1+1+5 = 1 brooder batch, 1 broder-cum-grower batch + 5 layer hen batches
And typical broiler rearing models are:
All-in-All-Out = 1 flock

4+1 = 4 broiler flocks + 1 spare broiler house 

8+2 = 8 broiler flocks + 2 spare broiler houses
The poultry industry typically uses these production rearing models.
They're tried and tested – producing predictable results, every time.
Each model has its own signature or fingerprint of production output.
The patterns of production are very detailed and have their own peaks and valleys – week in, week out.
For example,
Take this 1+3 layer rearing system with a batch size of 516 layers: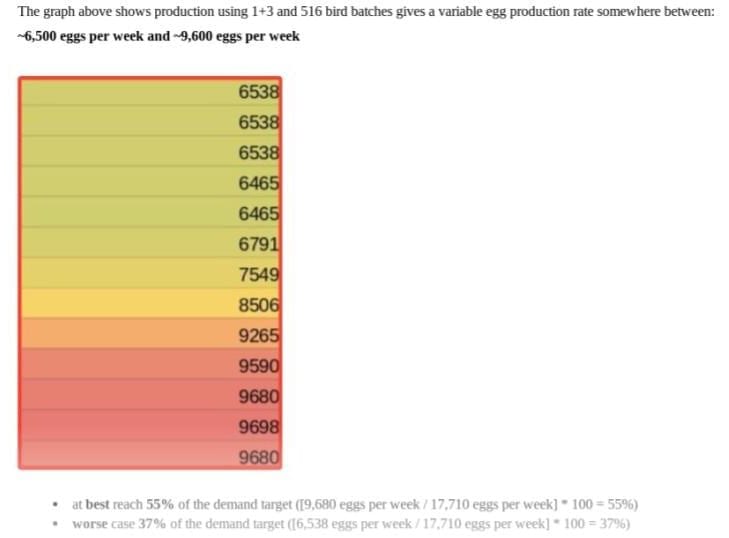 …and compare the production output of a farm with the same flock size of mature layers, but this time using 1+1+5 model: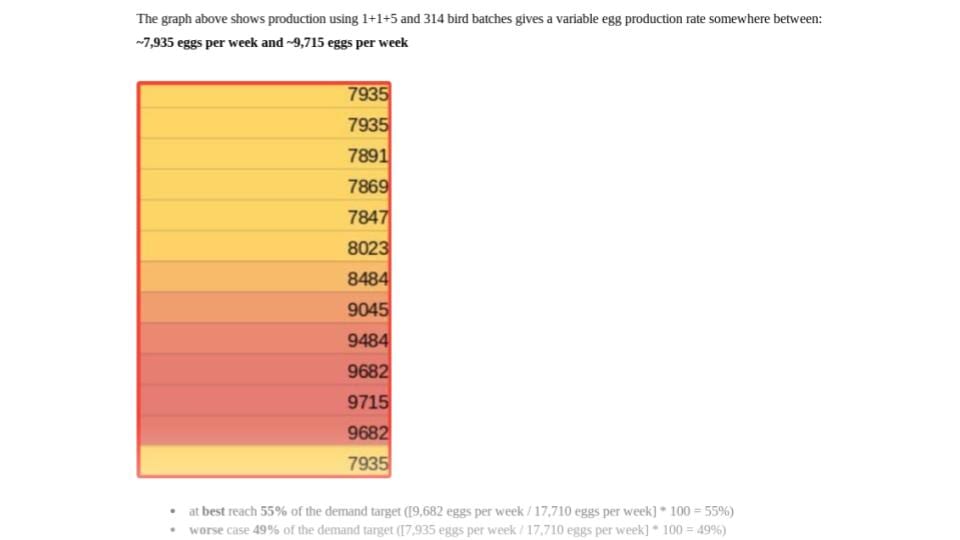 To learn EXACTLY how much they produce and how best to use them for maximum profit,
I recommend reading these premium newsletter editions (paid subscribers only):
https://thebigbookproject.org/advanced-poultry-pickup/layer-production-systems/
https://thebigbookproject.org/advanced-poultry-pickup/broiler-production-systems/
And for a quick guide to how the overlapping of multiple flocks works in principle,
This article is a quick and easy summary:
https://thebigbookproject.org/poultry-farming/project-report/strategy/production-overlap/
Batch Buying
When a batch of either broilers or layers reaches the end of production,
The farmer then replenishes his livestock by buying another batch of birds.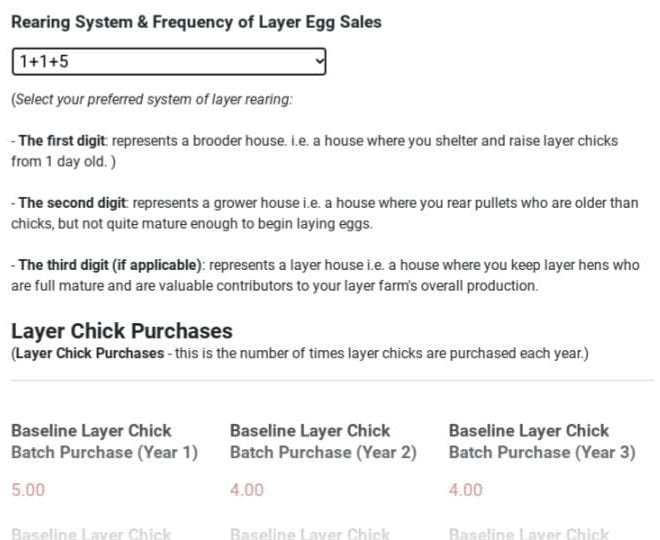 No matter the rearing system, the number of birds per batch remains consistent.
For example,

A 10,000 bird capacity layer farm using a 1+1+5 rearing system will use a batch size of 2,000 birds.

How did I work it out?

Well, it's like this:

To get 10,000 layers capacity using 1+1+5 you simply divide the total laying flock capacity by the number of layer houses,

Which in this case is 5…

…the answer = 2,000.
This is your batch size.
Want to really master this type of modelling with ALL the common rearing models?
I recommend you read my premium email newsletter series called Poultry Project Reporter:
https://thebigbookproject.org/advanced-poultry-pickup/layer-production-systems/
https://thebigbookproject.org/advanced-poultry-pickup/broiler-production-systems/
And for an easy introduction to how this works in simple principle, read these articles:
https://thebigbookproject.org/poultry-farming/project-report/techno-economic/rearing-cycle/
https://thebigbookproject.org/poultry-farming/project-report/techno-economic/batch-intervals/
Culling
Laying hens are culled when their productivity becomes unprofitable.
In other words,
When the cost of the feed they eat outweighs (or is greater than) the money received for the eggs they lay.
This point at which laying flocks tip the balance from profit to loss-making differs with every farm model.
But in general commercial terms,
Layer hens become unprofitable at 72 weeks of age,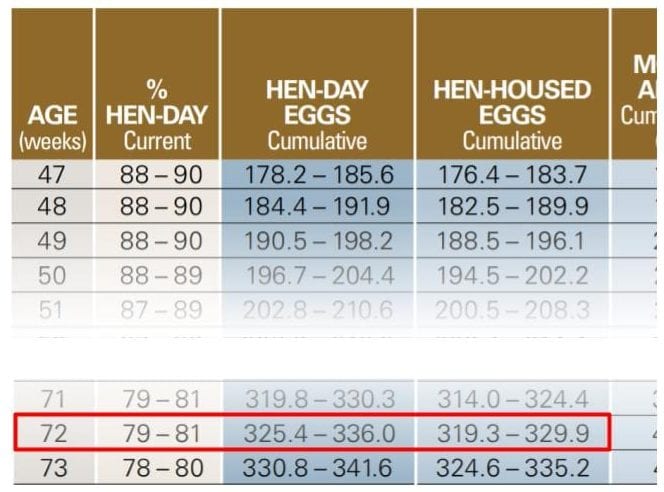 (Source)
Which is when the hen-day egg production goes under 80%. 
(Or when hens start laying eggs daily 80% of the time.)
At this stage, unprofitable flocks are removed and often sold as discounted meat chicken.
Why are they sold at a discounted price?
Because the meat of a spent layer hen is usually:
Smaller

More stringy and tough

More intensely flavoured 
…in comparison to broiler chicken meat.
Typical retail consumers value this spent hen meat less than broiler meat.
It, therefore, sells for less per kg or lbs than broiler meat.
Spent hen meat is also a popular choice for food processors who produce manufactured meals.
This is because their volume business depends on preserving margins, 
So cheaper meat with more flavour and tougher texture better compliments their recipes.
For a detailed guide on culling layer hens, 
I recommend reading this article by Mississippi State Agri Extension:
http://extension.msstate.edu/content/culling-hens#:~:text=Culling%20hens%20refers%20to%20the,for%20marketing%20or%20home%20cooking.
I also cover the topic in brief as a general introduction to culling hens  here:
https://thebigbookproject.org/poultry-farming/project-report/model-options/culling-hens/
Processing Challenges
Processing seems like the home straight or an open field to touchdown,
But the number of start-up poultry farm operations that drop the baton or ball on the way home to market is ASTONISHING.
Complacency in this area can literally flush away profits and decimate all your hard work.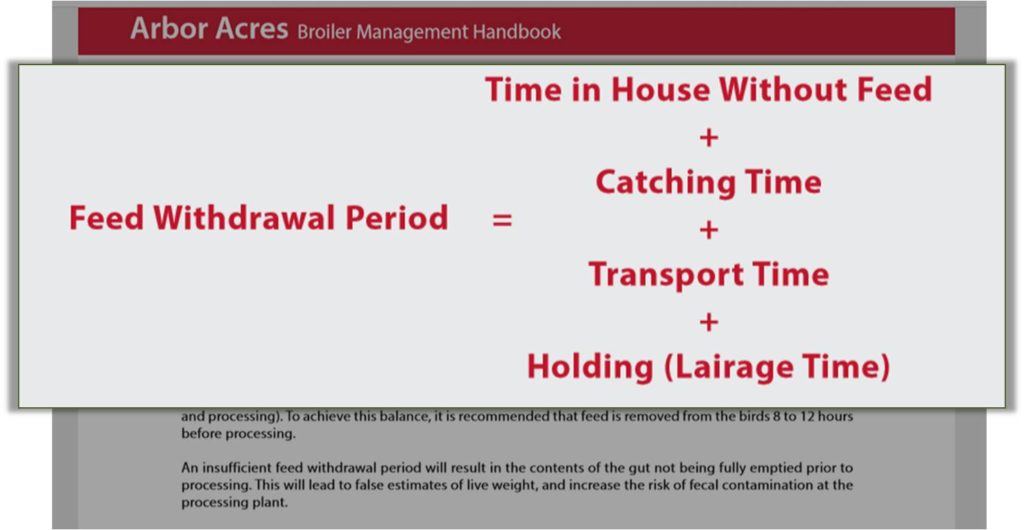 (Taken from Broiler Farming: The Ultimate Guide)
So,
It's absolutely vital to have this area sorted and down pat before counting your income.
For best practice advice on how to handle broilers in the hand over to processing,
I recommend a close studying of this article:
https://www.thepoultrysite.com/articles/preprocessing-handling-in-broilers
Also, in my Poultry Project Hub, this article will help you see broiler processing in light of your business model:
https://thebigbookproject.org/poultry-farming/project-report/model-options/broiler-processing/
And this slideshow presentation is an excellent beginner's guide to egg processing – for poultry farmers:
https://www.uspoultry.org/educationprograms/PandEP_Curriculum/Documents/PDFs/Lesson8/EggProcessingPres.pdf
Ready To Market
Once your production cycle has completed, 
Your next job is to get your eggs or chicken meat to market. 
This takes:
Catching or picking, 

Transporting

Processing & cleaning, 

Packaging, 

Storing and 

Delivering.
Eggs and chicken meat, as you can imagine, require different methods of handling.
But the result is the same – by the end,
A product that is ready to put into a refrigerated cabinet or on a shelf.
If you are new to the idea of slaughtering a chicken, this guide will help you get started (it has a great infographic too):
https://www.chickencheck.in/faq/how-chickens-slaughtered-processed/
For transportation advice, this guide presents a helpful introduction:
https://meatscience.org/TheMeatWeEat/topics/article/2017/05/30/transporting-meat-and-poultry
This next guide is a SOLID all-round presentation on how to market poultry products:
https://aims.tamu.edu/uploads/freefiles/MarketingPoultryProducts.pdf
And finally, this is a detailed article on packaging poultry products:
http://icpe.in/Plastics%20in%20Food%20Packaging/pdf/10-Final.pmd.pdf
Secondary Income Streams
A resourceful poultry farmer has more than one income stream from his flock.
Nothing goes to waste.
Because in both life and business – there is often use for most things, you just have to know what for.
Once you know, you just need to market it. The additional income serves to smooth out the joins between your dips in production.
Here is a list of common sources of secondary income for your poultry farm.
Spent Hens
As mentioned earlier in this guide spent hens are layer hens that have reached their economic point of break-even.
Holding them any further will result in your farm losing money.
Selling these hens helps your farm retain profits.
In this article, the author describes where added value will benefit the company;
https://www.thepoultrysite.com/articles/finding-the-value-in-processing-spent-laying-hens
By-Products
On the broiler side of the poultry farming coin,
Broiler by-products are the equivalent to spent hens.
At the end of every broiler rearing system when the birds are packed and shipped for processing,
What emerges at the other end of the processing chain is ready broiler meat,
But along the way the lost material such as blood, bone, head, feet etc. are by-products.
Rather than discarded, this material is often prepared for sale on the by-product market.
Buyers, like fish farmers, will use the inwards and blood of processed broiler carcasses as protein food for fish.
This trade recoups some profit for the broiler farmer and presents a ready-source of input fort the fish farmer.
In agri, there are MANY win-wins like this at your fingertips.
Research and study will lead to EXACTLY where they are.
As a head start,
This PowerPoint presentation (+ PDF) is pretty much an 'all you need to know' guide on broiler by-products (by The University of Georgia):
https://athenaeum.libs.uga.edu/bitstream/handle/10724/34422/KiepperRenderingpresentation.pdf?sequence=1&isAllowed=y
https://poultryprojectreporter.com/broiler-28/
Plus, if you're looking for a breakdown of by-products by the percentage of body mass, 
I also recommend this research article by The University of Zimbabwe and The University of Swaziland:
(I used these figures for my Poultry Project Reporter software calculations on by-products)
http://www.bioline.org.br/request?nd10108
Manure
Chicken manure makes for great fertiliser and fish food.
Take this for example,
A Kenyan fish farmer who built chicken huts above fishpools for natural recycling of organic matter from one livestock to another:

https://wire.farmradio.fm/farmer-stories/kenya-farmers-use-chicken-droppings-to-feed-farmed-fish/
Such examples are becoming increasingly common,
As farmers innovate ways to economise on feed cost and optimse profit.
And how about as a fertiliser?
Read this…
It's a great formula for maximising the use of poultry manure as part of a nutrient management plan for crops:
https://secure.caes.uga.edu/extension/publications/files/pdf/B%201245_3.PDF
Chicken manure has different grades of quality though.
It's judged by content.
Some manure has a higher concentration of nutritious content for crops and livestock.
Other manure has less. 
Proving your content can lead to you achieving more money and greater profit.
But what's good manure content?
This study is just what you need to understand:
https://researchrepository.wvu.edu/cgi/viewcontent.cgi?article=1654&context=wv_agricultural_and_forestry_experiment_station_bulletins
And for how manure recycling ought to fit within your poultry farm's business model,
This short article in my Poultry Project Hub is just right:
https://thebigbookproject.org/poultry-farming/project-report/model-options/recycling-manure/
Gunny Bags
Poultry feed in some economies and marketplace is delivered in what is commonly known as a Gunny bag (or Jute Bag).
These bags are made of hessian, burlap or crocus (sisal) plant fibre material.
They are rugged, durable, strong and can be used for many applications.
Poultry feed is just one.
But in the construction trade they tend to use it also for bagging up concrete.
Anyway, the long and short of it is,
Because of their durability, they can be recycled for use.
This means after you've used them for poultry feed, you can resell them for a small price.
Every bit counts toward ROI.
Here's a handy video with a business plan for selling gunny bags, I recommend giving it a watch:
https://www.youtube.com/watch?v=SGeQBChDjhw
My outline with key points can be found again in the Poultry Project Hub, here:
https://thebigbookproject.org/poultry-farming/project-report/model-options/re-marketing-gunny-bags/
Estimating Cost Expense
A common question from readers whilst running The Big Book Project has been:
For a STEP-BY-STEP DETAILED tutorial, I recommend reading my guide.
But here's a quick breakdown in the meanwhile…
Start-Up Capital (Sustainability)
Start-up capital represents all of your costs incurred for starting up.
Both one-off and the *money you need to begin operations for the first year*.
(First year running costs are termed working capital, for the purpose of your poultry project proposal.)
Combined together you have the total sum of money required to get your poultry farm off the ground.
Further reading:
https://thebigbookproject.org/poultry-farming/project-report/financial-management/one-off-capital/
https://thebigbookproject.org/poultry-farming/project-report/financial-management/recurring-capital/
Direct Costs
These are the costs that you can directly attribute or link to raising chicken:
Feed cost 

Cost of buying the birds

Vet fees
With these costs, you can literally tell how much expense each bird demands.
For example,

We know that each broiler bird consumes approximately 5.348 kg every 6-7 week rearing period.

And the layer feed consumption equivalent is 48.94 kg in 72 weeks of rearing from day-old.
To find out the direct cost of feeding a batch for your poultry farming venture,
Simply, multiply the feed consumed by the price per kg.
Further reading:
https://thebigbookproject.org/poultry-farming/project-report/financial-management/expenses/
Indirect Costs
These are often referred to as business overheads.
They are the costs you pay whether you are rearing chicken or not.
Like, 
Mortgage or rent

Accounting fees

License for trading
The rule of thumb here is that they are not directly related to raising your chicken.
Hence, indirect.
Further reading:
https://thebigbookproject.org/poultry-farming/project-report/financial-management/expenses/
Strategies For Saving
Increasing poultry farm earnings can either be gained by:
Upscaling

Price raising, or

Cost-saving 
Cutting back on either direct or indirect costs of running puts money back into your pocket.
If you are thinking of going the controlled environment route, 
I recommend reading this article for cost-saving measures in controlled poultry houses:
https://www.wattagnet.com/articles/617-15-cost-saving-ideas-for-poultry-housing
Labour
Agriculture is naturally labour intensive.
Livestock typically more so.
And chicken flocks are quite a demanding crowd to serve.
Getting the right team for your poultry farming project can make all the difference long term.
This small section was included to help you in planning labour management of your farm…
Recruitment & Training
Search the market for the best available talent.
Bird handlers, supervisors and farm managers are your operational A-Team.
They single-handedly care for your flocks,
And get them producing eggs and meat to the highest standards.
Here is an example job description for a Poultry Worker:
https://www.thejobexplorer.com/Job_Description/Agriculture/Poultry_Worker_I.html
Also, for a general all-round introduction to the topic,
I recommend reading this entry in the Poultry Project Hub:
https://thebigbookproject.org/poultry-farming/project-report/research/labourers/
And for a well-rounded idea of what it takes to successfully raise a broiler flock from day-one to market-ready,
I recommend this quick guide to stockmanship:
https://thebigbookproject.org/knowledge-base/broiler-stockmanship/ 
Workload (stock heads to labourer ratio)
A question you might have is:
How MUCH work is it to raise a flock of chickens?
Whilst scale of operation and type (whether broiler or layer) has bearing on workload,
The general principles of poultry husbandry apply.
But for a day-in-the-life-of view of poultry farmers at work, 
I recommend this insightful interview-based article:
https://www.thepoultrysite.com/articles/what-does-it-take-to-be-a-successful-poultry-grower-experts-share-their-views
Family
A large advantage of an agribusiness like poultry farming is the fact it integrates well with family life.
You work together and enjoy the spoils together.
Plus, the trade is a very stable and viable means of earning household income.
Sustainable.
And naturally is an inheritance for the generation to follow.
Without any need for formal education or qualification, 
Learning the family trade of poultry farming could be setting up your young ones for a self-sufficient way of life.
Perhaps in these days, this is where true wealth really exists. 
In independence.
If you are thinking about using family labour in any way with your poultry farm, 
I recommend reading this 'Values' page from the Farmer Focus website:
https://www.farmerfocus.com/our-values
They are VERY big on keeping it in the family and planning ahead for successive generations.
Safety
A critical consideration to make in poultry farm labour management…
(But one that is hugely overlooked)
…is staff safety.
There are so many hazards involved in the raising of chickens commercially, 
For example:
Ammonia, dust and other air pollutants in bird sheds

Animal diseases

Chemical exposure when cleaning
…plus many more.
An excellent framework for assessing these poultry farm occupational risks is this template from HSE (UK Health & Safety Executive):
https://www.hse.gov.uk/risk/casestudies/pdf/poultryfarm.pdf
Pricing & Value Proposition
Poultry products fetch whatever prices the consumers feel they are worth.
It's the same for every product, service or investment.
The concept is called value perception.
It basically says that people buy value. 
Value is subjective, not objective.
Every sale price is dependent on how the customer sees it.
Put it this way,

A bus ticket to buy your groceries at $2 might be good value.

But the same bus ticket to make sure you're on time for a once in a lifetime job interview (when you're running late) could be of great value even at $40.
Again, it depends on how the customer sees it & what it does for them.
There are just so many value propositions out there that it is impossible to apply a broad brushstroke rule to poultry product pricing.
For example,
Nutritional benefits command higher prices.
(The basis of the value propositions here is, what price can you place on good health and life?)
Here are some factors that you should have in mind when considering your poultry pricing strategy:
Product Types (Example Price Comparisons)
Products are solutions to problems, 
Not items.
There is a very important difference here.
One is relative,
The other is inherent.
For example, 

An egg is an item. 

We call it an egg because that's just what it is.

But the solution could be:

Mixed size organic eggs.

Why is this more valuable?

Because customers who buy organic eggs for the health benefits don't mind paying a premium for it.

But crates of uniform-sized eggs that meet an exact standard require more labour in physical sorting and demand a higher price.

However, 

Random-sized packaged eggs save the farm cost in labour from not having to sort them.

This cost-saving is passed on to the customer at a lower price per pack,

For eggs that are still organic.

The solution?

Cheaper, organic eggs.

Great value!
Now, let's take a look at chicken meat.
Over the last few decades, we've all developed deep preferences for our favourite part of the chicken carcass.
And this is largely due to the popularisation of global fast-food chains like KFC, for example.
Because of the relative demand, certain parts have compared with others, 
Chicken parts now fetch different prices on the market.
Here is a really illustrative insight into how American consumers value the various parts of chicken:
https://www.al.com/news/2015/03/why_do_americanslove_chicken_s.html
Value Addition By Chain Participants
Eggs and chicken meat pass through various hands before they reach our tables.
Even between the farm and our table, value chain participants like:
Cleaners

Processors

Packers

Agents

Distributors

Wholesalers

Retailers

Caterers, chefs and canteens

Ready-meal manufacturers
…all have their part to play in preparing the chicken or eggs for an optimal eating experience.
Each step of the process adds value in getting the raw product, even more, closer to what we expect.
Added value comes at a margin of cost.
This all contributes to the eventual price we pay for the product at retail.
Justify Price With Value To Customer
Customers pay more if it makes sense.
But they won't if it doesn't.
In fact, I have found in business that you simply can't give something away for free if it doesn't make sense to your customers.
So, herein is a golden rule:
To justify your price, you've got to communicate why.
Getting this right will mean you'll push the ceiling on what you charge,
Maximising your profit.
Telling the customer WHY your product costs what it does can be a very valuable skill.
(Especially if your reason is related to a benefit that the customer REALLY values – and is willing to pay for.)
This article opens up the truth about some of the most common categories of table egg:
(A recommended read.)
https://www.farmdrop.com/blog/egg-labels-truth-difference/
Marketing
Selling products of any sort…
(even eggs and chicken)
…comes down to your conversation with the audience.
It's your chance to show them that you:
Really understand what they want (your product/service),

Know how they themselves would rate its relative value (price), and;

Can get it to them VERY easily – with minimal fuss (distribution)
This conversation is called marketing.
If you've ever struggled with knowing how to do successful marketing,
I would condense the entire discipline into one SIMPLE saying,
And it goes like this:
"What is your business actually saying?"
Again, it's a conversation.
You carry the conversation, by what you are saying. 
Either you are native and fluent, 
Or not.
Nativity and fluency are the glue of the conversation.
They dictate language and ease of flow, back and forth.
Obstacles in this area make for a difficult relationship. 
And too many reasons to go elsewhere.
The following points are key success factors in getting that conversation 'just right'.
To master your marketing communications strategy, I recommend reading this premium email newsletter:
Develop The Right Brand
Poultry product brands get the whole conversation off on the right footing.
It's your chance to immediately hit it off with just the right entrance.
The brand sets the tone and expectation in the mind of the customer and offers promise for furthering the conversation.
Conversations are investments – of time and intimacy.
The brand gives confidence that this could be well worth the investment.
A good sign.
Here is an article listing 80 of the world's leading broiler, turkey and egg-producing brands,
I recommend it as a who's who of what already works well in poultry branding:
https://www.wattagnet.com/directories/80-the-world-s-leading-broiler-turkey-and-egg-producers
This is a list of the worlds largest egg producers – I share this for you to examine the approach of the market leaders:
https://www.wattagnet.com/articles/34304-which-are-the-worlds-largest-egg-producers?v=preview
Key Messages
Credibility is a fruit of consistency.
People trust others who are what they say they are.
But if there be any shadow of a doubt, 
People tend to back off.
In the poultry trade – being food, there is a lot riding on trust.
For example,

Take this Mexican brand which has led the market for a generation (70+ years),

Examine the key messages here on their website,

It will give you an idea of what 'clicks' or resonates with families in Mexico relating to eggs:

https://www.elcalvario.com.mx/

(Their videos in particular take you right into the inner parts of their operation. Very transparent. Confidence-inspiring stuff.)
Choose Your Channels
There are many different ways of getting your eggs or meat to customers and consumers.
Decisions surrounding which channels to use – much like everything else in business,
Comes down to what would equal the best SERVICE.
In other words,
What would your customers like best? 
When it comes down to it, 
Consumers are very much creatures of habit.
Routine rules with them
Even if your products are JUST what they are looking for,
If they find them off the beaten track of their usual haunts – then you might just lose their custom.
Said differently,
Convenience i.e. the value of their time comes too steep a challenge for certain purchases, 
No matter how inviting.
Golden rule: 
Make it easy for them to buy.
This study is a great example of the persuading factors involved in where consumers buy fresh produce:
https://www.choicesmagazine.org/2006-4/produce/2006-4-06.htm
And for a decent overview of how to organise our marketing channels for selling eggs,
I recommend reading this guide by the FAO (Food and Agriculture Organisation of the United Nations):
http://www.fao.org/3/Y4628E/y4628e06.htm#TopOfPage
Segment Your Audience
All customers are not alike.
They each buy eggs and chicken for slightly (or even vastly different) reasons.
Again, 
Marketing is that conversation by which your farm proves it holds relevant value to the customers' decision re: buying eggs or chicken meat.
To sell your eggs successfully, 
You may have to communicate effectively with a variety of customer segments.
Each having their own preferred style of conversation, 
And holding their own values.
So, 
For maximum profitability,
Your business has got to become skilled in holding a variety of conversations with various audiences.
But how EXACTLY should you split up the different types of customer?
Along what lines?
Here it is:
I recommend this research-backed article that tells you the key reasons why consumers buy chicken in the US:
https://www.morningagclips.com/consumers-buy-chicken-for-versatility-value-variety/
Product Spread (Range)
Product diversification is key to resilience. And concentrating profit.
Some years ago, I used to work for a foreign exchange company.
We sold foreign currency:
Dollar

Euro

Australian Dollar

South African Rand 
…all sorts.
I was a broker.
My job was to talk with customers and bring them to the point of 'the deal'.
Now the deal would only happen when it was proven that there was solid match of:
Understanding

Ability

Value

Ease of transaction
And it wasn't always value that swayed the client.
Most times it was actually flexibility.
Why?
Because often their exposure to foreign currency was quite complicated.
And there were so many conditions and potential outcomes riding on any particular decision,
That having some wiggle room for upside and downside benefit was a BIG advantage.
This is why the insurance industry is massive.
It gives soft-landing parachute exits for all the potentially costly 'what if' scenarios. 
In the case of the foreign exchange brokerage, I worked for, 
Their competitive advantage was that they traded what is commonly called Option contracts.
They literally skyrocketed to our popularity in that market. 
When we launched them in 2009, we traded hundreds of £millions of contracts in very little time.
Why were they so popular?
As the name says, they gave the customer options.
Rather than buying a foreign currency at a set price,
They offered the customer a comfortable worst case scenario price, 
But gave them the ability to buy at an improved price if the market got better,
Yet if the market got worse the contract even offered some profit from resell.
In other words, they won no matter what!
The flexibility and luxury of having options does cost,
But at least they weren't locked in.
These products FLEW off the shelf.
We couldn't sell them quick enough. And no one else was doing them in our market.
Lesson learned – customers DELIGHT in options.
Here is a great example of a poultry farm that successfully markets its eggs – WITH OPTIONS:
Packaging & Presentation
Packaging, transport and storage are key aspects to preserving profits in poultry.
And at the same time, it's the end of the process where you can think you've made it.
But the money isn't safe until it's in the safe.
So much can go wrong with the packaging, transport and storage of eggs and meat.
The quality of the product can degrade massively too – because it's highly perishable. 
Even egg quality can fall off quickly just from the wrong temperature or room humidity.
As for packaging, 
There are some practicalities involved.
The number of eggs is one.
A dozen?
Half a dozen?
18?
30?
The key question(s) to ask is:
Who are you selling to?
And what works best for them?
You can't guess it.
You've got to ask.
Finding out will save you lots of lost time and money.
A mismatch in this area tells customers that you're still figuring things out.
Not disastrous, but a bit like hitting the wrong gear and stalling.
Recovery is possible – but it's hardly smooth running.
This FAO guide is a comprehensive piece on the subject:
Delivery
Getting your eggs or chicken meat into the possession of the customer is the final, yet critical step.
Delivery takes place as the fulfilment of the deal.
When selling to retailers especially, there are expectations to meet that require some expertise.
You've got to know what details store owners really care about.
Talking with them will unearth all sorts of deal parameters that can make or break a firm agreement.
For example, 

"How many stores are you interested in delivering to? In what area(s)?"

Having ready responses that overcome potential underlying objections will help you stay on the front foot in negotiations.
Looking to sell eggs to grocery stores?
I recommend this practical guide by North Carolina State Extension,
They do a great job of breaking down how to do it the right way.
(It even included scripted communications for best results.)
https://content.ces.ncsu.edu/how-to-sell-shell-eggs-into-grocery-stores-through-direct-store-delivery
Thinking of selling chicken meat directly to consumers for better profit?
Then freezer chicken is probably your best bet.
In which case, 
I HIGHLY recommend reading this in-depth tutorial for selling freezer chicken to consumers.
(Jam-packed with LOTS of practical and profitable tips.)
https://www.thepoultrysite.com/articles/direct-marketing-meats-selling-freezer-chicken
Estimating Sales & Breakeven Analysis
When starting a poultry business,
A key moment is sitting down with a blank piece of paper and guessing what your sales figures will look like.
This kind of projection exercise can be both revealing and worthwhile,
If done correctly.
You've got to know the dynamics…
How sales move.
Sales is a recipe. But ingredients are what really make the difference to the revenue.
Here are the ingredients:
Price
Money per sale. The more in it per sale, the greater your rewards for the same amount of effort spent.
However, get the value proposition wrong and you won't achieve optimal customer sales.
It's a balance and a case of trial and error.
But if you get an optimal level on price,
Your profit greatly improves.
For example,

Let's say, you sell a tray of 12 eggs for $1.50.

Given the competitiveness of your marketplace, you don't feel a higher price can be achieved.

You want to increase profit and look at the price for your improvement.

So how do you go about raising the price, but maintain sales?
Think value proposition.
Enhance your product or service.
Investigate trends that are in increasing demand from your customers.
For example,

Food manufacturers and professional caterers value the consistency of yolk colour.

It helps them also achieve consistent results with their work. 

"According the Egg Producers Federation about 15 per cent of eggs sold were used in the baking and catering industries, and Silcock said consistency of ingredient colour was important for food manufacturers. 

If you're getting products that range wildly from very, very intensely coloured to very pale, that's going to be a problem."

(Source: www.stuff.co.nz)

Giving your catering clients a more superior product, satisfies their need and your additional labour justifies a higher price.
Channel Convenience
Distribution costs money.
Getting your eggs or meat into the right channels either means you pay the owners a fee,
Or you invest in owning the channel yourself which is a capital cost.
But the benefit of using convenient channels for your customers could mean many more sales.
Nowadays, the internet is increasingly becoming a preferred sales channel for households – even when it comes to groceries.
For example,

"…36 percent [of consumer households] in the Netherlands [buy their groceries online]."

(Source: Statistia)
Offering an eCommerce store to consumer households and business clients may well be on-trend.
Yes, the capital expense of eCommerce set up can be considerable if you outsource it (cheaper if you DIY it),
But in the long run monies that would otherwise have been lost to 3rd party commission,
Are recouped by channel ownership.
Volume
Every item sold adds more revenue to your business income.
Of course, your actual profit earned on each sale depends on the sale price and direct cost of goods sold.
But all else being equal,
More items sold should mean more profit (earnings).
We think this way, especially with wholesale or business-to-business sales.
This is when we sell in bulk.
In such cases, 
Wholesale suppliers try to encourage buyers to buy greater volume with bulk discounts.
The discounts mean less money earned per item, 
But the discounts are not enough that you make a loss overall, but actually, make more profit per deal.
In other words,
Such discount deals are profit maximising.
More money for the same effort.
For example,

180 eggs = $32.00

360 eggs = $59.00

That's a discount of $5.00 or 8% for ordering twice as much.

And if your margin per sale is 25% then your profit for selling 180 at $32 is $8.

If you sold 360 at $64.00 without discount, your profit margin would be $16.

A discount of $5 would bring down your gross profit to $11.

This is $3 more than if you sold 180 at full price.

So, for the same work of delivering 180 eggs for $8 profit,

You could persuade your customer to buy from you 360 eggs for $11 profit.
Break-Even Point
This is the point at which you cover your cost of goods sold, but nothing more.
No profit. But then again, no loss either.
In fact, your costs neutralise the benefit of the sale, so the one cancels the other out.
The result is called Break-Even Point.
This is the volume of units sold at 'x' price which result in you covering your direct costs,
But not quite making a profit.
Like sitting in neutral.
The engine is engaged, but there is no bite and no motion. Your car is at a standstill.
But…
Any more volume sold than this = profit.
Less volume = loss.
Higher price = profit.
Lower price = loss.
Break-Even (B/E) is a useful statistic to have in mind and sight when planning or running a poultry business.
Funding
Starting a poultry farming business requires money at the outset to get things going.
Large capital items like land and buildings need capital outlay.
Or, perhaps you own land already with suitable structures on it?
Either way, 
You'll need to buy your first flock and feed them daily throughout your 1st cycle of production.
There is always SOME need for start-up money. Although you can minimise this by thinking strategically.
However, 
The question remains, where do you get the startup funds from?
There are generally 2 answers to funding your poultry business start-up:
Finance
Zero cost
Here is the breakdown of how they work…
Self-Fund (Zero Debt)
The cheapest way to start up your poultry business is to use your own money.
Savings.

Cash in hand (wages).

Liquidising an asset.
These are all ways of starting cheaply.
You may not have as MUCH as you'd like to start,
But it does mean that profit from every egg or bird sold goes directly back into our pocket as earnings.
A wise start.
Loan
Borrowing money costs you.
Although, you get the pleasure of using someone else's money when you borrow,
You end up paying the lender back.
Often this charge for use of their money is levied as a percentage (interest) on money borrowed (principal sum).
With finance like this, you repay the money borrowed according to a repayment schedule.
Usually, equal sums over an agreed time frame.
The amount paid on each turn or installment will comprise some interest element and some principal element.
Together you pay back the money borrowed and used, along with the charge of the lender.
Sometimes your national or local government will offer poultry start-ups financial assistance.
This is typically in the form of a grant.
In other words,
Money is given if you qualify for receiving it.
Often, to qualify you will need to have already obtained a loan.
And the grant will behave as a discounted borrowing cost on your loan.
In other words,
Money is given back to you to help you pay back the principal and interest of the loan you've taken.
I highly recommend reading my comprehensive guide to poultry farm loans:
(…and why you don't need one, today)
https://thebigbookproject.org/agri/poultry-farming/loan/
Grant
As I said, poultry farming grants are government subsidies to discount the cost of commercial start-up loans.
Governments will typically offset their cashing out to occur only when you've paid off your loan.
They are not free money given to start your farm,
But 'money off' your loan to start your farm – and only given when you've fulfilled all repayments on your loan.
I also cover some examples of these in my post on poultry farming loans.
Growth & Diversification
Once your poultry farm is making a predictable profit,
You'll no doubt have eyes on expansion.
More of the same. Or perhaps, more of something a little (or a lot) different.
Growing your poultry farm takes some know-how and also requires caution.
Why?
Because growth requires resourcing. And resource = investment.
…it's a way of taking what you have today and spending it, in exchange for a predicted gain tomorrow.
Now, a future return on that investment isn't guaranteed, but if put into a venture that already bears fruits,
The odds are highly likely that your money spent will multiply back future earnings to reward your 'guts' for having a go. 
The following points are the key principle controls for growing a poultry business:
Profit Focus (Sustainable)
Go for profit.
Growing the scale of a business without profit is vanity.
The point of business is profit.
(That is pays you back for your efforts spent.)
For example, 

There'd be absolutely no point running a 100,000 layer farm for $10,000 profit, 

If keeping 1,000 layers got you the same money.

The larger scale business would just be greater stress for no additional benefit.
So a golden rule in growing a poultry farm is:
To expand the business where you will make more profit.
That way, 
You are rewarding yourself and your stakeholders with every extra egg or bird sold.
For a detailed breakdown of poultry farming profits, I recommend digging deep into my guide:
https://thebigbookproject.org/agri/poultry-farming/profit-calculation/
Opportunities & Trends
Enduring businesses are by nature customer-centric.
Brand names like Walmart, for example, have enjoyed multi-generational success off the back of one main feature:
Serving the customer.
But as life changes, 
And people change,
So do the needs of customers.
To be successful in business you need an open conversation with customers – at all times.
Staying on-trend and being proactive with adapting your product and service to match their needs is critical to long term survival.
For example. 

In the 1970's research led by "Janey Barnard had begun selecting breeding stock with a less pronounced keel bone…made the finished product more appealing to consumers."

The result of this extensive study was the emergence of the world's most efficient broiler bird:

The Cobb 500.

50 years on, the bird is still one of the highest-selling broiler strains in the world today.
The following is a practice guide to growing your range poultry business:
http://cecentralsierra.ucanr.edu/files/275183.pdf
Records & historical analysis
Record keeping on your poultry farm helps you make data-driven decisions.
Poultry business owners who make poor decisions can be suckers for sentimentality.
You know the stuff…
Making decisions on how you 'feel' (fluff) and not on hard facts and figures.
However, keeping tight records on:
productivity, 

sales and 

profit 
…will give you trustworthy input for future decisions on growth and diversifying.
I recommend this short, but a to-the-point guide on poultry farm recording keeping by Tamil Nadu University:
http://www.agritech.tnau.ac.in/expert_system/poultry/Poultry%20Farm%20Records%20Maintenace.html
Case Studies
I have found over the years, that one of the BIGGEST helps for me growing my business are:
Case studies.
Finding out what has worked for others has worked wonders in the following areas for me:
Letting me know that I'm not alone

Showing me something to aim for

Telling me how to overcome challenges

Making more confident strategic decisions

Understanding why things work in business

Giving me alternatives to what I already know
If ever I need a pick up in business – I reach for a case study.
And the good news is, that there are TONS of case studies online in the area of poultry farming.
Cases from farmers of all sizes – small and great, layer or broiler.
Here are a few to get you going:
https://www.foodformzansi.co.za/he-started-successful-poultry-farm-after-watching-a-youtube-video/
http://extension.msstate.edu/publications/characteristics-successful-poultry-growers
https://www.smallfarmcanada.ca/livestock/poultry/a-poultry-success-story/
Feasibility
The ambition to grow is one thing – but whether the ambition is realistic or not needs technical judgement.
This is where feasibility planning comes in.
Whilst the softer elements of feasibility are arguably more subject to opinion,
The harder financials are more telling.
But equally harder to produce.
One VERY useful tool that I use often in feasibility analysis is:
Benefit-Cost Analysis.
I talk about it often in my #1 poultry farming eBook.
In fact, I've also included it in my Poultry Project Reporter software.
But why is it so highly recommended?
Simplicity.
It's basically a traffic light system for assessing poultry investments.
It goes like this:
You add all project income benefits) together and project costs together, 

Then measure them one against another…

The resulting measurement is a ratio.

A ratio of 1 (benefits/costs) = break even.

A ratio above 1 = ROI (or profit)

A ratio below 1 = loss.

To invest confidently in a solid poultry farming investment, you are looking for a BCR (or Benefit Cost Ratio) of more than 1.

Simple as that.
I recommend reading this guide on Benefit-Cost Analysis in my Poultry Project Hub:
https://thebigbookproject.org/poultry-farming/project-report/investment-decision-making/benefit-cost-analysis-bca/
Projections
When going through the steps of planning growth for your poultry farm,
You'll want to make accurate income projections.
BUT,
Before you jump in there and begin counting your future potential pennies,
There's one critical treatment that you need to apply.
It's called discounting your cash flow.
Here's what it is:
Say, you plan to grow your poultry business cash flow by $100,000.

Before you count your future increase as $100,000 – 

You've got to take away some value for realism sake.

Firstly, 

You must discount the $100,000 by a comparative rate of interest.

Why?

Because the money invested in your growth project might have been invested elsewhere.

Like a savings account for say 6% annual interest.

So, to give you a real picture of what your poultry money tomorrow would look like tomorrow,

You take away 6%. 

In one year this would be $6,000 – leaving $94,000.

Also, inflation at 4% would further discount the value of tomorrow's money.

This is because the cost of living continuously increases.

So, subtract a further $4,000, leaving $90,000.

Now, your future cash flows which from growing your poultry farm which originally looked like an additional $100,000,

In practice, it will actually look more like $90,000.

Without this discount, you'll be inflating the actual benefit of your plan. A deceptive miscalculation.
Beware the discounted cash flow.
For more info on this, I recommend reading my guide in the Hub:
https://thebigbookproject.org/poultry-farming/project-report/investment-decision-making/discounted-cash-flow-dcf/
Advice
Last but not least, when getting into poultry,
Getting good quality business advice will help you:
Avoid common pitfalls 

Take profitable advantage.
Good professional advice gives you the benefit of flattening the learning curve by piggybacking someone else's experience.
Advice in the poultry trade is typically packaged in 2 different ways.
Software-based

Consultancy-based
Each has its own advantages and disadvantages.
Here's how I see things:
Software-based learning
Software is a very convenient go-between for learning in the current day.
It gives poultry farming beginners the advantage of:
Being self-directed

Distance learning

Scenario-based examples

Learning at your own pace

Customisation

Cost-saving
Above and beyond traditional consulting methods, well-designed software can really excel.
A major drawback however of software-based learning is SUPPORT.
No matter how well prepared the delivery of teaching is via the software route,
Users ALWAYS have questions to ask.
And besides taking an educated guess and making something like a knowledge base in advance,
Software vendors to reach success must invest substantial resources in support.
Real-live people at the end of a phone or computer ready, able and waiting to deal with questions.
When I built the Poultry Project Reporter software I made sure that it would have a really STRONG support package.
I actually manage it myself.
This way I can guarantee that the quality is 1st class every time.
The software itself is pretty good,
And is now the fastest way of producing a professional PDF version poultry project proposal online.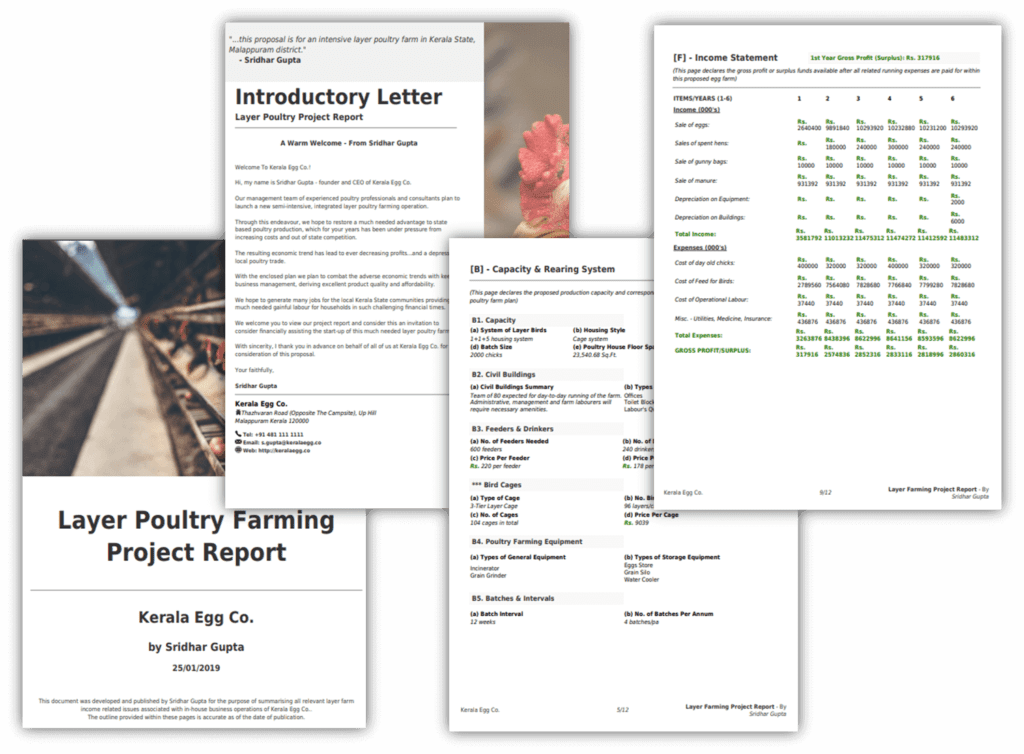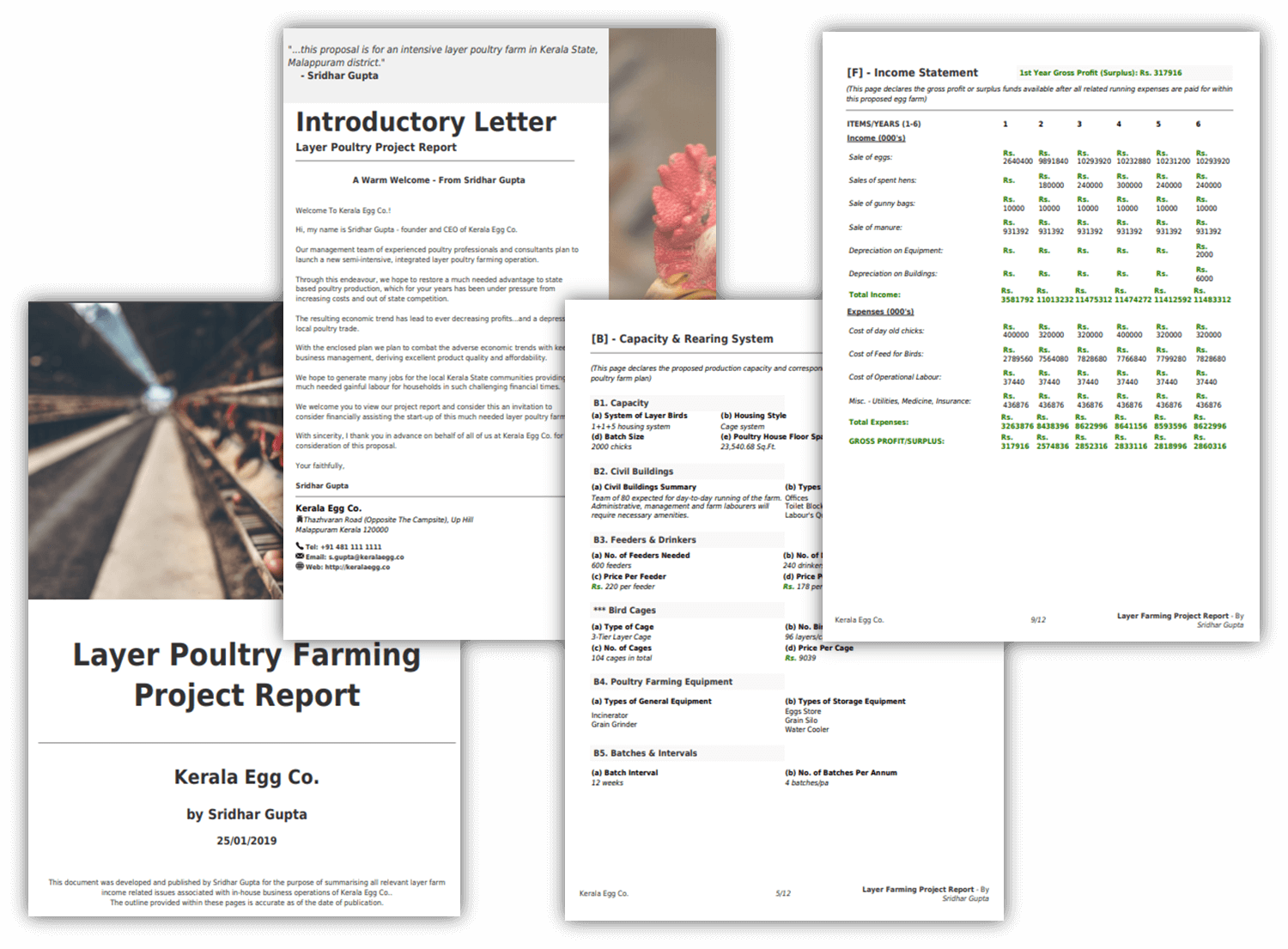 But even BETTER is my support.
It's more like a value-added consultancy than a troubleshooting service.
Subscribers drill down into so much more than just the program function,
But rather get strategic tips on how to use it to give their poultry farm business planning a serious boost. 
And at the price point per license, this remote-consulting service works out at pennies…
…or more accurately, as little as 21cents per day!
If you are currently writing a layer or broiler feasibility report, 
Or producing a poultry farm business plan,
Then I highly recommend using my software Poultry Project Reporter 2.0:
Visit – https://poultryprojectreporter.com/
Agri Consultant
The right agricultural business consultant can help you see profitable farming much CLEARER.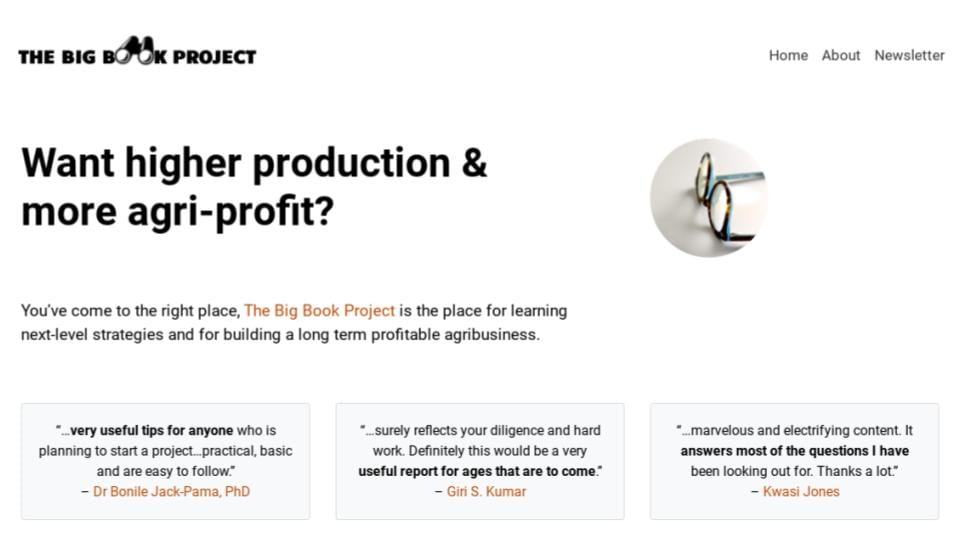 In fact,
When I started The Big Book Project in 2019 – I had one goal in mind,
To help poultry farming beginners invest in profitable businesses.
Not just short profit, but long term profitable agri-enterprises. With large ROI.
I was (and still am) persuaded that ANYONE can do it.
Regardless of nationality, educational background, financial status or experience – 
You (just as well as anyone else) can plan and execute a PROFITABLE strategy for leading your market with quality poultry products.
You've made your first attempt today, by finding me through this blog article.
Well done (- not a bad 1st stop).
But there are very MANY more authors out there that will no doubt help you on your way.
Here are just a few I recommend:
https://www.linkedin.com/in/michael-darre-a29b5115/
https://www.linkedin.com/in/dhia-alchalabi-4b1b046b/
https://www.linkedin.com/in/draatef/
Now, over to you on how to start a poultry farm…
And there you have it, my complete beginner's guide on how to start a poultry farm for any country.
Are you currently considering starting a poultry farming business?
Are you trying to weigh up if you have what it takes to be successful in poultry?
Leave me a comment below – now.
I read every one.